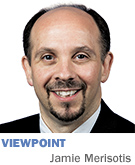 Earlier this year, I had the opportunity to deliver the commencement address at Miami Dade College, the nation's largest institution of higher education.

It was a joyous celebration. Graduates paraded through the streets of Little Havana on their way to commencement. To kick off the formal ceremony, a list of nations was read—28 countries had graduates in the ceremony. When the United States was read, a prolonged ovation erupted.

We need more moments like that—not merely because they are inspiring, but because the graduates celebrated in these moments are crucial to the continued prosperity and security of our nation.

For most of the almost three years I've served as Lumina Foundation for Education's president, we have pursued one national goal: By the year 2025, we want 60 percent of the American population to hold high-quality college degrees or credentials.

Today, only around 40 percent of working-age Americans have at least a two-year degree. In Indiana, the situation is even worse, with only 33 percent of the state's 3.4 million working-age adults (25-64 years old) holding at least a two-year degree, according to 2008 census data. The numbers are slightly better for young adults, with 36 percent of Indiana's 25- to 34-year-olds holding degrees. Still, the overall percentage is well below 60-percent degree attainment.

Why should you, as a central Indiana business leader, share this passion for reaching 60-percent degree attainment?

Noted labor economist Tony Carnevale of the Georgetown University Center on Education and the Workforce answers those questions clearly. He estimates that, by 2018, 63 percent of all jobs in this country will require some form of postsecondary education or training. That's a huge increase since the mid-'70s, when less than 30 percent of jobs required anything beyond a high school education. Where will these jobs go if we are unprepared to fill them? Clearly, employers will look elsewhere, to other states and other countries, for the human capital they need to succeed.

In late June, a real-life example put this issue into stark perspective. Columbus-based Cummins Engine Co. chose to locate a customer-care center (and 200 jobs) not here in Indiana, but in Nashville, Tenn. Cummins has made an impressive commitment to Indiana overall. But when asked whether tax incentives or other inducements might have persuaded Cummins to choose an Indiana site, a company spokesman made a more important point. He said: "We are looking much more for the quality of the work force."

It's not simply that higher education provides employees with skills for the jobs that employers create. It's also the case that higher education literally creates jobs. Postsecondary degree attainment has been a major factor in driving economic productivity gains over the last 40 years. Economists concur that much of the productivity gains over that period can be attributed to two key factors: technology, which changed the way we work and the nature of work itself, and educational attainment.

People who are educated support innovation and, in general, provide the capacity for job growth to happen. The most dramatic example in recent memory is the way in which the excess supply of college-educated baby boomers contributed to the technology boom of the late '80s and '90s.

Our postsecondary system is becoming—and must become—the engine for developing our nation's human capital. And business leaders must do all they can to help that engine run smoothly. As a business and community leader, you can help by supporting workplace practices that benefit us all: tuition-reimbursement programs, flex time for employee/students, and incentives and recognition for training and education. You can also support public policies that support increasing degree attainment and enhance the overall productivity of our state's colleges and universities.

By embracing the 60-percent goal, you'll not only benefit your employees individually, you also will improve performance at your own company. What's more, you'll be part of an effort that can have a huge payoff for Indiana, and for the nation as a whole.•

__________

Merisotis is CEO of the Lumina Foundation for Education.