MZD Advertising is stepping outside the realm of traditional agency work to grow its revenue stream. In the process, it's attempting to bring a new form of auto racing to Indianapolis.

MZD has launched a division aimed at helping companies franchise their business—from marketing the franchise opportunity to helping franchisees set up operations.

Arena Racing USA could move into the Pepsi Coliseum or Conseco Fieldhouse next year. (Photo Courtesy MZD Advertising)
The timing of the effort makes sense because the anemic job market is causing people to explore going into business on their own, MZD officials said. But it's the structure of the division that is key to its success.

"We don't ask for anything up front," said MZD Chairman and CEO Allan Zukerman. "We're all about pay for performance. We ask for up to 40 percent of the initial franchise fee and we get a percentage of gross sales. That gives us a vested interest in the long term, assuring we find the best operators and make sure things go smoothly."

Perhaps the most interesting deal MZD signed is with Virginia-based Arena Racing USA. Arena Racing brings stock cars half the size of NASCAR rides onto 1/8-mile portable aluminum indoor tracks in what can only be described as a combination oval race and smash-up derby.

The venture has proven popular in Hampton Roads, Va., and Grand Rapids, Mich., where it has been operating more than two years. It's expanding into the NASCAR mecca of Charlotte, N.C., next year. Though Arena Racing has no affiliation with NASCAR, Arena Racing founder Bob Keane thinks it will be immensely popular in Charlotte.

He is equally confident it will succeed in Indianapolis thanks to MZD's local contacts. Keane hopes to have the series launched here by 2011.

Zukerman is a veteran in the franchising game, having handled marketing for Burger Chef and later Hardee's as his introduction into the business four decades ago. He later bought into Papa John's Pizza, owning as many as 23 stores at one time. His firm still owns a share of 10 outlets.

He's also done marketing and consulting work for many other franchised and licensed operations over the years. That experience seems to be paying off.

MZD's Food Service and Retail Development division has already signed deals with Mr. Dan's Restaurants, Ritter's Frozen Custard, Wall Street Deli, Papa John's Pizza, Steak Escape and Arthur Treacher's Fish & Chips.

Zukerman launched his new division in 2007, but admits it lay mostly dormant for more than two years because he didn't devote necessary resources to it.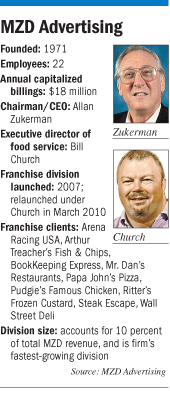 In March, MZD hired Bill Church as executive director of the division, a move Zukerman says has breathed new life into the operation.

Since Church's hire, the division is the fastest-growing sector for the 39-year-old agency, accounting for 10 percent of MZD's business.

Church has more than 20 years of experience working for and doing marketing for restaurant and franchised operations including executive positions with Charlie & Barney's, Roly Poly, MCL Cafeterias and Noble Roman's.

USA Racing's Keane, a former East Coast telecommunications executive, met Zukerman, an avid race fan who has done marketing for several racing properties over the years, through mutual business associates in the Indianapolis media and sports markets. Keane was quickly impressed by his understanding of franchising and sports operations.

MZD signed a deal with Arena Racing in July, and already Zukerman said he's gotten some interest from local operators.

Zukerman said the 15-race series, which runs from October to March, could be held in Conseco Fieldhouse or the State Fairground's Pepsi Coliseum.

Rick Fuson, executive director of the Fieldhouse for Pacers Sports & Entertainment, said he'd be interested in the proposal.

"We like the concept, we like the people behind this, and we think we'd have interest from fans in motorsports-related events here," Fuson said. "We look forward to talking with the folks from MZD."

Before Zukerman can have serious discussions regarding Conseco Fieldhouse, he and Church need to find an investor willing to front $1.2 million to launch the series here.

"I'd like to see that entry investment lowered, but the business model shows you can make a profit by drawing 3,500 spectators per race," Zukerman said. "We feel that's very reasonable in this market. We think if this model can't succeed in Indianapolis, it can't succeed anywhere."

Arena Racing has a stable of big-name backers that are helping the series gain credibility.

NASCAR team owner Joe Gibbs, drivers Tony Stewart, Denny Hamlin and J.J. Yeley, and Interstate Battery are investors. The series was started by Keane and Ricky Dennis, son of 1970 NASCAR rookie of the year Bill Dennis.

Home Depot, Hoosier Tire, Stihl and the U.S. Army, among others, have signed on as sponsors.

"I'm a firm believer in this," Gibbs said. "It provides great competition at a time of year when motorsports is typically dormant. Plus, it's a cost-effective way to get started in racing."

Arena Racing might be MZD's most intriguing client, but it certainly isn't its only one. Zukerman and Church hope to help launch up to eight Mr. Dan's in Indiana and take the concept national as well as help with the resurgence of Ritter's. They think they can help Steak Escape and Pudgie's Famous Chicken achieve significant growth.

"Allan Zukerman has vast experience in the franchising industry that is hard to match," said Richard Hogshire, chairman of Mr. Dan's parent company, Best Burger LLC.

Ball State University advertising professor Bob Gustafson, a former agency veteran, said MZD is the first ad firm he's heard of opening a division specializing in franchising.

"This industry has gone through quite a bit of upheaval over the last two years," Gustafson said. "The core business model of an ad agency is changing dramatically, and firms like MZD are doing what they need to do to survive."•