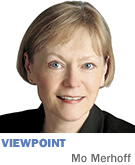 Anita DeFrantz, Indianapolis native, Olympian and member of the International Olympic Committee, was speaking to a national women's convention several years ago. She followed a series of speakers, all of whom were railing against the ongoing lack of equal opportunities for women in sports organizations, and all of whom detailed how they were "trying" to change things.
In an opening line I'll never forget, she quoted Yoda's response to Luke Skywalker in "Star Wars": "Do, or do not. There is no try."
Like most regions throughout the country, central Indiana has been trying for years to plan and act regionally, following the success stories of the Charlottes, Denvers and Louisvilles of the world. It isn't easy.
For one, there's our natural bias for what we see as ours, and what's "ours" is pretty close by. If a neighboring community has a problem that doesn't directly affect us, then it's their issue. We tout our own community's success stories and deride others'. If the amenity isn't in our city, then it's foolish, ill-conceived or at least in the wrong place. We draw mental lines between cities when real barriers no longer exist.
Second, we presume a hierarchy exists, when a collaborative leadership network is the goal. Recently, Roland Dorson, president of the Greater Indianapolis Chamber of Commerce, convened a regional group to hear a review of central Indiana's water supply, and discuss how collectively we might manage its future. The group's intentions were challenged by several as "just another attempt to force surrounding communities to pay for an Indianapolis issue." As evidenced by the huge challenges facing several Southwestern states, our water supply is everybody's issue and our ability to collectively ensure it is essential to any successful economic development anywhere in central Indiana.
Third, like most people everywhere, we tend to work together only when things reach a crisis level. We'll collaborate on a plan to leave the platform only after it's already on fire.
In today's connected world, none of these impediments to regional thinking makes any sense. Ted Abernathy, executive director of the Southern Growth Policies Board, spoke recently at the American Chamber of Commerce Executives convention to a large, national audience of chamber leaders hungry for advice on how to create successful collaboration and regionalism. The fact that areas acting regionally are winning the economic development game is not lost on chamber executives.
According to Abernathy, 2.8 billion people are now connected worldwide on handheld devices. That's 40 percent of the world's population. Additionally, Abernathy estimates that, by 2020, 80 percent of middle-income consumers in the world will live outside "developed" countries.
The subtitle of "Globality," a popular book on international competitiveness, is "Competing with Everyone from Everywhere on Everything."
So how can we in central Indiana compete? According to the authors of "Globality"—and many others—we can build competitive regional clusters that provide what matters to businesses. An educated, affordable labor force. Dependable infrastructure. Quality-of-life amenities that appeal to today's employees and tomorrow's.
It takes leadership, vision and a commitment to move forward with the belief that each of our individual community's futures is truly dependent on another's. According to the 2010 Council on Competitiveness, the true test of regionalism is whether a region can act effectively together, not just in a crisis, but on an ongoing basis.
John F. Kennedy once said, "Too often, we enjoy the comfort of opinion without the discomfort of thought." The issues that face our region, and threaten our ability to compete—transit, education, water resources and infrastructure, among others—are easy only if we choose to see those issues as someone else's problem. Abernathy described collaboration as "an unnatural act between unconsenting adults." Maybe our discomfort is our knowledge that collaboration really is the answer.
There's little doubt we've tried. The myriad studies and task forces over the past 20 years attest to that. Perhaps the time for trying is over. Maybe Yoda was right.•
__________
Merhoff is president of the Carmel Chamber of Commerce.
Please enable JavaScript to view this content.