The first thing I noticed when I met Kiralee Hubbard were her eyelashes.
I couldn't stop staring at them as we chatted in early October at the grand opening of her Broad Ripple studio, Eyemax Cosmetics & Beauty Boutique.
Each time she blinked, I found myself squinting, trying to understand whether that fullness, that curl, was natural or the result of extensions.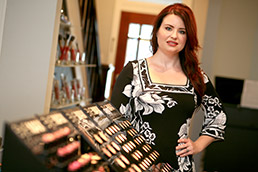 Kiralee Hubbard prefers not to call her new makeup studio a "salon." Instead, she calls her makeup line's new home a "one-stop shop for beauty." (IBJ Photo/ Perry Reichanadter)
Normally, I'd say it's a little weird to ask about one's lash secrets upon first meeting, but I did it anyhow.
"Oh," she giggled, rolling her eyes and batting the gargantuan lashes. "It's all me."
It's easy to tell Hubbard's a makeup artist; no one but a professional could make her face look that airbrushed and flawless. But mascara isn't the only explanation for those eyelashes. Mostly, they're thanks to her very own lash-growing serum, due out by the end of the year. And by "her very own" I mean she partnered with a chemist to develop it.
The lash serum, similar to prescription versions already on the market, is only one facet of the Eyemax line. All 108 eye shadows, every shade of lip gloss and even the makeup brushes lining the walls of the converted house were designed by Hubbard.
Her self-proclaimed obsession with makeup began when she sold Mary Kay cosmetics at age 17.
"Well I didn't really sell any," she admitted. "I just wanted the free samples."
That led to almost seven years of working behind Estee Lauder and MAC makeup counters, until Hubbard decided she'd rather work for herself. In 2006, she opened an appointment-only studio on the north side and launched lecosmetique.com, a beauty supply website aimed at industry professionals.
Hubbard used the website as a sort of test market for her then newly minted cosmetics line.
It would have been easier and cheaper to carry an established brand, but Hubbard knows what she likes and was willing to pursue it.
"A label will usually require a salon to carry its entire line, when maybe I only like three products. I couldn't pick and choose," she said.
When she sold the website business in February, she used those funds to open the new space, complete with hair and aesthetician services to complement the makeup.
"Would you like a sample?" she asked me, motioning toward the station where she mixes custom foundation.
We stood beside a rack of squeeze bottles full of colored liquids. Some of them are skin tones, but there are greens, yellows and reds, too. She grabbed a bottle marked "porcelain" and one of the yellow bottles, looking frequently from my face to the colors and back to my face.
As she dabbed my "recipe" along my cheekbones and under my eyes, she explained how this substance and the mineral makeup I use now have similar ingredients.
This woman knows her stuff.
In the two weeks at her new location, Hubbard said, retail and service sales have quadrupled, and she's not done growing the Eyemax line.
In addition to the lash-growing serum, she plans to introduce three new brushes by the end of the year and is working on a concealer to help with dark circles and under-eye puffiness.
I've used the same brand of cosmetics (Aveda) since I was 14. I like how closely its color palette clings to nature, and the stores just smell so good. I suspect many women maintain similar loyalties to a certain label, so I'm still a bit skeptical whether a little studio in Broad Ripple can win over those who've been applying "702 Sheer Saffron" to their lips for the last decade.
But when I think about the possibility of my eyelashes looking like Hubbard's … well, let's just say she can put me down for one of her 10,000 tubes.•
__________
If you'd like to share your own style ideas or know anyone who's making waves in the fashion community, contact Gabrielle at [email protected] This column appears monthly.
Please enable JavaScript to view this content.