It's crunch time for an embattled Indianapolis charter school.

Knowledge Is Power Program (KIPP) College Preparatory School faces its seventh—and final—review this year, a review that could determine its survival.

KIPP officials insist they've solved the management issues that led to financial problems and a revolving door of staff and leadership. Not only is the board bulked up with more expertise, they say, but test scores are rising, leading to hope the San Francisco-based organization will be reauthorized by the mayor's office.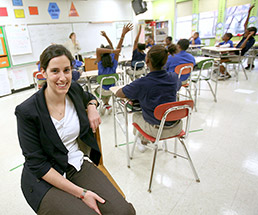 Emily Pelino, the fifth KIPP leader in seven years, has seen test scores rise, but Indianapolis Mayor Greg Ballard will decide whether to reauthorize the school. (IBJ Photo/ Perry Reichanadter)
"There's clearly a ton more growth that we need to make," said Emily Pelino, the fifth leader of the local KIPP location. "But we are turning that corner. We gained a lot of traction last year, and we're on the upward trajectory."

Granted a charter by Indianapolis Mayor Bart Peterson in 2004, the school is part of a 99-school nationwide KIPP network, all in low-income neighborhoods.

The Indianapolis location, 1740 E. 30th St., has 248 students in grades five through eight.

While still technically a public school—tuition is free—KIPP Indianapolis is allowed to establish its own curriculum. Yet with this freedom comes the higher accountability outlined in the mayor's 118-page charter school handbook.

For the seven years a charter school is authorized by the Indianapolis mayor, it undergoes continuous evaluation—basic compliance visits each month, as well as more intense yearly evaluations, said David Harris, who served as the charter school director under Peterson.

"Having the mayor as an authorizer is a big part of charter school success in Indianapolis because he's very visible, and that makes him very accountable," said Harris, now CEO of The Mind Trust, an Indianapolis-based education think tank.

Through its first six years, KIPP Indianapolis dealt with considerable staff turnover—last year the rate was 55 percent—and episodes of questionable financials.

When KIPP went through its fourth-year charter review in 2008, results were mixed. While the school met the mayor's standards in most academic areas, it failed to meet several regarding organization and governance as well as upholding the school's special education files.

Altogether, the report showed that KIPP held instructive vision but lacked proper direction.

In two on-site monitoring reviews by the state Department of Education, the school was found to have maintained an imbalanced budget and made undocumented transactions, among other problems.

In 2008, KIPP Indianapolis returned more than $8,000 in Title I funding that had been improperly used on items ranging from teacher salaries to spa services at a professional development retreat.

"There was a lack of oversight," said Pelino, who didn't join KIPP until the following year. "The school simply did not have the operational expertise that was needed."

Eighteen months ago, the local board had all staff reapply for their jobs. A new administration entered, a financial management firm was contracted, and a primarily new board brought know-how from the financial and education sectors.

Test results have improved since the overhaul.

In the spring of 2010, math and English scores on the state ISTEP test climbed seven and 15 percentage points, respectively, from the previous year, bringing each section's passing percentage to about 50 percent.

And while KIPP fifth-graders have in the past had lower test scores than those from traditional Indianapolis public schools, percentages of KIPP and IPS eighth-graders earning proficiency in each subject were nearly identical last year.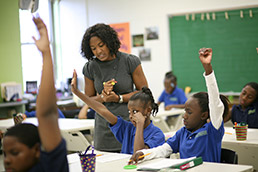 Teacher Amber Hawkins works with fifth-graders Lindsay Dewalt and Jada Goldsby. About half of KIPP students passed the state ISTEP math and English tests this year. (IBJ Photo/ Perry Reichanadter)
Yet, focusing on results can put tremendous pressure on the students, said Teresa Meredith, vice president of the Indiana State Teachers Association.

"We become so data-driven sometimes," Meredith said. "We lose sight of that young human being. Data can't tell us everything that's going on with that child."

KIPP students are urged to shoot for the top, and some, like Nyree Modisette, do.

The eighth-grader's locker is covered with letters and postcards from Brebeuf Jesuit, the elite Indianapolis high school she hopes to attend next year.

She then plans to go to college and, eventually, be president of the United States.

For now, Modisette spends 45 hours in school from Monday to Friday—about 10 hours more than is standard in Indianapolis Public Schools—and four hours on community service projects one Saturday each month.

Modisette's attitude is exactly what the faculty and staff promote at KIPP Indianapolis: You will go to college, "to and through."

For a school model such as KIPP, success can be fairly dependent on the strength of the person leading the program, said Jonathan Plucker, director of Indiana University's Center for Evaluation and Education Policy, which currently evaluates the 24 mayor-authorized charter schools in Indianapolis.

Mary Jo Rattermann, who authored a study last year comparing academic growth in Indiana charter schools and traditional public schools for the University of Indianapolis' Center of Excellence in Leadership of Learning, said meeting the proficiency levels of traditional public schools should not be the mission for KIPP or any other charter school.

"What's crucial is the context of growth," Rattermann said. "And that's something that's coming with the value-added models. You don't focus on absolute ISTEP scores."

Accordingly, the mayor's fourth-year evaluation requires three-fourths of a charter schools' students to be on pace to achieve proficiency on the ISTEP test within two years. KIPP met this criterion in its review despite having below-required percentages the two previous years.

From here, KIPP and other Indianapolis charter schools must exceed the current standards they meet, said IU's Plucker.

"Charter schools deserve a pat on the back for meeting the standards of [Indianapolis] public schools," Plucker said. "The next step must be more innovation. [Charters] have all the circumstances set, and don't have some of the limits of public schools. So if they aren't taking risks, is that a good investment of our money and time?"•