In the future, a passenger boards a commuter train in Noblesville that minutes later stops near 56th Street and Keystone Avenue. Here, a semicircle of eco-friendly high-rises hovers above a grassy plaza bordered by canals.
At the next stop, another new community has sprouted just east of the Indiana State Fairgrounds, along Fall Creek. Amid three-story homes with greenhouse roofs are shops selling produce grown in this urban farm.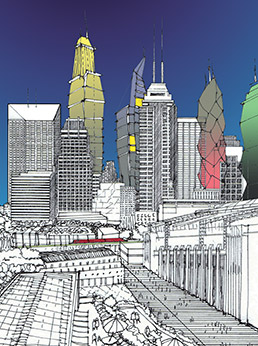 The debate over light rail and other alternatives to the car doesn't have to focus only on moving people from Point A to Point B. Other cities report that transit lines are magnets for sustainable real estate development. Ball State University's College of Architecture and Planning, envisions how mass transit could transform Indianapolis.
A couple of stops later, and it's the end of the line, near Lucas Oil Stadium, where the skyline has been transformed with new skyscrapers and dozens of residential high rises sporting green roofs, solar panels and horizontal wind turbines.

"When you have a transit opportunity, you have a totally new architectural plan," said Harry Eggink, professor of architecture and urban design at Ball State University.

Eggink's graduate students have come up with more than the most ambitious transit-oriented design concept ever drawn up for Indianapolis. They've created a vision for urban renewal that is arguably more compelling than the Central Indiana Regional Transit Authority's principal, utilitarian goal of reducing northeast-side highway congestion and air pollution by running a diesel commuter train atop the old Nickel Plate Railroad corridor.

"Right now, [transit proponents] are trying to sell it as just transit," said Eggink. But, "when you buy a house, you don't just buy the kitchen."

The students developed concepts for six train-station developments up and down the Nickel Plate, which runs from Noblesville to downtown Indianapolis. It's been chosen by city officials as the first regional transit corridor to be built—assuming funding can be nailed down.

Currently, the Nickel Plate is used for excursion trains the Indiana Transportation Museum operates between Noblesville and the state fairgrounds. Most of the track between the fairgrounds and downtown long ago was stripped for scrap, but the corridor has been preserved by the Hoosier Heritage Port Authority, which owns the Nickel Plate, for future transit use.

The railroad dates to 1849, when the first tracks were laid in Indianapolis for predecessor Peru & Indianapolis Railroad, which ran north to the Wabash and Erie Canal in Peru.

The students also designed a stopover hub east of Indianapolis International Airport and an auto-racing node for Clermont, the southwestern Marion County community that lies between the Indianapolis Motor Speedway and the burgeoning racing towns of Avon and Brownsburg.

New, green era

Ball State's proposal, while bringing life back to areas around the tracks, is clearly designed for a new era focused on low impact to the environment.

Each site would have unique character and purpose. But all would be self-contained towns, with mixed-use housing, commercial and recreational functions, and built with sustainable features. As such, they would be walkable, without the need to jump in the car for the basics of life.

"A lot of folks we're working with are recognizing the potential in urban, mixed-use, walkable development. We believe there's a void of those kinds of places in the Indianapolis market," said Jeff Kingsberry, managing partner of Greenstreet Ltd., a Zionsville-based real estate brokerage consulting firm. He's worked on transit-oriented development in cities such as Chicago, Denver and Santa Fe, N.M.

Kingsberry sees no signals suggesting speculators believe a transit line will materialize on the northeast side, possibly because the real estate market is still in upheaval due to the economy.

But Ehren Bingaman, executive director of the Central Indiana Regional Transit Authority, which would implement the rail system, said potential for transit-oriented development should be the topic of conversation.

Bingaman, who has been slogging the trenches of the Indiana General Assembly trying to convince lawmakers to pass a bill giving local government a portion of tax proceeds for mass transit development, is constantly asked what kind of bang for the buck a transit line could bring.

"How does transit return its investment? It's through transit-oriented development," he tells leaders.

Success elsewhere

Anecdotal evidence is abundant. The rail system in Charlotte, N.C., is said to have attracted $250 million in private investment, with 7,000 condos planned along the 10-mile line. In Denver, real estate premiums along a proposed new section of track have risen nearly 15 percent just because of the proximity.

And of course there's the poster child of rail transit advocates—Portland, Ore. Since a streetcar route was chosen in 1997, more than $2 billion has been invested within two blocks of the tracks, according to that city's office of transportation and Portland Streetcar Inc.

But would it work in Indianapolis, particularly along the seedier portion of Fall Creek north and south of the fairgrounds? Mention the idea of adding transit-oriented high rises here and one can't help but think of Keystone Towers. Once an upscale apartment complex, it's now a blighted haven for vagrants and crime and a prominent monument of urban renewal failure.

There's also the stigma of Indianapolis Public Schools and some township schools in Marion County. Negative perceptions have driven residents out of Marion County and helped fuel sprawl that created many of the traffic problems transit is now being called on to alleviate.

One of Eggink's students thought of that in her proposal for a development near 56th and Keystone—a charter school centered on water ecology with nearby Maxinhall Lake as one of the laboratories.

But as it turns out, many transit-oriented developments aren't drawing traditional families to begin with. According to a study commissioned by Denver planners, single adults will soon be the majority, with married couples with kids expected to total just 25 percent of households in the next few years. The population is aging and is becoming more ethnically diverse, as well.

"The demographic part of this would [actually] give me a certain degree of confidence," said Kingsberry, noting that roughly 75 percent of the market for transit-oriented development won't be married couples with kids. "The demographic trends are really favorable."

'Totally new culture'

Pioneers in Indianapolis, no matter which community they lived in along the tracks, would be part of a "totally new culture" here of rail-line living, Eggink said.

He thinks not in terms of just a particular development along a train station but an overall system, accessible within minutes by train. Just a two-minute ride up the tracks is one community with a natatorium. Head to the next station and shop for produce. Or go the other direction to downtown and a few minutes later you're walking to the symphony or to a sporting event or to the office.

If a resident really needs a car for a task, he could rent one there.

"We're talking about a whole new living pattern. It's a walking pattern," he said.

If it sounds a bit too fanciful, then Eggink would have one consider practical benefits that hardly anyone has brought up in the transit debate.

The right-of-way under the former Nickel Plate could become a corridor for utility lines, replacing many of the crumbling sewers and pipes that run under the city's sprawling grid of streets.

Subterranean depths below the rail bed could even conceal "smart pipes" that scrub the contents of sewers. Or how about miles and miles of geothermal piping that could be a source of energy-efficient heating and cooling for new buildings along the tracks?

"That to me is the real hidden value," Eggink said.

Challenge for developers?

But if you build it, will the private developers come?

Few in this market, after all, have experience with transit-oriented development. Indianapolis architecturally is relatively unimaginative, with "safe," boxy buildings the norm. How many developers here built comprehensive communities with the gamut of housing, entertainment, recreation, cultural attractions and commercial spaces-all within a walkable space-outside of the downtown core?

Some of the eco-friendly concepts proposed by Eggink's students employ elaborate, cutting-edge green technology and designs, such as green roofs and horizontal wind turbines.

Eggink is the first to acknowledge, recalling his Harvard University business classes, that developers' No. 1 goal is to make money—using someone else's money if possible and having a grand exit strategy.

What it will take is a collective effort of private enterprise and government, including incentives for private companies to make the gamble, Eggink said.

Developer Kingsberry concurred.

"Any successful introduction of this type of scale requires a successful public-private partnership," he said. Also, "you have to have in general a positive real estate market."

It might not hurt, either, if ambitious transit-oriented development is geared toward job attraction.

One of the perennial gripes by economic development leaders is the brain drain of college graduates. Kingsberry himself bolted to Chicago after graduating from Ball State, in Muncie.

"If we as a community can create more vibrant, livable and walkable places, I think we'd have a better chance to keep young people," he said.

Design concepts conjured up by Ball State's architectural students span the gamut, including outdoor amphitheaters for concerts, energy-efficient housing with reconfigurable interior structures, rooftop gardens, and gathering spaces for artists and musicians.

"They had to create an environment where people would want to live," Eggink said.•
Source: XMLAr01701.xml