Kyle Ragsdale is one of Indy's most noted contemporary artists. And his new work on display through Nov. 26 at the Harrison Center is as strong as anything I've seen him do. There's just a lot of it.
The first painting you see on entering the building is "Texts Swirling in the Evening Air," in which a playful cloud of apostrophes and other symbols hover over one of Ragsdale's signature profiled people. Its impact is watered down, though, by the myriad of similar pieces that fill one of the three Harrison spaces devoted to his work. Rather than have a cumulative impact, the abundance of work leaves the impression that Ragsdale just cranks these out.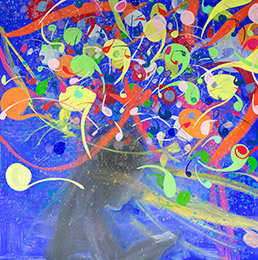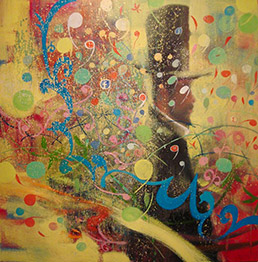 Punctuation symbols swirl through recent work by Kyle Ragsdale, on display this month at the Harrison Center for the Arts. (Photos courtesy Harrison Center for the Arts)
And that's just one of three spaces.
A second—really the hallways behind the main galleries—is the most densely packed, with repeated images of his shadowy signature period figures—top-hatted and ball-gowned. In some, such as "Tiepolo Stroll," they promenade. In others, including "Field Dance," and "Formal Dance," they elegantly pair off, seeming to fade deeper into memory as they dance. But, again, the quantity diminishes the impact.
Of course, if more art on display equals more sales, I'm all for the overload. Esthetically, though, it was too much of a very good thing.
There's more variety in the main gallery, which is devoted to work created for a booklet called "Share, Half-share," published by the Indiana Humanities Council as part of its Food for Thought program (think mini-literary and art magazine/exhibit catalog/brochure). In it—and on the walls—Ragsdale's work is partnered with close-up vegetative photography by Paul Baumgarten and text by John Beeler, Cindy Ragsdale and Tyler Henderson. All deal with Indiana's relationship to food. The text is a little much for on-wall reading, but Ragsdale's work here has a different kind of warmth than seen elsewhere, particularly in the gracefully shy persimmon-picking "Josie" and the glowing "Family Dinner."
____________
Proportion is an issue, too, at the Arts Council of Indianapolis' new Gallery 924, which currently is presenting
the IDADA Members Exhibition. The juried show—featuring work from those involved in the Indiana Downtown Artists and Dealers Association—is slight, with just 13 pieces featured.
Color is as important as content in Mary Lou Dooley Waller's oddly soothing "Variations on a Swiss Army Knife" and in Carmen I. Hurt's "Heatwave 2," which offers a cityscape in sweltering oranges and yellows. I wouldn't be surprised at all if these and most of the rest of the work in this show find buyers. A single juror, Zionsville-born Chicago arts educator Rowley Kennerk, did the selecting, and there's little to take issue with. It just feels more like a visit to a well-appointed lobby than a complete gallery show.
____________
Visual art spaces aren't the only places scale and length are relevant. Indiana Repertory Theatre recently opened production of Stephen Massicotte's "Mary's Wedding" (running through Dec. 4). It has the scale right—it's an intimate, two-actors-and-a-cellist piece fitting nicely on the upperstage. It's the theatrical equivalent of a short story, and a simple one at that: Immigrant girl meets lower-class stable boy (Mom doesn't approve, of course). Girl and boy innocently fall for each other. Boy goes to war. Harlequin romances have been built on more complex premises.
Massicotte enriches the thin plot by weaving the woman's memories of the boy and her letters from the front into a dream that takes her where she couldn't have actually been … and brings him back into places he never would see.
The delicacy—enhanced by the cellist perched high along the back of the stage—works up to a point. But the narrative offers few surprises, the characters reveal little that isn't seen in the first few minutes and, ultimately, what could have been a jewel-box of a show at under an hour feels stretched and repetitive. I admired its restraint and clarity, but afterward I found myself yearning for the resonance or emotional pull of similarly scaled shows ("Talley's Folly" by Lanford Wilson and Brian Friel's "Lovers" come to mind) despite IRT's well-designed, well-acted effort.
____________
Over at the Indiana History Center, Actors Theatre of Indiana (soon to be the professional theater in residence at the Center for the Performing Arts in Carmel) offered a developmental presentation of "Stardust Memories: The Life & Music of Hoagy Carmichael."
In a curtain speech, company member Cynthia Collins made clear that the show is a work in progress and that, for some scenes, the actors would be holding script. The audience seemed comfortable with that, and soaked up a musically engaging evening of Hoagy's greatest hits (including "Skylark," "Old Buttermilk Sky," and "Georgia on My Mind").
In its mix of presentational songs, mild biographical drama, and on-stage projections of photos and videos, ATI seems to be positioning itself as the heir to the old version of American Cabaret Theatre—only without the pretense. The company is well on its way on the music side—a USO section in the middle of the second act, including a fun Jimmy Durante appearance, perked things up considerably. And playing with the relationship between Carmichael and his friend, cornet master Bix Beiderbecke (who died young) hints at a stronger show to come.
But as it stands, the first half was jarringly short at about a half hour, film clips ran too long, and there's a lot of work to be done on the script. There's enough here, though, to indicate that one of Indiana's leading musical stars is an appropriate subject for one of Indiana's most promising professional theater groups. It will be interesting to see how the show develops. Stay tuned.•
__________
This column appears weekly. Send information on upcoming arts and entertainment events to lharry@ibj.com. Twitter: IBJArts and follow Lou Harry's A&E blog at www.ibj.com/arts.
Please enable JavaScript to view this content.