How many business leaders would manage a budget of $10 million or more for a salary of less than $155,000?
At least a few local charity executives are doing just that, according to a recent compensation survey that focuses on central Indiana.
Local consultants Bryan Orander of Charitable Advisors and Jim Morris of Pendula Consulting conducted the survey this summer in conjunction with United Way of Central Indiana to fulfill what they see as a lack of hard data on executive pay in the local not-for-profit sector.
 
Orander
The results from 245 organizations, most of which work in human services or community development, appear to dispel the notion of charity executives as overpaid. The median CEO pay across all categories was $70,000.
"We demand a lot from our nonprofit leaders, but we don't pay them very much," Orander said.
To be sure, the survey excluded two not-for-profit sectors, universities and hospitals, where salaries are highest. And unlike some national surveys, most organizations that participated did so voluntarily. (United Way of Central Indiana, which conducts an internal survey every two years, shared data on an anonymous basis.)
Orander, who works with many small charities, hopes boards of directors will use the survey, which is free and accessible to the public at www.cinss.org, to boost salaries. He argues that's necessary to attract and retain quality professionals.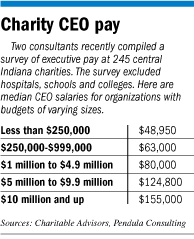 "We look to the nonprofit sector to get so many things done and make a difference in our society," he said. "We can't just rely on those people that will come in essentially as missionaries. We need capable managers and capable leaders. You have to pay for those."
If the business world holds any lessons, however, it's that CEO pay doesn't correlate to performance.
"I do think charities could always improve professionalism," said Les Lenkowsky, clinical professor of public affairs and philanthropic studies at Indiana University. "I don't think paying key executives more gets you that."
Charities can get more out of their managers by setting clear goals, making them accountable, and giving them discretion over their work.
"I just think we're too fixated on this pay notion," Lenkowsky said. "You pay what you have to pay. No more, no less."
Sean Olssen, chairman of Habitat for Humanity of Hamilton County, said the recent hiring of an executive director prompted a lot of research and discussion about pay.
One reason for all the deliberation, he said, is that donors scrutinize overhead costs, especially for organizations that serve low-income people.
"It is difficult at times because having a high-profile or high-dollar leader in that position gives the impression not enough money is going to people in need."
The Hamilton County Habitat affiliate will pay its new top executive, Rhett Cecil, $60,000 a year to oversee two employees and manage a budget of about $480,000. Olssen said the board also expects Cecil to create a strategy for building or rehabbing more houses each year, raise more money and recruit directors.
Although Cecil will be paid about 35 percent more than his predecessors, his pay is actually slightly below the median for similar-size organizations, according to the central Indiana salary survey.
The Habitat affiliate fell in with the most common budget category, which was $250,000 to $999,000, with 100 participants. The median CEO pay was $63,000, meaning half the salaries were below and half were above that threshold.
Just 19 groups in the survey had budgets larger than $10 million, and the median CEO pay was $155,000.
The survey gathered data on pay for other executive positions, such as chief financial officers and fundraisers.
Orander and Morris attempted to rank compensation by industry sector, but sparse participation in some areas limited the reporting. The consultants did not break down results unless there were at least four responses in each category to ensure anonymity.
Overall, CEO pay was lowest in community development. Median salaries, broken down by budget size, range from $50,000 to $73,000.
The arts has a reputation for highly paid executives, Orander said, but the central Indiana survey showed that pay is also on the low end of the scale, with not much in the middle.
The median pay for arts CEOs with smaller budgets, less than $1 million, was $50,000, on par with other sectors. Top executives with budgets up to $5 million earned a median $107,480.
The consultants contacted more than 500 organizations—out of more than 13,000 in Indianapolis and surrounding counties. Orander said he was satisfied with the response level for a first-time effort and plans to conduct the survey again in 2012.•
Please enable JavaScript to view this content.