Developer and architect Craig Von Deylen is finalizing plans for a mixed-use project called Fletcher Arts just west of the intersection of Virginia Avenue and East McCarty Street.

The project at 719 Virginia Ave. calls for 57 market-rate apartments, 7,000 square feet of storefront commercial space, and a 58-space parking garage. It is a scaled-back version of a proposal Von Deylen has been working on for about two years.

The first phase of the project, including the apartments and parking, will cost $6.5 million, said Von Deylen, who has closed on the property and is awaiting term sheets from two lenders. The commercial phase would add $1 million, he said.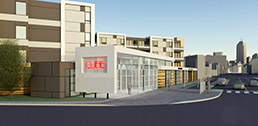 A developer has scaled back a project planned for Fletcher Place. (Rendering Courtesy Blackline Studio)
Von Deylen hopes to recruit an arts-focused organization (other than iMOCA, which has settled in at the Murphy Arts Building, which he co-owns) to take first-floor space in Fletcher Arts, which will sit along a future phase of the Indianapolis Cultural Trail.

The project still requires Regional Center approval. Von Deylen hopes to begin construction in late spring.

The designer is Blackline Studio, a new local firm led by Craig McCormick, who described the building's design in an e-mail: "Simple contemporary forms are articulated to express the playful culture of the neighborhood. The design is a balance of urban fortitude and the lightness and transience of contemporary life."