Slabosky
In its first year offering a health care benefits program to large employers, Clarian Health got few takers: itself and Indiana University, with which Clarian is closely related.
But the Indianapolis-based hospital system, which will rename itself IU Health next year, is undeterred in growing its budding insurance services business—in what could become a far more common strategy among major hospitals.
"They didn't have a whole lot of success," said John Gause, president of Apex Benefits Group Inc., which helps employers structure their health benefits plans.
Alex Slabosky, president of Clarian Health Plans, said he's not disappointed with the first-year performance.
"These are new offerings in the market and we recognize it will take time for employers to learn about them," he wrote in an e-mail.
Clarian is touting a series of services it can customize for different employers' needs. With that strategy, Clarian could offer discounts even lower than Anthem Blue Cross and Blue Shield, the 800-pound gorilla among Indiana health insurers. And at the same time, its dual role would help it better coordinate care for patients, which it believes will reduce costs by keeping patients healthier and avoiding unnecessary care.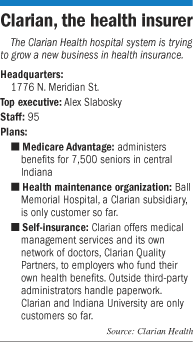 Clarian is a returning player in the market, two years after it exited that arena with the shutdown of the M-Plan Inc. health maintenance organization. Clarian held an 87-percent stake in M-Plan's parent but did not have voting control.
For the past two years, Clarian's only insurance activities have been running M-Plan's sister health plan, a Medicare Advantage plan for seniors, sponsored by the federal government. Renamed Clarian Health Plans, it now has 7,500 customers, some of the nation's highest scores for quality and customer satisfaction, and roughly $100 million a year in revenue.
But Clarian always had its eyes on returning to the employer market. It did so in late spring, with a package of services that health insurers typically provide to larger employers that pay employee health claims out of their own pockets. At the same time, Clarian offers deeply discounted rates for employees who seek medical care at Clarian's network of facilities and physicians.
IU agreed to make Clarian's plan one option for its 18,000 employees and their family members. About 2,200 chose it.
Clarian will use its own insurance operations to provide health benefits to 30,000 employees and dependents, dropping Anthem Blue Cross and Blue Shield as its third-party administrator of health bills.
Ball Memorial Hospital in Muncie, which Clarian now owns, will buy insurance coverage from Clarian in 2011 under an HMO arrangement.
Muncie-based First Merchants Corp. and Clarian-owned Bloomington Hospital are using Clarian's network of 2,700 doctors and 18 hospitals, which is called Clarian Quality Partners, and are paying them, at least in part, based on their performance.
"We think with CQP and the unique features of CQP, we will be able to provide a product that's very competitive in terms of price and quality," Slabosky said, sitting in a conference room at Clarian Health Plan's office at 1776 N. Meridian St.
Enticing employers
Gause and other local benefits brokers said Clarian came out with its offerings a little late in employers' decision-making time lines to get much consideration this year.
Sheri Alexander said she had one large client—which she declined to name—who looked seriously at the Clarian service package. But ultimately, the employer decided against it.
"The pricing was very attractive, from a discount perspective," said Alexander, head of the employee benefits group at Indianapolis-based Gregory & Appel. "But the employer did not want to be the first commercial client to do it: 'Let someone else test-drive it, and then we'll look at it again.'"
With that employer, Clarian offered access to its Clarian Quality Partners network at the lowest prices and then offered access to a network of non-Clarian doctors and hospitals for prices discounted somewhat less.
The point is to make the Clarian providers as financially attractive as possible.
Clarian Health Plans' staff of 95, supplemented by other Clarian employees, can handle the medical management, pharmacy-benefit management and claims-data crunching that typically a health insurer could provide.
To actually process employee health care claims, Clarian works with three third-party administrators: Texas-based HealthSmart, Indianapolis-based Key Benefit Administrators or the Southeastern Indiana Health Organization, based in Columbus, Ind.
Alexander said her client foresaw a need for extra communication to employees, who would have fewer health care providers to choose from, if they wanted to pay the lowest rates. That's far different from the wide-open access offered by most PPOs, or preferred provider organizations, that dominate the employer health benefits market.
But Alexander said a more restrictive network—a variety of which was popular during the heyday of HMOs in the 1990s—is a concept whose time has come again.
"I think a lot of employers are going to get to the point where they say, 'To heck with that, we've got to do something,'" she said, referring to employer health benefits costs that have more than doubled in the past decade.
Clarian is by no means the first hospital system to get into the insurance business. Many hospitals got involved in HMO plans in the 1990s to hedge against the financial risk that the HMO placed on doctors and hospitals to hold down costs.
One local example is Advantage Health Solutions, an HMO owned by St. Vincent Health, St. Francis Hospital & Health Centers and two other Indiana hospital systems.
Advantage covers more than 80,000 Hoosiers, some directly and some by "renting" its network of providers to other organizations.
Separately from Advantage, St. Francis has partnered with Shelbyville's Major Hospital and Franklin's Johnson Memorial Hospital in the Envision network. Envision is rented by 14 employers, such as Ryobi Die Casting and Shelby Materials.
But those arrangements all involve the hospitals' sharing with the employers the financial risk of providing health care, meaning the hospital has an incentive to keep costs low.
Clarian's challenge, said benefits broker Gause, is that it is offering to act as both provider and payer of health care, without taking on any risk. That potential conflict of interest is something Clarian must overcome.
"They're claiming they're going to do this for less than the Anthem discount. But unless you [as an employer] can have someone who can drill down into all the data, it's tough to determine [what your savings actually were]," Gause said. Employers are used to relying on insurers, such as Anthem or UnitedHealthcare, to represent their interests with hospitals.
"It's just going to take some vetting," Gause said of Clarian's offerings. "They're going to need to convince employers that it is really a better deal than going with Anthem or United or something like that."•
Please enable JavaScript to view this content.