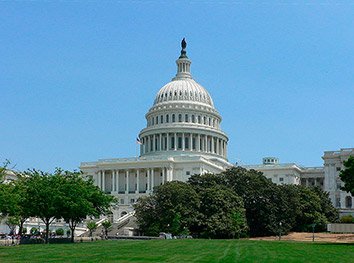 Indiana added about 400,000 new residents during the past decade, giving the state enough population growth to safeguard its nine U.S. House seats and avoid a repeat of the one-seat loss it saw after the 2000 census.
The state's population grew 6.6 percent during the 2000s to 6.48 million residents this year, according to data the U.S. Census Bureau released Tuesday from its once-a-decade count. It was enough to make Indiana one of 32 states whose congressional delegation won't change size, while neighboring Illinois and Michigan each lost one House seat and Ohio lost two.
Overall, the nation's population grew nearly 10 percent to about 308 million residents during the 2000s. Indiana's slower growth reflected the overall population shift from the Northeast and Midwest to South and West and a slowdown since the 1990s, when the state saw 9.7 percent growth.
The census data released Tuesday will be used to reapportion the nation's 435 House seats among the 50 states, determine the boundaries of U.S. House and state legislative districts and divide up about $400 billion in federal aid each year.
Indiana lawmakers who reconvene Jan. 5 will redraw the maps of the state's congressional and state legislative districts. Since Republicans now control both chambers of the Legislature, they'll oversee that sometimes daunting task.
Republican state Sen. Sue Landske of Cedar Lake said she expects that redrawing the maps of the U.S. House seats, Indiana's 100 state House districts and 50 state Senate seats would unfold much as it did in 2001. Redistricting went relatively smoothly that year, she said, when power was split between Democrats who controlled the Indiana House and Republicans who ruled the Senate.
"I'm sure we won't agree 100 percent of the time, but in the end I believe everybody will be happy with what happens," said Landske, chairwoman of the Senate Election Committee.
Lawmakers will use census data on city and other local populations to redraw district lines. Landske said she expects that data to come by early February and be publicly available online within a week. Indiana residents will have far greater access to the census information than in 2001, when the public had to compete for a single computer at the Indiana State Library to get to it, she said.
A series of hearings will be held to update the public as the redistricting process proceeds, she said.
Rep. Phil GiaQuinta, D-Fort Wayne, said he'll closely monitor the redistricting efforts to make sure districts aren't reconfigured solely for political reasons.
GiaQuinta, a member of the House Election Committee, said he wants new districts that are competitive — where both Democratic and Republican candidates have a fair shot at winning — even if that means they have "crazy lines" as boundaries.
"Frankly if you're going to have districts that just don't look like squares but end up being competitive in nature, to me that's OK. It's when we start drawing lines just to make a district more Republican or more Democratic, that's where we run into problems," he said. "If they're going to draw them just for purely political reasons, then it will be very contentious."
Kevin Brinegar, president and CEO of the Indiana Chamber of Commerce, said he expects that once lawmakers are finished redrawing the maps for the state's nine House seats the districts will be more compact and "won't be slicing communities up as some of them currently are."
Indiana has lost four U.S. House seats in the past century. In 1910, the state had 13 House seats but it lost one seat each in 1930, 1940, 1980 and 2000 as the nation's population shifted, said Matt Kinghorn, a demographer with the Indiana Business Research Center at Indiana University.
Such losses result in less clout in Congress, he said. "It's not an abstract concept — it's just not losing one representative, it's losing our citizens. And our businesses and our community organizations have less power to be heard," he said.
Kinghorn said he's eager to see the census data to be released in early 2011, which will detail population changes driven by shifts in age, race, ethnicity and gender. It also will show differences in growth among regions of the state, he said.
He said he expects those figures to show central Indiana's Hamilton and Hendrix counties, which have ranked among the top 100 fastest-growing U.S. counties, still experiencing rapid growth.
Please enable JavaScript to view this content.