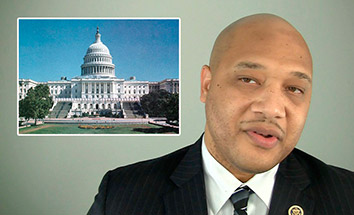 The staff of Democratic U.S. Rep. Andre Carson of Indianapolis is increasing security after the shooting of Congresswoman Gabrielle Giffords.
The Arizona Democrat was shot in the head Saturday when an assailant opened fire outside a grocery store during a meeting with constituents.
District Director Justin Ohlemiller says Carson's staff has been in touch with U.S. Department of Homeland Security officials but declined to say what specific security steps were being taken. He declined to give the congressman's whereabouts Saturday.
Carson and a second black congressman, John Lewis of Georgia, reported hearing racial slurs last March near the Capitol in Washington, D.C., as Congress debated the health care overhaul. No videos or audio recordings have emerged to back up those claims despite a $100,000 reward offered by conservative Web entrepreneur Andrew Breitbart.
Other Indiana congressmen and senators did not comment directly on whether they were increasing security in light of the Tucson shootings.
In the video below from IBJ's "Leading Questions" series filmed in late 2010, Carson briefly discusses death threats he has received since becoming a congressman.
Please enable JavaScript to view this content.