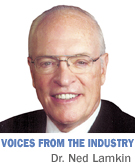 For employers, the federal health reform act falls short. It doesn't, per se, improve quality, increase efficiency or lower costs. But perhaps it could.
Those seeking to reform health care often say, "The health care system is broken." But it isn't broken. It simply doesn't exist! Rather than a system of care, we have only a cottage industry of multiple, discrete entities—for the most part neither connected nor coordinated.
Change is required to inform, coordinate and integrate these disjointed components. Patients and physicians must reduce use and cost by lowering risk and managing chronic illness. Otherwise, employers will continue to experience the same issues.
Some hospital systems are starting to explore a systemic concept, but their approach and success remain to be seen.
However, there may be another, more comprehensive and immediate, road to effective change.
The Patient Protection and Affordable Care Act requires every state to form a "health benefits exchange" in which individuals and small businesses may shop for a health plan—a requirement not likely to be changed by the courts or Congress. Indiana can defer to the secretary of heath and human services, implement only the bare requirements of the act, or see this as an opportunity to make dramatic improvements for Hoosiers.
To achieve the maximum benefits, the state should form the exchange and use it to improve data-based decision making; raise quality; increase effective, efficient care; and constrain costs—all hallmarks of the current administration, which is evaluating its options.
An Indiana approach would involve a public-private partnership, free from potential conflicts of interest, with appropriate legislative and regulatory oversight initiated and supported by private-sector leadership. Planners could first create an exchange with a small board whose only responsibilities would be to contract for and oversee an arms-length arrangement with a new or existing independent, not-for-profit, non-conflicted entity to be the exchange manager.
This manager should be empowered and encouraged to leverage its role to provide the information true markets require and undertake programs that will lead to statewide coordinated, transparent, high-quality, responsive care and fiscal management.
Multiple Indiana organizations, both within and outside of health care, already seek to have impact; but they are fragmented, narrowly focused, and lack communication and coordination. They include Indiana Health Information Technology and local information exchanges (led by the nationally recognized Indiana Health Information Exchange; Better Healthcare for Indiana; and The Indiana Employers Quality Health Alliance, The Employers Forum of Indiana and the Tri-State Business Coalition on Health).
An exchange manager will require capabilities exceeding those of any one of these organizations. However, their representatives could serve on the new manager's board or, alternatively, become advisers. Additional advisers should represent interested stakeholders, such as health insurance plans, pharmaceutical and device manufacturers, hospitals, physicians and public health.
Under this broader approach, the manager's responsibilities would include:
• Implement requirements of the act to qualify health plans offered through the exchange; promote, enroll and oversee the plans; and provide buyer education and support.
• In cooperation with the Indiana Board of Health, the Indiana Hospital and Medical Associations and Indiana health plans (in keeping with HIPAA), acquire, analyze and publish data regarding all aspects of health and health care in Indiana.
• Help local stakeholders understand the state of health in their communities, identify improvement opportunities, and implement programs to improve population health, health management and care delivery.
• Advocate benefits that encourage individuals to manage their health and chronic illnesses effectively and use the health system appropriately.
• Provide good data and information, educational programs and documentation of provider and system performance to providers and purchasers; and assist communities and employers to implement care improvement and value-based purchasing.
• Support value-based benefits design and purchasing by health insurance buyers and self-insured employers.
An appropriately formed exchange will give Indiana the opportunity to organize and implement a public-private, market-based reform that will maximize benefits to Hoosiers. It should minimize inevitable conflicts of interest and politics through a neutral, not-for-profit, private entity that works with existing reform-oriented organizations and other interested parties to effect consensus and data-driven, efficient systems of care.
The results would be the information and linkages needed to create real health care reform, cost efficiencies that lower the burden on employers, improved quality of care for individuals and a strong economic future for our state.•
__________
Lamkin, a retired physician, is president of the Indiana Employers Quality Health Alliance. Views expressed here are the writer's.
Please enable JavaScript to view this content.