Eyesores galore
Some less-than-appealing areas are slated for makeovers before the 2012 Super Bowl, but others are not.
Rollover locations for more details
Citizens Thermal Energy steam plant
Location: 350 S. West St.
Ownew: Citizens Energy Group
What's being done: Citizens has no
plan to make cosmetic improvements
to smokestacks or other parts of the
plant northwest of Lucas Oil
Stadium. Metal siding was installed
in recent years to cover metal
structures on east end of plant to
stop birds from roosting.
Commercial/industrial sites near stadium
Location: 400-600 blocks of South
Missouri Street and nearby area
Owner: various
What's being done: Businesses
such as Jobsite Supply, which were
situated long before Lucas Oil
Stadium was built, did not respond
to inquiries about potential aesthetic
improvements to unattractive
cinder-block buildings.
Corrugated metal siding
Location: one-third mile area between
West and Meridian streets, just north
of South Street.
Owners: Citizens Energy Group,
Capitol Improvements Board and
city of Indianapolis
What's being done: no plans for
decorating or removing siding on the
south ends of Citizens' steam plant,
Indiana Convention Center or train
shed at Union Station
Former Market Square Arena site
Location: 300 E. Market St.
Owner: city of Indianapolis
What's being done: Dusty, gravel
parking area since MSA was
demolished nearly a decade ago will
be paved this spring in $800,000
project to include landscaping.
Former Bank One processing center
Location: northwest corner of
Washington and East streets
Owner: Milhaus Development
What's being done: Indianapolis-
based Milhaus is awaiting
finalization of an agreement with
city to start work this summer on a
$65 million apartment project.
Imagine you've never been to Indianapolis.

You haven't walked along the downtown canal on a summer evening, mesmerized by the skyline reflecting on the water. You've not meandered Monument Circle or one of the nation's top downtown malls, Circle Centre.
All you know is you've just flown into a fancy new airport terminal and as you drive toward downtown on Interstate 70 the scenery is deteriorating. A 1950s-era house facing the highway near Holmes and McCarty has a blue tarp over a damaged wall and appears to have a deer stand nailed to its roof.

Exiting toward downtown on West Street, you pass a row of industrial buildings, paint peeling from their cinder-block walls. And what's that long ribbon of corrugated metal obstructing your view of downtown? It must be someone's interpretation of the Berlin Wall, applied to historic Union Station's train shed.

Imagine these aesthetic abominations as your first impression of the city, and you'll get some idea of the challenge facing image-conscious civic leaders ahead of next February's Super Bowl at Lucas Oil Stadium.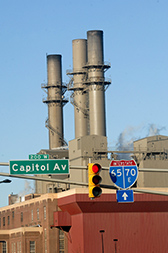 Citizens Energy Group's steam plant (IBJ Photo/ Perry Reichanadter)
The millions watching on TV will get an NFL-approved take of the city that could make Peoria look like Paris. Nevertheless, tens of thousands of visitors will arrive in a northern city at the ugliest time of year.
"Indianapolis in February," Keep Indianapolis Beautiful President David Forsell said in classic understatement, "can be kind of gray and dark."
IBJ
asked a handful of urban experts to point out some eyesores and suggest fixes—or at least how to make the best of them.
Forsell, who also sits on the Indianapolis Super Bowl Committee's subcommittee on beautification, said some of the city's brightest minds will soon take up the question, but he stopped short of discussing details.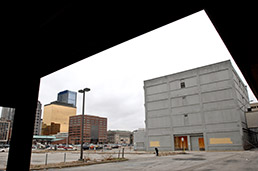 Former Bank One processing center area (IBJ Photo/ Perry Reichanadter)
Trash and clutter could be cleaned up, he said. In October, Keep Indianapolis Beautiful, Eli Lilly and Co. and the Indiana Department of Transportation led a massive landscaping and public art project along key I-70 interchanges between downtown and Indianapolis International Airport. The art includes brightly colored, mushroom-like pods.

"The notion of public art is that it creates interest and conversation," Forsell said. "I think vibrancy is going to be critical."

Maybe vibrancy will cure the scourge of corrugated metal.

Urban blogs such as hustonstreetracing.com wax contemptuous with comments about the cream-colored steel siding on the south end of Union Station's train shed.

The effect is multiplied by the steel siding on the south end of the recently expanded Indiana Convention Center, which unfortunately faces Lucas Oil Stadium, noted Brad Beaubien, director of Ball State University's College of Architecture and Planning, downtown.

The color is more muted than that on Union Station, but "it's also a steel shed" effect, Beaubien said.

Indianapolis Downtown Inc. President Tamara Zahn said the metal has been identified as a décor element that could be addressed. When the new stadium opened its massive doors, people inside suddenly discovered the train platform was part of a whole new sightline.

What to do with it? Some observers suggest painting it with a mural.

That or, theoretically, perhaps remove the train-shed siding, said Aaron Renn, a former Indianapolis resident now living in Chicago and author of one of the nation's leading urban policy websites, Urbanophile.com; it depends on what's beneath the siding.

Indianapolis' affinity for the trailer park look on its southern flank also can be seen a little farther west—a curtain of corrugated siding on Citizens Energy Group's steam plant.

It was put up a couple of years ago to cover steel gantries where birds roosted (and went potty), said Citizens spokesman Dan Considine.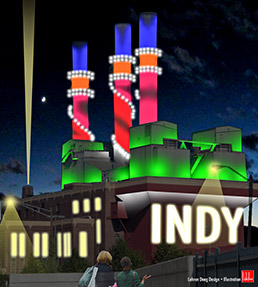 Citizens Energy Group's downtown steam plant doesn't need to look gritty. (Rendering Courtesy Lohren Deeg, assistant professor of urban planning, Ball State University )
As for the plant's towering smokestacks, Renn said "a coat of paint could do wonders." He noted how dashes of color on the first-level entrance of the Minton Capehart Federal Building downtown helped break up its monolithic character.

Renn and Beaubien are bullish on the steam-belching plant, which harkens to the city's industrial heritage.

"I actually love that look. It's the … Baltimore Camden [Yards] look," Beaubien said, adding that clever lighting would compliment its architecture.

Considine said Citizens plans no aesthetic modifications, but admitted company insiders have joked about painting the smokestacks to resemble goal posts.

Playing up positives

Downtown has numerous positives, Beaubien and Renn say, with Renn going so far as to say the Wholesale District south of Washington Street holds its own against just about any comparable downtown district.

Downtown has been polished over the years for big events such as the Final Four, countless conventions and the Indianapolis 500.

But Beaubien points out that Pan Am Plaza, which was built for the 1987 Pan American Games, is now a "cancer of a crumbling plaza."

Zahn pointed to numerous improvements under way downtown, including Georgia Street, which links the convention center with Conseco Fieldhouse and will serve as a staging area for Super Bowl events.

IDI is testing wintertime concepts for its 200 planters and nine garden beds downtown. For example, it hired a contractor to plant evergreen shrubs in one of its flower beds in front of the Borders bookstore at Washington and Meridian streets.

The shrubs smell good and are interspersed with decorative metal spikes that look like the back lot of "Edward Scissorhands." Artsy. But will drunken fans impale themselves? Best to assess that now.

Soon, IDI will send e-mails asking for feedback—what works and what doesn't, what can withstand the cold and what can't, and what's most appropriate for particular areas.

In the winter before the 2006 Super Bowl in Detroit, organizers conducted winter festivals to see if people would even come to its downtown. The city ended up hosting a winter carnival featuring ice skating, snow slides and sled dog races. Bands played and food was served in heated tents. Tours of a Ford Motor Co. factory and the city's museums were arranged.

"The Super Bowl is not what most people think it is," said Susan Sherer, who was executive director of Detroit's Super Bowl Committee. "It's so much more than a game. Think of it like a party in your house."

Stadium neighborhood

And then there are the neighborhoods near Lucas Oil Stadium.

Around long before the stadium was built three years ago, the area is a hodgepodge of industrial buildings and an outdoor yard where metal and industrial parts are stored.

"The real issue is, we stuck the stadium in a developing part of town," Beaubien said. "It's definitely not a pedestrian-inviting atmosphere."

City spokesman Marc Lotter said the South Street area near the stadium is slated for road and sidewalk improvements this year. He added that the city also can pursue code violations, but "when you're dealing with private property owners, we're limited."

Beaubien said not to discount the potential of businesses swelling with civic pride as the Super Bowl nears and getting into the spirit. He also wonders whether a pool of funds could be created to help pay for façade improvements. Such a fund was created in Detroit.

Attacking blight

The city is depending on a private developer to tackle one of the biggest blighted areas downtown—the former Bank One processing center at Washington and East streets, a squat, graffiti-covered building surrounded by a squatter-resistant chain-link fence.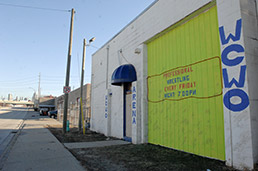 Stretch of Kentucky Avenue (IBJ Photo/ Perry Reichanadter)
Though several blocks from upcoming Super Bowl events, the site would be visible to those coming downtown via the new Washington Street interchange at the I-65/I-70 split.

The property is held by Indianapolis-based Milhaus Development, which in 2009 proposed spending $65 million to build a 600-unit apartment complex on the site.

Milhaus CEO Tad Miller said work will begin on the project when the city resolves issues involving its planned privatization of downtown parking operations. That's important because Miller would purchase several hundred parking spaces in an adjacent parking garage from the city.

He expects to start this summer: "Something will be going on by the Super Bowl."

Just west of the former Bank One building is a huge gravel parking lot where Market Square Arena once stood. Later this year, the Capital Improvement Board plans to spend as much as $800,000 to pave the lot and add landscaping.

Still, visitors will pass by two jails on the way down Washington Street and past a crumbling railroad viaduct, an area Renn and Beaubien respectively describe as "horrific" and "challenged."

Ultimately, though, aesthetic issues might not be worth too much hand-wringing.

Detroit's Sherer said how Indianapolis residents interact with visitors will leave lasting impressions.

"How people are greeted and sent on their way is super important. What do they see in your house? Is it real or phony? Is your family fighting or together? Do you have a slipcover on your couch to make it look nicer or do you have a whole new couch?"

In the end, she said, "the power of the destination and its people to deliver great hospitality ... will define the experience—rain, snow or shine."•