By now, many Indianapolis residents have weighed in on the freed-slave sculpture planned for downtown, but the discussion isn't over.
The Chicago-based Joyce Foundation has granted $50,000 to support the Central Indiana Community Foundation's ongoing outreach efforts around Fred Wilson's "E Pluribus Unum."
In case you haven't caught local media coverage of public meetings, the hour-long discussion with Wilson on Amos Brown's radio show, or the follow-up by art blogger Tyler Green, the issue boils down to this: Does the depiction of a freed slave harm African-Americans by reminding viewers of a low point in American history? Or does it transcend those circumstances?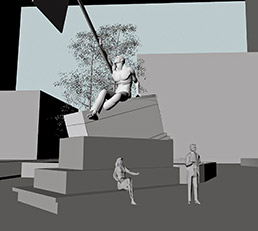 Architectural renderings of Fred Wilson's "E Pluribus Unum" on the front plaza of the City-County Building. (Rendering Courtesy CICF)
Wilson is aiming for the latter. He drew his inspiration from the freed slave depicted in the Soldiers and Sailors Monument. The sculpture he'll create uses a similar figure, but the man sits in a more upright posture and holds a multicolored flag.
"It's quite amazing that some people couldn't get past the image of this freed slave as a slave," Wilson told Green, author of "Modern Art Notes."
CICF will use part of the grant to underwrite Wilson's commission and the remainder for ongoing public outreach. One of the first steps was creation of a website, www.fredwilsonindy.org, where you can see renderings and videos. More discussions are being planned in conjunction with the Greater Indianapolis Progress Committee.
Wilson will not alter his original design, but according to a press release from CICF, "The collective dialogue may influence when the art is installed, what's around the art, where it's located and what other artworks might be commissioned as a result of this project's completion."
CICF commissioned "E Pluribus Unum" as part of the $2 million public art program that goes along with construction of the Cultural Trail. The original plan was to have it installed this September outside the City-County Building. That's on hold, pending the talks.
Please enable JavaScript to view this content.