When students at Indianapolis Metropolitan High School got back from their holiday break this month, they returned to a school transformed.

In less than three months, administrators at the charter school decided to ditch their old educational model and implement a school-wide overhaul.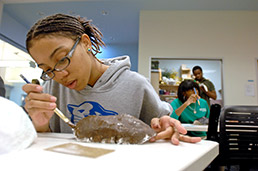 Taylor Harris paints her mask in art class at Indianapolis Metropolitan High School, which overhauled its courses this month to improve students' academic performance. (IBJ Photo/ Perry Reichanadter)
The reason was simple: The school's 430 students weren't hacking it on standardized tests. Only 3 percent passed the math test required for graduation and only 35 percent passed the required English exam.

Indy Met, as the school is called, has the flexibility to make such rapid change because, as a charter school, it is free from state curriculum and staffing regulations, as well as from collective bargaining agreements with its teachers.

"Painting the plane while it flies" is how Superintendent Scott Bess described the changes when he met with the school's board of directors in November. The board, full of current and former business executives, heartily approved Bess' proposal.

Indy Met could be the face of the future for all Indiana public schools.
Education reforms proposed by Gov. Mitch Daniels and Republican legislators would push all public schools to act more like charters: to make fast-paced changes to compete with their peers for grades from state regulators, as well as for the students and dollars that come with them.

Some question the wisdom of such rapid experimentation, while others say school improvement will come only through aggressive innovation.

Leaders at Indy Met expect to see early results of the effort in late April or early May, when scores from spring standardized testing come in. If they show improvement, school officials will plow ahead; if not, they'll go back to their spreadsheets and whiteboards in search of another answer.

About the same time, Hoosiers will learn what broader education reforms get hashed out in the Indiana General Assembly—and what changes those will bring to Indiana schools.
In the meantime, IBJ will spend time at the Met, watching its transformation—bumps and all—to see many of the leading school reform ideas being tested in real life.
Traditional transformation

Before January, Indy Met looked more like an elementary than a high school.

Each grade level had its own separate school of about 100 students, housed in a different wing, with its own principal. All students had a primary teacher with whom they spent about half the day, working on projects and learning life and organizational skills. The rest of the time, they rotated among classes such as algebra, English and physics.

There were no bells at Indy Met, and few students bothered using their lockers.

In addition to leading instruction on a particular subject, each teacher acted as an adviser to the 15 or so students in his or her primary class—and remained assigned to them through their high school careers.

As quasi social workers, the teachers made visits to students' homes, helped them through personal issues and, in some cases, became close confidants. Every teacher had a school-issued smart phone so students could reach them on nights and weekends, and teachers frequently were called out of class to help one of their students struggling with an emotional issue.

The relationship-based strategy was designed to help Indy Met's students—most of whom are poor, most of whom are minorities, and most of whom didn't thrive in traditional public schools—to succeed.

Indy Met's challenging population is not unusual for charter schools. Although critics have raised concerns about charters' cherry-picking high achievers from traditional public schools, most are magnets for students who had trouble in other schools.

On Jan. 10, the first day of classes under Indy Met's new structure, the bell rang for the first time at 8:30 a.m., signaling its shift in strategy. Students now change classes several times a day, have a different teacher for each subject, and use lockers instead of storing belongings in classrooms.

"Oh my god, this doesn't feel like my old school," junior Kehinde Ligali lamented as she looked at her schedule of seven classes and tried to figure out where to go for first-period physics. "It feels so different now."