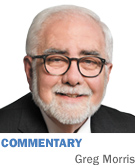 Education is on my mind this week. There's been a lot of talk and positioning about education reform, and now it's game on.

This past week, the Indiana House voted 59-37 in favor of House Bill 1002, chiefly authored by House Speaker Brian Bosma. The bill expands education opportunities for Indiana students by eliminating existing statutory caps on the number of charter schools allowed and by more broadly defining the types of entities that can serve as a sponsor of a charter school.

Other goals of the bill are aimed at increasing access to funding for charter schools, making sure charter schools are held to the state's public schools accountability standards, and requiring a consistent transfer of credits when a student goes from a charter school to a traditional public school.

Gov. Daniels dedicated about half of his State of the State address in January to his education reform agenda. And we're just getting started. House Bill 1002 is primarily focused on creating more options for students, but it is just the first step in an aggressive agenda of reforms that are designed to put children first.

Not everyone agrees more charter schools or other proposed reforms are a good idea. Did you see the raucous scene at the Statehouse last week? More than 1,000 teachers came from across the state to rally and voice their objections to Daniels' education reforms and the specifics of the House bill, which they fear will drain resources from traditional public schools.

Daniels and State Superintendent of Public Instruction Dr. Tony Bennett are often demonized because they are forcing change in an attempt to fix a failing system. Isn't that the way it always is? A system is failing, and everyone says they want to improve it. But, when significant change is finally proposed, all the individual and special interests scramble to fight it. Nothing happens and the cycle repeats itself.

When HB 1002 passed the House Education Committee back in January, Bennett praised the first step and said, "I am confident Indiana's legislators will continue to work together to act now for Indiana's students." How did that working together work out in the House last week? The politically correct press releases say the bill passed the House with bipartisan support. That is technically true. But the yes votes were cast by 58 Republicans and one Democrat. It's great to see that spirit of cooperation at work again. It warms the heart on these cold winter days. I guess there is still time for the Senate to work together.

Change does not come easily. Education reform is a topic that brings out passion—and rightfully so. Our children are our future. It's tough to take the lead and criticize some teachers, administrators and school systems when there are good things happening in many schools. But the numbers don't lie. Indiana students as a group have been underperforming and schools as a group have been failing.

Yet, there are excellent school systems that consistently perform at a high level. These high performers don't like a lot of the reforms because they want to be granted more local control and take their game to an even higher level. They don't want to be saddled with state mandates they say will hinder the success they are already achieving. Yet, those voices have to be careful their message does not blend in with the underperformers who are loudly complaining to protect their own self-interest. It's a complicated issue.

Everyone would like to see more consensus on what changes are needed. However, it has been obvious for a long time that consensus is not at hand. The change we need has to be forced. We're witnessing the state's CEO force change. That doesn't make him popular with many, but I applaud the effort.

Finally, the business community has to be a catalyst for positive change in education. Businesses need educated individuals and outstanding schools in their community and educational institutions need the support of the business community. To survive and prosper, this relationship is critical. I encourage you to be engaged in the conversation and in doing what you can to help facilitate the best outcomes.•

__________

Morris is publisher of IBJ. His column appears every other week. To comment on this column, send e-mail to gmorris@ibj.com.