A small downtown digital marketing firm has found a niche in the ever-changing world of technology by developing software applications for smart phones.

Indianapolis-based Boost Media & Entertainment has designed about a dozen apps within the past year. But its latest creation, one targeting independent radio stations, may catapult the company into the national spotlight.

The app lets users listen to live radio feeds and receive multimedia information from the station on their mobile phones.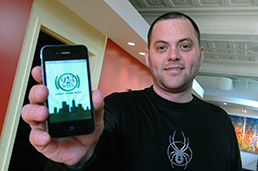 Boost Media CEO Jason Zickler shows off the local firm's new radio station app.(IBJ Photo/ Perry Reichanadter)
Rock station WTTS-FM 92.3 in Bloomington signed on as the first client and racked up 1,500 downloads from listeners in one week. Boost also is in conversations with a radio station in New York City and with the owner of four independent stations in Colorado.
A formal nationwide media and marketing campaign for the product, called MyStationApp, is expected soon, said Boost Media CEO and co-founder Jason Zickler.

"It's really cool that we've been able to do it with [WTTS] because they're kind of a cult brand," he said. "Hopefully it will be taking off for us."

Zickler, 35, founded Boost Media in mid-2007. The firm has nine employees and moved Jan. 1 to larger space at 107 S. Pennsylvania St., where it occupies 4,000 square feet.

The company started as a website developer and online video producer, and is concentrating on building its mobile-app business.

An app it designed for the annual Rib America festival at Military Park in downtown Indianapolis caught the attention of WTTS Program Director Brad Holtz.

The two parties began collaborating in the fall and had a product finished around the first of the year.

WTTS approached Boost Media in part simply because few mobile apps are available for independent radio stations. Large corporations such as Clear Channel, which operates WFBQ-FM 94.7, WRZX-FM 103.3 and WNDE-AM 1260, dominate the radio dial and develop their own platforms that are used company wide.

Zickler thinks MyStationApp will appeal to smaller radio stations because it features a low implementation cost and a short development time—under a week in many cases—yet can be customized by each station.

"It gives listeners what they come to the website and the station for—the music, the concert listings and the social media interaction," Holtz said. "It's been a really good rollout."

The next step for WTTS is to embed advertisements in the app in an attempt to generate additional revenue.

Clients pay Boost Media an annual fee to offer the app while listeners download it for free.

MyStationApp lets users tap into a multimedia stream that displays song titles and artist names for songs while they're playing, concert calendars and other exclusive content. The app can be used on Android and iPhone devices, as well as the iPad.

In addition, Boost Media recently finished an app for the annual Spirit and Place Festival at IUPUI, scheduled this year for Nov. 4-13. Another application, for the Indianapolis Colts fan club called Indy Blue Crew, should be unveiled within the next week.

Zickler, who graduated from the Purdue University School of Engineering and Technology, earned a master's degree from the Indiana University School of Informatics and Computing.

He worked at locally based Aureate Media before the firm became Radiate and moved to Silicon Valley under co-founder Jeff Ready, who now leads Indianapolis-based data-storage firm Scale Computing Inc. Zickler later became a vice president at now-defunct Pathway Productions Co. in Indianapolis.

He declined to divulge Boost Media's annual revenue but said the company has grown modestly at a rate of about 35 percent a year. A booming app business could help grow the figure.

"I think we're finding our niche," Zickler said. "It seems like a good future for us."