Jonathan Faber's connection to the Super Bowl champion Green Bay Packers might run deeper than even that of the most die-hard cheesehead.
The local intellectual property lawyer and former president of Fishers licensing firm CMG Worldwide represents Vince Lombardi's children, who own the rights to the legendary football coach's trademark.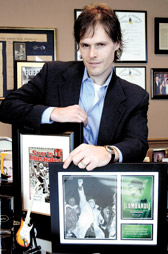 Before starting Luminary Group, Faber worked for Atlantic Records, former Indianapolis Mayor Steve Goldsmith and CMG Worldwide, and played in a rock band. (IBJ Photo/ Perry Reichanadter)
Classic footage of Lombardi raising his arms in victory appeared in a Mercedes Benz television advertisement during the National Football League's title game earlier this month.
Faber, 38, and business partner Pete Enfield, another CMG alum, negotiated the luxury automaker's use of the image.
Vince Lombardi Jr. and Susan Lombardi along with about a dozen other descendants of prominent sports figures have followed Faber and Enfield from CMG to their tiny Luminary Group LLC licensing and marketing firm in Shelbyville.
The most recent addition is the trademark of the Sultan of Swat himself, Babe Ruth. Ruth's daughter, Julia Ruth Stevens, signed with Faber in January to license his likeness and protect it from infringement.
Others include the estates of star Baltimore
Colts quarterback Johnny Unitas, pitching greats Cy Young and Satchel Paige, and golfing legend Sam Sneed.
"In every instance, the clients who have joined us were free agents," Faber said. "They ride out their agreements, and at that point they have the right to look at what their options are. So it's really not any more complicated than that."
Mark Roesler, who founded CMG in 1980 and remains chairman and CEO, acknowledged the defections but is unconcerned.
"Three or four different clients I had are now represented by him, so I don't really look at him as competition," Roesler said. "We're involved in one fashion or another with about 500 personalities."
Even so, surely they must have enough confidence in Faber to justify bolting CMG, the self-described "worldwide leader" in IP rights management.
John Unitas Jr., who markets jerseys sporting his father's famous No. 19 as well as other memorabilia from his Unitas Management Corp. in Baltimore, is among the believers.
"Whatever he says, I do," Unitas said of Faber. "He knows this business like the back of his hands."
Other entertainment-related clients of Luminary have included Buddy Holly. While at CMG, Faber also worked with representatives of James Dean and Marilyn Monroe.
It's not about location
Any hint of business with such historical figures is nowhere to be found in Faber's cramped, cubicle-size office at Shelbyville law firm McNeely Stephenson Thopy & Harrold.
Faber vacated a larger office because the firm, in which his father-in-law, Lee McNeely, is a name partner, is adding a few attorneys to its 20-lawyer staff, and needs the space. Faber isn't in his office that much, anyway.
There's no need to be there full time, with such a national clientele, said Jonathan Polak, a partner at the Indianapolis office of Cincinnati-based Taft Stettinius & Hollister LLP who also practices intellectual property law in the entertainment industry.
"Whether you are in Shelbyville or Indianapolis or Evansville, it really doesn't matter," he said. "The question is more about expertise and less about geography."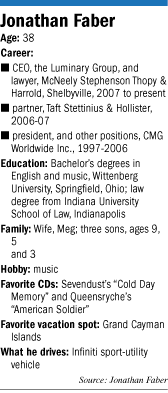 Faber wears two hats for several of his clients: As CEO of Luminary Group, he negotiates licensing deals and trolls for unauthorized uses; and as McNeely Stephenson's sole IP lawyer, he represents them in disputes.
Faber came to the firm in 2007 from the former Indianapolis firm of Sommer Barnard PC, which was absorbed by Taft Stettinius in 2008.
He had planned to meld Luminary Group into Sommer Barnard, but stayed for just a year after it became evident the consultancy would not be part of Taft's acquisition plans.
Faber described the split as amicable and echoed Polak's sentiments while explaining his decision to put down stakes in Shelbyville.
"On one hand, you could put a real premium on a firm that's located in downtown Indianapolis that is 100-plus attorneys," Faber said. "But it's based more on reputation. It really does make a lot of sense."
Rising star
A native of Ohio, Faber graduated magna cum laude with a double major in English and music from Wittenberg University in Springfield, Ohio. In 1999, he earned a law degree from Indiana University School of Law in Indianapolis.
In between, he worked in Los Angeles as an assistant for New York-based Atlantic Records and in former Indianapolis Mayor Steve Goldsmith's office, where he wrote speeches and coordinated events, among other tasks. In 1997, he joined CMG, the world's largest celebrity licensing company.
Faber spent 10 years there, ascending to president in 2003 at just 31 years old. He earned the top job after becoming the highest-revenue-generating lawyer in CMG's history.
The defining moment of his young career, however, was the result of the company's previous president, Darci Ross, losing a lengthy battle with cancer.
"Obviously, being named president was a good thing for me. But I wish it could have been under different circumstances," he lamented.
Faber ultimately left to start Luminary Group. It wouldn't be out of the realm of possibility, though, to think he could have rekindled his musical career instead.
His slick leather jacket and slightly shaggy hairstyle alludes to his guitar-playing prowess.
After slinging the six-string for just a year, a 13-year-old Faber was performing publicly with band members twice his age in his home state of Ohio. By age 15, a la Angus Young of hard-rock band AC/DC, he was playing with professionals and releasing recordings of his own music. A note from his parents giving him permission to play in nightclubs became a necessity.
He inherited his musical talents from his mother, a music professor and performer.
One of his bands, a blues-rock outfit, was nearly signed to a record deal. He has appeared with artists including Jon Secada, Mia Peebles and Eddie Money. He was even in contention to be the guitarist for Ozzy Osbourne in the early '90s but was beaten out by legend Steve Vai.
Faber remains active in music and just finished recording a compact disc of his own in which he sings and plays guitar.
Rockwell to Sixx
As a lawyer, one of Faber's more recent high-profile cases involved charges of infringing the copyright to a Saturday Evening Post cover first published in 1943. The cover, "Freedom from Want," is a painting by the late Norman Rockwell, and features the image of a family at a Thanksgiving dinner as a large roast turkey is brought to the table.
He represented Indianapolis-based Curtis Publishing Co., which sued Hungry Howie's Pizza & Subs Inc. of Madison Heights, Mich., in June in federal court in Indianapolis.
Curtis, which publishes the Saturday Evening Post, accused the pizza chain of using the Rockwell painting in an "unauthorized, multistate advertising campaign," according to court documents.
Faber and his client reached a confidential settlement in September.
Besides trying cases, he's also served as an expert witness in disputes, most notably for Motley Crue bassist Nikki Sixx.
Vans Inc., a California-based maker of shoes and apparel with annual revenue of more than $330 million, used Sixx's image in an ad campaign. The rocker sought compensation in 2005 for what he said was unauthorized use.
A jury ultimately awarded Sixx damages and fees of more than $1 million after Faber testified about the value of Sixx's image in the ad campaign.
Not bad for a lawyer still on the right side of 40.
"I consider myself blessed," he said. "I'm exactly where I want to be."•
Please enable JavaScript to view this content.