Arsene Millogo is the first to admit that chasing a dream of entrepreneurship is no fun.
He stays up all night, just to ensure that he's awake throughout the workday at the Chinese factory that's producing prototypes for his running shoe line, Forus.
"You have to maintain the pressure," says Millogo, who has done just that since hatching his idea during a law school trip to China last summer.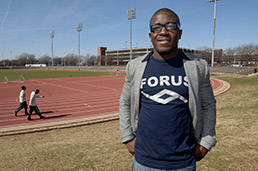 Arsene Millogo is making progress with a new line of running shoes. (IBJ Photo/ Perry Reichanadter)
Forus is a long way from being a full-fledged shoe company, but Millogo has made quick progress. He expects to have 50 pairs of shoes in hand this month. Then he'll dole them out to local Mini Marathon runners, as well as elite track athletes, and hope their positive reviews help land a deal with a major retailer.
Millogo, 29, emigrated from Ivory Coast after going to McKendree University in Illinois on a track scholarship in 2000. He's sitting out the current semester at Indiana University School of Law-Indianapolis to work on the startup effort, which he and three friends financed with more than $50,000 of their own money.
The idea behind Forus shoes is a removable insert that promises to be as comfortable as any after-market product, but that's designed to maintain proper fit. Millogo thinks that innovation, plus a charitable bent, will be enough to capture the market's attention.
"We can do a running shoe with a purpose," Millogo said.
He expects the shoes to cost less than $80 per pair. Millogo admits that will not leave Forus with much profit, but he thinks it's a way to gain notice.
Millogo also plans to donate 10 percent of Forus profits to scholarships for people headed into careers such as teaching or social work. Millogo, who entered law school intent on becoming a human-rights lawyer, wants his company to benefit needy kids.
He also knows that a charitable mission is good marketing. Part of his plan is to generate website traffic by publishing the scholarship applicants' essays online and inviting comment.
Millogo has won over the skeptics in his inner circle. "I'm an engineer, so I think about trouble-shooting things," said Pierre-Marie Degni-Segui, a partner who is a software engineer at Cummins. "I keep asking him questions, and he keeps coming up with good answers, so I just feel it's the right thing to do."
It is possible to start a new shoe company in the era of Nike, said Bob McGee, editor of Sporting Goods Intelligence magazine. Another successful start-up is Texas-based Spira Footwear, which makes running and other shoes around its "wavespring" technology.
Running is such a huge and growing category, it's a good place to start, McGee said. Wholesale U.S. sales grew 6 percent to $3.35 billion in 2009, the latest year for which data was available. "Even getting a half percent [market share] is a sizeable business," he said.
Setting up national distribution is the main challenge. "There's been so much consolidation with the retail side," McGee said.
One way to gain a foothold is to create buzz through the independently owned running specialty shops. "It's the end user that creates authenticity," McGee said.
Millogo, a collegiate sprinter and long jumper who trained with the Ivory Coast 2004 Olympic team before getting injured, attributes his progress to a series of fortunate connections.
During the law school trip to China, students were introduced to government and corporate lawyers. One of those Chinese lawyers later gave Millogo a list of government-licensed manufacturers, which led him to his current contractor.
"That would have cost me tens of thousands of dollars," Millogo says. "It happened in two weeks."
Millogo says he also benefitted from the guidance of a Chinese intellectual property lawyer. When it came to designing the Forus insole, he turned to an old classmate who works in chemistry.
Millogo's track career was well behind him when he latched onto the idea of starting a shoe company. He and some follow law students visited a shopping mall in Beijing that was stocked with brand name knock-offs.
The quality of the shoes was so good, Millogo said, "I thought, 'Why would these people not start their own brand?'"
Please enable JavaScript to view this content.