One half of a big development project touted last fall by Mayor Greg Ballard and Indiana University Health has fallen by the wayside.
The Indianapolis-based hospital system has canceled its plans for a $73 million administrative office building at 16th Street and Capitol Avenue and has instead purchased the Gateway Plaza tower at 10th and Illinois streets.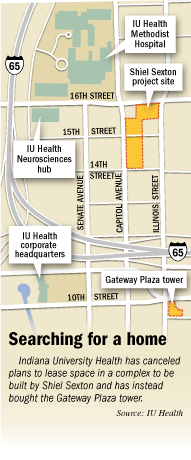 IU Health is still moving forward with construction of a $120 million neurosciences hub across the street from its Methodist Hospital campus.
But IU Health officials said the price was so good on Gateway Plaza—where the hospital system already rents 130,000 square feet—that they couldn't refuse.
"We really came upon the opportunity to buy the Gateway building at a very much reduced price to what its market value was, and also to what it was going to cost us to do the administrative center with Shiel Sexton," said Sam Odle, CEO of Methodist Hospital, referring to the Indianapolis-based developer IU Health had hired to build its administrative center.
Odle wouldn't say precisely how good the price was, other than that it was "millions of dollars" cheaper than building new. The project with Shiel Sexton was estimated to cost $60 million to build and another $13 million to fill out with equipment and fixtures, according to an estimate IU Health—then called Clarian—filed last year with the city of Indianapolis.
Even Mike Wells, president of REI Investments Inc., which sold Gateway Plaza, said it was at a "very attractive price." That was because the company servicing the mortgage on the building—Boston-based CWCapital LLC—realized that IU Health intended to move 750 workers in Gateway to its new building, threatening to spike Gateway's vacancy rate.
The building currently has 80 percent of its 270,000 rentable square feet leased. But the looming departures of IU Health as well as the IU Foundation—which recently bought its own building along the Central Canal—could have quickly reduced occupancy to 20 percent.
"It would have been very empty," Wells said, adding, "The lender on the building finally said, 'If we lose Clarian, this is going to be tough to hold this mortgage.' And I said, 'Well, let's not lose them. We can sell it to them.'"
Wells declined to reveal the sale price, which also included REI's selling IU Health its 1,200-space parking lots adjacent to the building.
The building and lots have an assessed value of $31 million. Even if Gateway Plaza had fetched the salty $196-per-square-foot recently paid for the 100-percent occupied WellPoint Inc. headquarters on Monument Circle, the total price would have been less than $55 million.
The sale closed March 15, Wells said. His firm will continue to manage the building for IU Health.
Negotiations opened between REI and IU Health in November, Wells said. That was a month after Ballard and IU Health CEO Dan Evans had staged a press conference to announce the neuroscience and administrative office projects.
For months leading up to the announcement, Ballard's administration had worked to support the two projects, which together represented an investment of more than $190 million. Ultimately, the administration was successful in winning approval from the City-County Council to chip in $38 million for road, sewer, utility and beautification improvements.
City officials have spent the past two months unwinding half the deal. The city will now contribute only $20 million to the project, still paid for with the proceeds of bonds it plans to sell in April or May.
However, instead of using all $20 million to support the neuroscience building, IU Health will now accept only $14 million toward that project. The remaining $6 million will be used to build a fire station to replace the one on the southeast corner of 16th Street and Capitol Avenue.
The fire station was initially to be paid for out of the $18 million in bonds that were earmarked to support the administrative center.
"It's still a huge project to the city in terms of new jobs and in terms of investment to the urban core," said Michael Huber, Ballard's deputy mayor for economic development.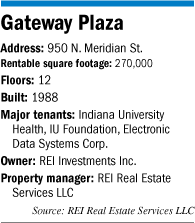 Indeed, IU Health expects to add 1,200 jobs over the next decade and centralize another 1,200 that are currently spread throughout Marion County.
IU Health had also estimated its projects would create 1,700 construction jobs. Odle acknowledged that number would now be lower, but he said he did not have a specific estimate for how much lower. He noted construction has started on the neurosciences building, which is being developed by Milwaukee-based Landmark Healthcare Facilities LLC. IU Health will also renovate Gateway Plaza.
The big loser in the deal would appear to be Shiel Sexton Co. Inc., which had spent more than four years amassing land southeast of the intersection of 16th Street and Capitol Avenue, with IU Health long expressing interest in being an anchor tenant.
However, IU Health has agreed to pay Shiel Sexton for the lion's share of the costs it incurred on pre-development work for the now-aborted administrative center. Also, Shiel still gets the city to pay for removing the fire station—the last big obstacle for Shiel's development plans.
"We remain committed to the economic vitality of Indianapolis and specifically the near-north side," Richard Hennessey, Shiel's executive vice president, wrote in an e-mail. "We will continue to work cooperatively with Mayor Ballard and City officials to determine the future and best use of this development site."
IU Health is also engaged in those discussions, Odle said.
"We see continued growth and demand around the Methodist campus. We think a continued demand for health care [makes sense]," Odle said. "That project will just be delayed and its definition will be different."•
IBJ reporter Cory Schouten contributed to this story.
Please enable JavaScript to view this content.