Larry Blackerby has come out swinging in his bid to elevate perennial ratings loser WRTV-TV Channel 6.
In a recent three-week period, the station's new general manager replaced the news director and sales manager, moves he says are a likely precursor to more personnel changes and a new emphasis on community outreach and sports coverage.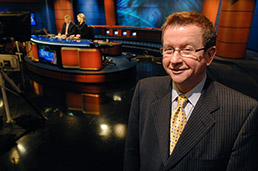 New WRTV GM Larry Blackerby recently made two key hires and is promising more changes. (IBJ Photo/ Perry Reichanadter)
It all adds up to a culture change that Blackerby said will position WRTV to challenge its rivals in the local television ratings war for the first time in a decade.
After taking over for the retiring Don Lundy in January, Blackerby, 55, hired local TV news veteran Kevin Finch as news director and brought in Guyanne Taylor, a seasoned saleswoman with general manager experience, as sales director.
Blackerby, who was previously general manager of Houston's NBC affiliate, KPRC-TV, said a culture change at WRTV is among his top priorities.
"I didn't come here to fail," Blackerby said from WRTV's office at 1330 N. Meridian St. "I want to win, and I want the people in this building to be filled with the same desire to win that I am."

Local industry experts said Blackerby has his work cut out for him.
Since the departure of anchors Clyde Lee and Diane Willis a decade ago, WRTV has lagged behind WTHR-TV Channel 13 and WISH-TV Channel 8 in local news viewership.
In the last two years, things have gotten worse. WXIN-TV Channel 59 has expanded its news offerings to become more competitive and put WRTV into fourth place in several time slots.
"Everything we do is driven by numbers—by viewer ratings," said longtime local media buyer Bill Perkins, president of Perkins Nichols Media. "And unfortunately, WRTV's numbers aren't very good."
Long gone are the days when the popular Howard Caldwell ruled the anchor desk at WRTV and the station was the dominant TV news outlet in the market.
Now, media buyers said the $500 or so that WRTV commands for a 30-second spot during most local newscasts is about one-half to one-third of what WISH and WTHR command.
For the latest sweeps period in February, WRTV was third or fourth during all major local TV news time slots, according to New York-based Nielsen Media Research.
News success is crucial
Local news broadcasts are important to local stations for several reasons.
Local stations control the entire advertising inventory during those time slots and don't have to share that revenue with their national affiliate networks. Ad sales during newscasts account for 40 percent to 60 percent of a station's revenue.
Local newscasts are also an important branding tool.
"It's the No. 1 factor in determining how local citizens view your station and is key in your ability to align with the right corporate partners in the community," said Bob Gustafson, a Ball State University advertising professor.
Finch
Hiring Finch seems a solid first step in boosting ratings, said Rick Gevers, a locally based agent for on-air talent (none currently on WRTV).
"In Kevin, they have an experienced news director who really knows the local market," Gevers said. "With Kevin teaming with some of their veteran reporters, I would expect ratings to get stronger."
Finch knows the competition. He spent six years as assistant news director and news director at WISH, and also previously worked at WTHR.
Finch most recently had been working for locally based Calamari Productions, where he wrote and produced documentaries for cable TV since leaving WISH two years ago.
Taylor, the new sales director, isn't as well-known here. Most recently, she was vice president and general manager at NBC affiliate WGBA-TV in Green Bay, Wis. Before that, she worked at stations in Palm Springs, Calif.; Austin, Texas; and Nashville, Tenn.
Taylor started at WRTV March 31, and Finch began April 11.
Though Blackerby said more changes are coming, he declined to give many specifics. He also wouldn't talk about his on-air staff or venture a guess as to when WRTV will climb out of the ratings cellar.
Sports emphasis
Blackerby said enhanced sports coverage is a key part of his strategy, noting the recently signed deal with locally based HomeTown Sports Indiana to provide high school and college sports content for WRTV's digital channel.
WRTV this month also began special promotional spots about the Indianapolis 500, which the station airs for ABC. The station also plans 30-minute specials throughout May and seven hours of coverage on race day, May 29.
Blackerby is also promising more community involvement from the top man, other station managers and on-air talent. "I think that's something that's been missing," he said.
WRTV will continue putting emphasis on investigative and "on your side" stories, Blackerby said.
Blackerby said ABC's lead-in programming is not the reason for WRTV's lackluster news ratings. He said WRTV needs to better promote its stories during lead-in programming and select and cover stories that will get and hold viewers' attention.
Blackerby also promises that WRTV will be more consistent in its dedication to news coverage and that the station as a whole will become more proactive.
Proactivity has not been WRTV's recent strong suit, said Bruce Bryant, president of locally based Promotus Advertising.
"They've been a sleepy station in this marketplace," Bryant said. "[Station officials] don't get out in the community as much as they should, their [managers and on-air people] don't network as much as the other stations, and they're not as involved. WTHR, WISH and WXIN are all out in the community, but where is WRTV?" Bryant asked. "That goes back over the tenure of more than one GM there, and it's something that has to change."
Bryant said he hasn't heard yet from Blackerby or WRTV's new sales director. Perkins, one of the state's largest media buyers, also hasn't heard from anyone at WRTV lately.
Turning the ship
But Gevers thinks Blackerby can turn the ship.
"Obviously, if you're the GM in a top-10 market [as Blackerby was in Houston], somebody thinks you're talented," Gevers said. "You have to give this a little time to play out."
But station owners are notoriously short on patience. Blackerby declined to detail a time line to increase ratings other than to say he expects changes and improvements to happen "quickly."
While Blackerby wants to act quickly, he also acknowledges a need for stability—especially behind the anchor desk. WRTV has had 15 anchor changes since 2001, a period that also has seen five news directors.
"It's difficult to connect with the on-air personalities when there's that much turnover," Bryant said.
One lingering question about Blackerby is why he left KPRC in Houston, the nation's 10th-largest TV market, for Indianapolis, the nation's 25th-largest.
Though KPRC ranked third in many time slots during Blackerby's tenure, he said he left Houston to be closer to home.
A central Illinois native, Blackerby graduated from Indiana State University in 1977. During his early career, he worked in Terre Haute and followed the Indianapolis market. He said he was eager to come back to Indiana, where he has family.
Questionable commitment
But at WRTV, he inherits a station that is much smaller in capital and human resources than the station he piloted in Houston. There are also questions about the commitment of McGraw-Hill, WRTV's parent company, to its local stations.
The company's other three stations are in Denver, San Diego and Bakersfield, Calif.
"Right now, they're simply outmanned by the competition in this market," Gevers said. "They don't have as many boots on the ground."
New York-based McGraw-Hill, known more for its much larger publishing division, has been plagued by the image that it won't pay to have its TV stations compete on a level playing field with its competitors.
Gevers said that might be changing. "They hired a new director of broadcasting, and there's some hope improvements will be made."
Darrell Brown was named to that position almost three years ago and has promised to fortify the company's broadcasting efforts.
Blackerby is confident McGraw-Hill will give WRTV whatever it needs to compete.
"They're behind me 100 percent," Blackerby said, "to get us back to where we need to be."•
Please enable JavaScript to view this content.