Dr. Kevin Logan worked for several years in the St. Vincent Physician Network until he decided to head in a radically new direction.
He not only left the support network of St. Vincent when he set up his one-man practice in 2003, but he also decided to no longer accept insurance payments from the likes of Anthem, UnitedHealthcare, Medicare or Medicaid.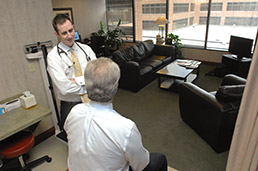 Dr. Matt Priddy visits with a patient at Priority Physicians in Carmel, one of several concierge doctor's offices springing up in the area, cb atering to personal service. (IBJ Photo/ Perry Reichanadter)
Instead, he charges $395 for one-hour visits and $145 for 30-minute follow-up visits. This extra time, he says, allows him to get to the root of patients' illnesses—rather than making a quick diagnosis and dashing off a prescription.
"When I started out, my goal was to remove all possible barriers to the patient-physician relationships," Logan said from his Fishers office, called the Logan Institute for Health and Wellness. "When a third-party payer dictates what can and cannot be done, then it interferes with that [relationship]."
Logan is a rarity now, but that could change soon. Increasing numbers of primary care doctors are altering their practices either to reduce dealings with health insurers or to see fewer patients, who pay an annual retainer fee for access to the physician.
Trends in medicine have whittled away at the time primary care physicians can spend with patients. And now key parts of the 2010 health insurance reform law may accelerate those trends.
That has led some health care analysts to predict a large-scale shift by family doctors and their patients away from the third-party insurance system. If that happens, it could create a sharply two-tiered system in which extra money buys shorter waits and longer times with a doctor, while those who can't afford it get care from nurses or wait in line.
"I see this as a sort of a canary in the coal mine," Dr. Robert Berenson, vice chairman of the Medicare Payment Advisory Commission, said during a September hearing in Washington, D.C., on retainer-based doctors. "In and of itself, I don't think it's a big deal, but … this combined with other factors, we could hit a tipping point where docs opt to do any number of other things."
The attention of the commission, which makes recommendations to the federal Medicare program for seniors, the largest health insurance plan in the nation, was piqued by the rapid growth in retainer-based practices, also known as "concierge" or "boutique" physicians.
They accept fewer patients and then charge an annual fee, typically in exchange for prompt and 24-7 access to a physician. Many even do house calls.
Most concierge physicians refer patients to outside health care providers for MRI tests, specialist exams or a hospital procedure—meaning patients still ought to have health insurance to cover those outside services.
From 2005 to 2009, the number of concierge physicians nationwide spiraled fivefold, going from 146 to 756, according to a 2010 presentation by the National Opinion Research Center to the Medicare commission. A handful of those physicians are in the Indianapolis area.
FirstLine PHC, a two-physician concierge practice, started in 2006 in Carmel. And Dr. Clifford Fetters uses a similar model, also in Carmel.
Priority Physicians LLC, near West 86th Street and Naab Road in Indianapolis, started in 2002 and just added its fourth physician this year even though the entire practice has only 620 patients. Traditional physician practices have about 2,000 patients—per physician.
"In the last year, we've seen a number of [patients] come on board," said Joe Rizzuto, chief operating officer of Priority Physicians. "They're very drawn toward this kind of care. They do wonder [in traditional practices] about, 'Am I going to see a physician that I know? Am I going to see a physician when I need them?'"
Reform complications
The number of doctors like Logan is still a pittance compared with the 710,000 practicing physicians nationwide. But strong pressures could push more doctors that direction.
Already, there are about 2 percent fewer physicians than needed to meet patient demands, according to the Association of American Medical Colleges. The looming retirements of baby boomer doctors—at the same time their boomer peers need more medical care—threatens to make the situation much worse.
Payment policies by the Medicare program, which have been mimicked by private health insurers, have for years held a firmer line on reimbursements to primary care physicians than they have for specialists.
The result has been a growing imbalance in earnings power for primary care doctors, who now make 70 percent less on average than their specialist peers.
To no surprise, the numbers of medical students going into primary care has dwindled steadily since the mid-1990s.
Family physicians have tried to compensate by seeing more patients, which has forced them to reduce the average time with each patient to less than 15 minutes.
"The only way to make this happen was going to be, see more people, which to me meant have more patients upset with you, fall further behind," said Dr. Tim Story, who started FirstLine PHC with Dr. Kevin McCallum, greatly reducing his number of patients. "We figured the only way to continue to do what we wanted to do the way we wanted to do it, was to go this other way."
Soon to add to these supply-and-demand pressures is the Patient Protection and Affordable Care Act (aka health care reform).
It will expand health insurance coverage to an estimated 32 million additional Americans. With research showing patients use about twice as much medical care when insured than when not, more people are likely heading to physician waiting rooms.
At the same time, health care reform requires all insurance plans to cover several preventive services free of charge. If patients put those new benefits to use, it could overwhelm doctors.
A 2003 study in the American Journal of Public Health concluded that if all physicians had patient panels of 2,500 (which is close to the current average) and provided all preventive services at the frequency recommended by the U.S. Preventive Services Task Force, each doctor would spend 7.4 hours per day doing nothing but preventive care.
"We are going to have a huge increase in demand with no change in supply. Since we primarily pay for care with time rather than money, the time price of care [waiting] will shoot up almost everywhere—at the emergency room, at the primary care facilities, and for most specialist services," wrote conservative health care analyst John Goodman, president of the National Center for Policy Analysis, in a March 7 blog post on the likely expansion of concierge medical care.
Longer waits are likely to produce eager customers for more concierge doctors, Goodman added. And as more patients and doctors leave the traditional system, the time crunch will only get worse.
Whitni Buckles thought it was already bad enough. She loved her physician, Dr. Emily Szewczyk, whom she saw for five years at St. Vincent Primary Care Center and who helped deliver and care for Buckles' two kids, now ages 2 and 4. But most visits with Szewczyk were five minutes or less, Buckles remembers.
So when Szewczyk left St. Vincent to become Priority Physicians' fourth physician, Buckles decided to follow her. She paid a $5,600 annual fee to pay for care for herself and her two children.
"I could actually call right now and say, 'Hey, I need to talk to Dr. Szewczyk about something,' and they'd say, 'OK, let me get her,'" said Buckles, 33.
The upfront price is steep, she acknowledged. But her employer-sponsored health insurance plan from Anthem already has a $10,000 deductible, with a health savings account feature to pay medical costs up to that amount.
"I'll never receive another bill for anything [from Priority Physicians]," Buckles said. "That's going to come out pretty close to being a wash."
Rising competition
It's no foregone conclusion that more doctors and patients will seek primary care outside the third-party insurance system.
Most primary care doctors are now becoming employees of hospital systems, which will be eager to give patients what they want in order to get them into their systems for the more lucrative specialty and hospital care.
Also, there is evidence that, while expanding insurance coverage will spike wait times, the physician community will adapt without adopting a radically new practice model.
For example, longer wait times at primary care doctors did occur in Massachusetts after it adopted reforms similar to the Patient Protection and Affordable Care Act, or PPACA, in 2006, and many primary care doctors have stopped accepting new patients. But no one has documented a shift in Massachusetts to concierge models.
"The possible rise of concierge medicine stemming from PPACA is not something that we foresee, nor is it something Anthem is actively planning for at this time," Dr. David Lee, vice president of provider engagement and contracting for Anthem Blue Cross and Blue Shield in Indiana, said in an e-mailed statement. "I suspect physicians would simply close their practice to new patients, as they do now, once their office reached a full patient load."
Even if there were a shift toward concierge medicine, some observers think the high upfront prices of the concierge model—or the large per-visit costs that Logan charges—will greatly restrict the number of patients who can afford these services, and therefore the number of doctors who adopt the models.
"This seems like something that is really going to have—is going to be a very niche thing in some fairly sharply defined geographic locales," Dr. Karen Borman, a surgeon at the University of Mississippi Medical Center, said during the Medicare commission hearing. "And that doesn't necessarily make it OK, but it certainly, I think, will limit the market a bit."
But with more and more patients like Buckles having high-deductible health plans with health savings accounts—they might find the high retainer fees coming out not much more than what they spend out of pocket, anyway.
Logan said at the beginning of his practice he worried about having enough patients. But that has not proven to be a problem. Instead, word of mouth spread rapidly.
For example, Dale Sventeck, a self-employed real estate investor with high-deductible health insurance, heard from a friend that Logan would take the time to get to the root of problems and work to improve his health even before it devolved into illness.
At the time, Sventeck was suffering from a frozen shoulder that he couldn't lift above his head. He had asked other doctors about it, who wanted to order an MRI and do surgery.
But Logan suspected Sventeck's shoulder was being compromised by poisoning from the mercury fillings in Sventeck's teeth. He told him to get the fillings removed. Within a month, Sventeck's shoulder was back to normal.
Since Logan's payment arrangement gives him time to make accurate diagnoses, Sventeck said, he's happy to pay the higher visit fees upfront.
"If you're getting real results, you have no problem paying upfront," said Sventeck, 60, a Lafayette resident. "The health care practitioner like Dr. Logan is really the future. People are tired of being sick and tired and not getting results."•
Please enable JavaScript to view this content.