An Indianapolis charter school marked for closure by Mayor Greg Ballard posted huge gains in ISTEP scores this year, and school leaders plan to ask Ballard to reconsider his decision.

At Fountain Square Academy, 62 percent of its middle school students passed the English portion of the standardized ISTEP tests—a 24-percent jump from last year. And on the math portion of ISTEP, 76 percent of students passed this year—a 63-percent leap from last year.

"That's huge. No school in Indiana had that kind of a gain," said Kevin Teasley, president of the Indianapolis-based GEO Foundation, which launched Fountain Square Academy in 2005. All numbers reported by the school are preliminary, and still need to be finalized by the Indiana Department of Education.

Ballard
Fountain Square also has high school students. Their pass rate on their standardized math test spiked 36 percent this year, to 57 percent. About half of Fountain Square high school students passed the standardized English test, the same as last year.

GEO also has hired Joel Klein, the former chancellor of New York City schools, to do a complete review of Fountain Square to recommend further improvements.

But Ballard doesn't appear to be budging.

"Unfortunately, in the case of Fountain Square Academy, the school has consistently not met the required performance standards," Ballard said.
Teasley
Charter schools receive a seven-year charter, at the end of which the mayor decides whether they deserve another seven years. But Fountain Square was open only six years before Ballard decided it should close—although the actual closure will not happen until after the school's seventh year.

"Had they waited until the end of this year and we got this year's ISTEP scores, they may have made a different decision," Teasley said. If Ballard sticks by his decision, he added, Fountain Square will apply for a new charter from the two other entities that can approve charter schools, Ball State University or the State Board of Education.

In his March 18 announcement of closure, Ballard said his office would work with the existing Fountain Square board to find a new organization to operate a charter school in Fountain Square, possibly in the same building as the current school.

Ballard initially said GEO would not be the operator of a new school, even though GEO appointed the Fountain Square board. Ballard's staff later said GEO and any other entity could apply to run a new charter school in Fountain Square.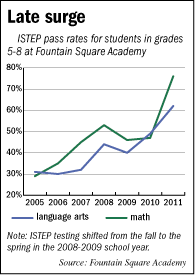 Melina Kennedy, who is running against Ballard for mayor this year, declined to say whether Ballard's decision was too hasty or misguided, but she said he "fumbled the ball by being so confusing in saying what he's actually doing."

David Dresslar, executive director of the Center of Excellence in Leadership of Learning at the University of Indianapolis, said Ballard's decision on Fountain Square is justified because Fountain Square posted mediocre results for too long before this year's spike in scores.

"This is the perfect storm of how it shouldn't happen, with the first six years being marginal in terms of performance and then a big jump in the seventh year," Dresslar said. "What the mayor is looking at is the totality of the performance, which would still call into question the success of the school, even after the gains this year."

But Teasley contends Fountain Square's achievements should be celebrated, especially considering that 80 percent of its students come from low-income families and only 30 percent were passing ISTEP when the school began. He also noted Fountain Square has improved performance without huge support from private donors.

"We are proving that it can be done," he said.•