Young & Laramore is back on the national stage with a new round of Stanley Steemer television commercials, which began airing coast-to-coast in May.

The quirky, humorous 15- and 30-second spots are gaining the Indianapolis agency national attention.
"The quality and high-profile nature of ads like these get noticed," said Bob Gustafson, a Ball State University advertising professor who previously worked 13 years for New York-based advertising behemoth Ogilvy & Mather. "In advertising circles, these spots will really turn heads.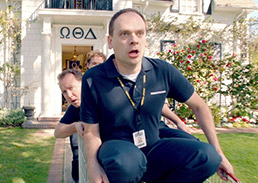 In this comedic spot produced by Young & Laramore, Stanley Steemer technicians are being celebrated for their floor cleaning by college students. (IBJ Photo/ Perry Reichanadter)
"For an agency in a market like Indianapolis," Gustafson added, "it's extremely difficult to compete for accounts like this with bigger firms in New York, L.A. and Chicago."

Tom Cochrun, who ran an Indianapolis-based video production house from 1996-2005, said the win should help large national brands realize there's high-level advertising talent in Indianapolis.

"I have to believe there's a halo effect that will benefit this entire ad market," said Cochrun, who is now retired and living in California.

The Steemer deal is no small coup for Y&L. The agency's president, Tom Denari, said the account is one of the firm's five biggest.

Stanley Steemer officials said they spend more than $40 million annually on TV advertising, with another seven-figure amount going toward newspaper and Web ads.
Y&L's Steemer campaign later this year will include newspaper and Web advertising. Financial terms of the deal were not disclosed, but sources within the industry said Y&L's take could be a mid six-figure to low-seven-figure haul. Advertising sources said they wouldn't be surprised if Steemer is Y&L's biggest client.
The assignment covers creative chores. Media buying is being handled by Publicis Groupe's Starcom in Chicago.
Y&L's revenue from the deal is likely to increase if the year-to-year contract is extended and the economy improves. In 2007 and 2008, before ad budgets tanked, AdWeek reported that Stanley Steemer spent more than $60 million on advertising annually.

The Steemer campaign is not the first time Y&L has been in the spotlight with a national account.

From 1990 to 2008, Y&L produced national spots for Steak n Shake. It has also done spots for Goodwill, Delta Faucet's Brizo line and Angie's List.

It's not even the agency's first go-around with Stanley Steemer, a Dublin, Ohio, firm known for carpet cleaning.

From 2003-2005, Y&L worked for Steemer, before company officials said they "went in a different direction." That direction apparently was the wrong one.

Steemer yanked its ad account from Dallas-based Loomis last year and handed it back to Y&L.

"It's pretty unusual for a company to come back to an agency that it has previously left," Cochrun said. "Not to say it never happens, but an advertiser would have to feel pretty strongly about an agency and the work they do to return, especially after so many years."

Stanley Steemer President Justin Bates declined to specify why Steemer pulled its work from Y&L in 2005, but he said there was no hesitancy to rehire the ad firm.

"We had interest [in the account] from large agencies in Chicago, New York and Columbus, Ohio, but in the end, we felt Young & Laramore had the best understanding of our brand," Bates said.

While Y&L, which was founded in 1983, may be only a fraction of the size of large agencies in the nation's biggest media markets, it's a big fish here. It has about 50 full-time employees and about $40 million in local capitalized billings. Before the most recent economic swoon, Y&L reported local capitalized billings of nearly $80 million.

Generally, a firm's revenue is about one-third of local capitalized billings. In IBJ's 2010 Book of Lists, Y&L ranked as the fifth-largest Indianapolis ad firm based on number of employees and was first in terms of local capitalized billings.

The Y&L-produced Steemer spots shadow two company technicians to highlight the company's full spectrum of floor cleaning services, including hardwood, tile and carpet. The TV ads use humor to give consumers an opportunity to see a different side of the company. It's a similar tactic Y&L used in its Steak n Shake and Goodwill ads.•