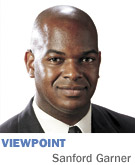 I was invited to participate in a brainstorming session in Georgia recently to help a community figure out how to transform a blighted area into a vibrant, sustainable neighborhood. Here was a group of people from all over the country—architects, planners and people who lived across the street from crack houses—all coming together for a singular focus.

I was struck how wildly diverse this group was, yet that diversity fueled creativity in the room. We filled entire walls with ideas about how we were going to preserve historic buildings and usher in businesses.

I left DeKalb County, Ga., optimistic about the plan. I also left with a renewed sense of excitement about how creativity can emerge from some of the least likely places. Creativity comes not from the brilliance of one person, or a singular "ah ha" moment, but from a collision of ideas.

In the tech world, Apple is the icon for creativity, and it's not just about Steve Jobs; it's about the team he surrounds himself with. I assure you, Apple is a diverse company.

Long ago, I learned the value of diversity. And, I don't mean just a different skin color. I mean valuing diversity in all forms from race, gender, sexual orientation, cultures and experiences. I've learned that surrounding yourself with diversity opens your eyes to more than you ever could see alone.

Too often, companies big and small don't embrace diversity (even though most say they do). It's easy to want to surround yourself with people who have similar characteristics, in the way they think, their backgrounds and experiences. But that often stymies creativity.

Not long ago, a team of designers was working on a university project. The team included several seasoned male architects and a 20-something female interior designer, whose name was Asia. She was new to the company and the project, so you can imagine she was a bit intimidated, and quietly listened to those around the table.

I asked Asia to speak up. Reluctantly, at first, she began to talk. She didn't agree with the direction, and she shared experiences to back up her viewpoint. She had good ideas. Purdue University has a better project because of it.

Building a company isn't just about setting a mission statement and values proposition, it's about ensuring that you surround yourself with talented people from diverse backgrounds.

It's the philosophy that author Jim Collins wrote about in his best-selling book, "Good to Great." Great companies start by getting the right people on the bus and then in the right seats. People first. Direction comes after.

Bill Gates is said to have spent endless hours snatching up top talent—a job he took on himself when he could have scuttled it to a third-party headhunting company. Not only does he value getting the right people, but also empowering people to have a voice. Gates hosts a "Think Week," where he poses questions and asks employees to respond.

To be truly great, it takes understanding the value diversity can bring. We all spend so much time talking and focusing on what we believe and know that we forget someone else may have a better approach or a new idea. We get so consumed in our own egos and self-importance that we forget to just shut up and listen.

When the right people are part of the team, that convergence of differences can take a project that's mediocre and make it great.

But that only works when you give everyone a chance to speak up, even if sometimes people say, "No, you're wrong."•

__________

Garner is president and founder of the Indianapolis architecture firm A2SO4, the incoming president of the National Association of Minority Architects, and serves on a national urban sustainable design committee.