Carrier Corp.'s plan to invest $36.5 million in its Indianapolis plant hinges in part on how well consumers take to a new platform of high-efficiency furnaces.
Carrier has overhauled its high-efficiency platform for the first time in more than 15 years with an eye toward May 1, 2013. That's the effective date of a proposed Department of Energy rule that says all gas furnaces sold in northern states must be at least 90-percent efficient.
"Assuming the industry volumes and customer demand dictate it, we'll be adding a second production line," said John Gibbons, director of heating platforms. "It all depends on customer demand."
Every gas furnace Carrier makes, including Bryant and other brands, comes from the plant at 7310 W. Morris St. The local operation also includes an eng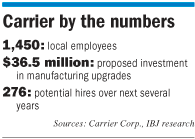 ineering group that works on a range of residential heating and cooling products.
Carrier has already installed new equipment that will start turning out the high-efficiency models in mid-September, Gibbons said. He would not disclose how much the company has invested so far.
A second production line would bring the total investment to $36.5 million and require hiring as many as 276 people over the next several years. Most of Carrier's current 1,450 employees work in manufacturing.
Carrier already makes furnaces that are as much as 96-percent efficient, but today's consumers can opt for something that costs hundreds less.
A high-efficiency furnace can cost $3,500 to $6,000, depending on the size, with installation. The price of a less-efficient model starts at less than $3,000.
Before the housing bust, Carrier supplied loads of new tract houses with mid-grade equipment. Now it's trying to persuade cost-conscious homeowners to buy the latest technology.
The loss of high-volume business cost some jobs; Carrier employed about 2,000 people here in the mid-2000s.
Lately though, work at Carrier has been surprisingly steady, considering the economy, said Vickie Clark-Burris, vice president of the Carrier unit at United Steelworkers Local 1999.
"It's here to stay, hopefully," she said.
Selling high-end furnaces was much easier in 2010, when available tax credits added up to $1,500, said Jon Love, vice president of residential sales for Love Heating and Air-Conditioning. This year, the economy is still a drag, he said.
"We're seeing a lot of people repair [rather] than replace, which isn't good for the manufacturer," Love said.
Sometimes, homeowners want to spend the extra $600 to reach the 90-percent efficiency mark but discover that they don't have enough space or the proper venting setup, Love said.
With the new platform, Carrier has nudged its top rating to 97 percent and added modulating gas valves, which minimize temperature fluctuations. The new designs are also more compact, which make installation possible where it wasn't before.
"A lot of things we do, we do for the contractor, so it's easier to install, easier to service. So they can recommend it to the customer," Gibbons said.
Connecticut-based Carrier, a unit of United Technologies, doesn't break out sales figures for its residential business, but analyst Josh Pokrzywinski estimates it's $3 billion. Carrier's total sales, which include commercial HVAC and cold-storage shipping, are more than $11 billion.
Pokrzywinski, senior analyst at MKM Partners in Stamford, Conn., also follows Ingersoll-Rand, which owns one of Carrier's top competitors, Trane.
Carrier raised its first-quarter profit more than 100 percent, to $324 million. One executive at parent company United Technologies said in an April conference call with investors that Carrier's ramp-up in business was "truly extraordinary."
Carrier probably won't be the star of the show when second-quarter results come out July 21, Pokrzywinski said. The economy is still weak, and a cool start to the summer means fewer consumers had to replace their air-conditioners.
But Pokrzywinski likes the long-term prospects of the heating and cooling business.
"When the economy heals, high-efficiency will become more attractive to consumers," he said.•
Please enable JavaScript to view this content.