Indianapolis Metropolitan High School overhauled its academic program halfway through the school year, and students responded with significantly better performance on state-standardized math and English exams.

Those results have convinced school leaders to keep innovating despite challenges encountered along the way: The principal resigned midstream, promised merit-pay bonuses were delayed until next year, and some teachers complain of change fatigue.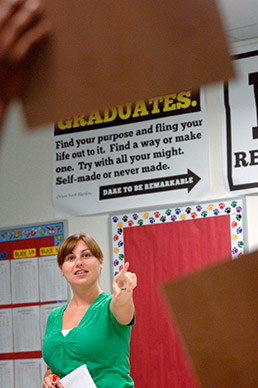 Shanna Bohdan, an English teacher at Indy Met, points to students holding signs with correct answers during a test-prep class. (IBJ Photo/ Perry Reichanadter)
If Indy Met, a privately operated but publicly funded charter school, is a harbinger of what all public schools will look like after the Legislature passed sweeping education reforms this year, the verdict is in: Flexibility, while administratively messy, can produce academically superior outcomes—at least on tests.

Laws passed by the General Assembly and championed by Gov. Mitch Daniels will make it easier for all schools—both traditional and charters—to follow the lead of Indy Met by shaking up their teaching staffs, experimenting with new school models, recruiting students from other districts, or even launching online divisions.

But the question remains: Will they do it?

Experts on both sides of the education-reform debate say it's unlikely that many schools will attempt such large-scale changes in the next few years.

"A few may and a lot probably won't. It will require coaxing," said David Harris, CEO of The Mind Trust, a local education-reform group. When schools have been granted additional freedom in the past, he said, "you just haven't seen a lot of innovation."
The new laws pave the way for more charter schools, provide vouchers for low- and middle-income families to attend private schools, require teacher pay to be tied to annual performance evaluations, and limit collective bargaining deals between teachers' unions and districts to wages and benefits.
But perhaps the strongest tool in providing schools with flexibility—the collective bargaining restrictions—merely gives districts the option of innovating; it doesn't require it or provide funding to encourage it.

And while some say more charter schools and stronger accountability laws will prompt schools to change so they can compete and meet standards, the scope of those laws also is limited.

"There are all kinds of opportunities for pretty bad schools to escape failure," Derek Redelman, the Indiana Chamber of Commerce's vice president of education and work-force development policy, said of the accountability law.

There also are structural factors—the long-ingrained public-school culture, for instance—to contend with. For example, after the collective-bargaining law passed, several school districts renewed their existing teacher contracts before the limitations kicked in.

History also could provide a hint of what's to come. In 1995, the Legislature limited collective bargaining for Indianapolis Public Schools, a policy that was undone six years later. But nixing the practice did little to change the way IPS operated, Harris said.

Still, Indiana public schools chief Tony Bennett—as well as some outside experts—contend the recent comprehensive approach to reform could make this time around different.

Bennett said change is already happening. He pointed to Indianapolis' Wayne Township district's launching a virtual school that could attract students from the entire state. The school system in Daleville announced a similar effort this year.

He also cited statewide increases in graduation rates and pass rates on standardized ISTEP tests as more evidence of change.

"Districts are already totally rethinking things," Bennett said. "Will there be universal buy-in? No. There will always be people that come kicking and screaming."

The challenge of change

Reform proponents say limiting collective bargaining agreements has put traditional public schools in a position to make the kind of changes that charter schools such as Indy Met did. (See sidebar here.)

Charter teachers don't have stringent contracts that spell out specific responsibilities, providing schools with the ability to make rapid changes when needed. Indy Met, for example, shifted some classroom and administrative duties to ease the transition after Principal Carlotta Cooprider resigned in February.

Traditional school districts' contracts varied under the previous law, but usually didn't allow such flexibility. Some required that principals allow teachers to decide which classes to teach based upon seniority, while others would give school leaders the authority to make decisions on teaching assignments and curriculum.

But with all contracts now restricted to wages and wage-related benefits, more decisions can be made nimbly at the district or individual school level without having to reopen contract negotiations to approve them.

Some of the differences will be subtle. For example, Redelman said principals who once were unable to make classroom visits without scheduling them far in advance can drop in when their schedules allow. And school leaders can call staff meetings when necessary—not only on the days allowed in their contracts.

The new rules also open the door for dramatic changes. For instance, IPS Superintendent Eugene White, who has said 60 percent of the teachers at several of the district's high schools are ineffective, could replace them with educators from programs like Teach for America or the New Teacher Project.

Some reformers say those kinds of drastic moves could make a significant difference in the quality of education at the schools.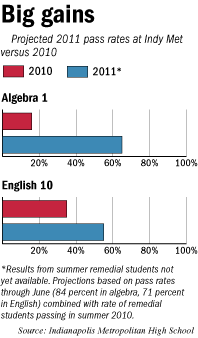 "Expectations should be that they will make quick change in the teaching ranks," Harris said. "Districts should be doing everything they can to bring into their system as many great teachers as possible."

IPS' White cited the collective bargaining restrictions as something that could be used to improve IPS. He said he plans to introduce a merit pay system and stop the last-in, first-out practice that forced the district to dismiss too many high-quality teachers who had less experience than their ineffective peers.

IPS has dismissed more then 70 teachers in the past two years for poor instructional performance, he said, and the district plans to continue to crack down.

"What we've done with collective bargaining could definitely cause radical changes," White said, sitting in his office in front of a wooden grandfather clock. He added later in an e-mail, "I can assure you that this is not 1995, and we will make better use of the changes in the collective bargaining law."

White also thinks the plethora of new school options—state-funded vouchers for private schools, an increasing number of charter schools, and perhaps even more online options—will put pressure on schools to find creative ways to attract and keep students.

In addition, because state funding for schools is now tied to enrollment, many districts have stopped charging tuition for students who live outside their boundaries and are now actively recruiting them.

IPS runs ads on city buses and is conducting a "retention-and-reclamation" campaign this summer, sending volunteers to knock on more than 3,000 residents' doors to talk up its attractive school options.

"It makes education more of a marketplace," White said of the school reforms.

Hurdles remain

Even so, there are still plenty of factors that could keep schools running pretty much as they do now.

For one, public funding is limited, which makes it difficult to implement and sustain new programs, said Gerald Mohr, executive director of the Indiana Association of School Principals.

Also, education tends to attract people with a gentle disposition who are not eager to unleash disruptive changes, noted Rick Hess, an education policy scholar at the American Enterprise Institute in Washington, D.C. On top of that, Hess said nearly all superintendents, principals and teachers in Indiana were trained in education colleges, which emphasize collaboration and consensus over the innovation and change stressed in MBA programs.

Brenda Ellington Booth, a clinical professor of management and organizations at Northwestern University's Kellogg School of Management, said traditional public schools tend to evaluate their performance based on state standards, which were not changed radically by the recent reforms.

By contrast, charter schools like Indy Met often have to build a case to satisfy not only the state standards, but also the agency that authorized their charters—and often outside donors. Indy Met, for example, receives about $250,000 in subsidies each year from Goodwill Industries of Central Indiana, which started the school.

"To raise money, you have to have a compelling story," Booth said. "If I'm going to go with my hat out, I have to say my test scores are great, my graduates are staying in college. Their accountability is at a whole different level."

But not everyone believes change will be so difficult for the rest of the state's schools.

Jonathan Plucker, director at Indiana University's Center for Evaluation and Education Policy, said the psychological impact of passing so many education reforms at once will propel even potentially reluctant schools to be innovative.

"None of these reforms by themselves rise as massive game-changers," he said. "It's the fact that we're doing them all. It's that collective sense of urgency."•