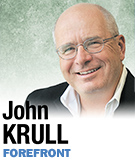 If the debacle of a debate over raising the debt ceiling demonstrates anything other than the fact that Congress now functions as well as an assembly of hyperkinetic 4-year-olds, it is this:
There no longer is a true conservative party in the United States.
In the classic sense, conservatives were the people who revered institutions and traditions. When it came to economics, they sought balance even when it hurt. This meant they were the ones calling for tax increases to pay for increased government spending—even in times of war or other national distress.
That was one reason the emergence of Franklin Roosevelt and the New Deal coalition knocked them off their feet.
Being the party calling for sacrifice on the part of the electorate—being the voice of responsibility—was like being the custodial parent in an ugly divorce. While Democrats conjured up social programs that were the equivalent of weekends at the amusement park, Republicans got stuck with reminding voters to eat their vegetables, brush their teeth, and get to bed early on school nights.
To no surprise, the GOP decided its was not a winning message.
In a brilliant maneuver, activist "conservatives" cast the New Deal as the established institution that had to be overthrown. In the process, they jettisoned their adherence to pay-as-you-go government.
At first, they cloaked the fact that they were throwing balanced budgets overboard with the fiction of supply-side economics. They made the argument, almost with a straight face, that reducing taxes would increase revenue because economic growth would more than make up the difference.
This argument overlooked the fact that many wealthy people enjoy paying taxes about as much in times of prosperity as they do in a recession. That is to say, not at all.
Regardless, balancing the budget wasn't what these "conservative" activists were after. They wanted to hobble government's ability to regulate business practices and curtail privilege.
Ronald Reagan's budget director, David Stockman, admitted as much in a famous Atlantic magazine piece. Despite saying that he was taking Stockman to the woodshed for talking out of turn, the Gipper acknowledged as much by consistently proposing budgets with deficits larger than the ones Congress passed—while blasting Congress for running up debt.
It was a winning political message. For the past 30 years, we have been living in Ronald Reagan's America.
That political triumph, though, has left us in our current predicament—stuck with a massive government debt, a downgraded national credit rating and a federal government that has expanded the definition of the word dysfunctional.
No one can speak effectively for prudence in the current political climate.
Barack Obama tried, but the reality is that having a Democrat talk about fiscal discipline is about as effective as having a nymphomaniac discuss the importance of chastity. There is a credibility issue.
And the Republicans—well, they believe tax cuts are the answer to every problem. Given that their argument is that tax cuts are the ultimate economic stimulus package, they struggle with a couple of stubborn facts and one hard question.
The facts: Tax rates in this country are at their lowest since 1949 and are in fact lower than in most other industrialized nations. The tax cuts for the wealthiest Americans George W. Bush pushed through now have been in place for nearly a decade.
The question: If tax cuts are so effective at spurring the economy and creating jobs, why aren't we doing better?
The reality is that we now have two political parties determined to go to Disneyland for the weekend. They just want to take different groups and pay for the trip with different kinds of credit cards.
Eventually, we have to come home from the amusement park.
Someone needs to be the voice of responsibility. Someone needs to be the custodial parent.
More than ever, we need someone to be a true conservative.•
__________
Krull directs Franklin College's Pulliam School of Journalism and hosts the weekly news program "No Limits" on WFYI-FM 90.1. Send comments on this column to ibjedit@ibj.com.

Please enable JavaScript to view this content.