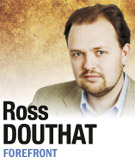 Osama bin Laden is dead. So is Saddam Hussein and Abu Musab al-Zarqawi and too many al-Qaida No. 3's to count. Khalid Sheikh Mohammed is awaiting his military tribunal. George W. Bush is home on the ranch, Dick Cheney is on a book tour, and even Gen. David Petraeus has traded in his stars for a civilian position atop the CIA.
But 10 years to the week after the twin towers fell, we are still living in the 9/11 era. The names and faces are different, the White House has changed hands, and the country has turned its gaze from our distant wars to the economic crisis on the home front. But U.S. foreign policy is still defined by the choices our leaders made while ground zero smoldered. Our approach to the world was fundamentally altered by 9/11, and nothing that's happened since has undone that transformation.
Part of this transformation was tactical: a shift from a criminal justice approach to counterterrorism that emphasized investigations, arrests and successful prosecutions, to a wartime approach that emphasized detention, interrogation and assassination.
The other part was strategic: a decision that America's national security required promoting democracy across the Muslim world—by force of arms, if necessary—rather than accepting the kind of stability that various dictators had promised to supply.
Taken together, these two shifts gave us the Bush administration's most controversial policies, from Guantanamo Bay and "extraordinary rendition" to the invasion of Iraq and the nation-building effort that followed.
It has endured under Barack Obama, his campaign promises notwithstanding. We are still fighting a war on terrorist groups, complete with the indefinite detention, drone attacks and covert warfare. Meanwhile, Obama's first term has featured an expanded nation-building effort in Afghanistan, a regime change operation in Libya, a possibly permanent military footprint in Iraq—and the gradual adoption, amid the ferment of the Arab Spring, of Bush's freedom agenda rhetoric.
The question is whether this continuity is evidence of success or an example of the stay-the-course bias to which all governments are prone. Here it's worth asking: Are we better off than we were 10 years ago?
The case for answering yes is strongest on the counterterrorism front, where our shadow war has clearly diminished our enemies' capacity to do us harm.
There are significant moral costs to a policy that depends on routinized assassination and detention without trial. But 10 years without a major attack, the death of Osama bin Laden and the steady degradation of al-Qaida and its affiliates are not achievements to be taken lightly.
On the strategic front, though, it is extremely difficult to argue that America's geopolitical position is stronger today than it was 10 years ago.
Some of this weakening was inevitable: Our extraordinary post-cold-war dominance couldn't last forever, and the rise of rival powers is a phenomenon to be managed rather than resisted. But our post-9/11 attempts to transform the Muslim world have cost trillions of dollars and thousands of lives, and won us—well, what? A liberated Iraq that's more in Iran's sphere of influence than ours, an Afghan war in which U.S. casualties keep rising, an Arab Spring that threatens to encircle Israel with enemies, a Middle East where our list of reliable allies grows thin …
This list doesn't account for various counterfactuals (how much worse off we might be with Saddam Hussein in power, for instance). Nor does it account for democracy promotion's long-term benefits.
But after 10 years of conflict, we aren't exactly in short-term territory anymore. And pointing out that things could have been worse doesn't change the fact that our post-9/11 grand strategy has been associated with a steady erosion of America's position in the world.
In this context, the fact that Obama has kept the United States enmeshed in occupations and interventions across the Muslim world isn't evidence that our strategy is working. It's a sign that he doesn't know how to get us out.•
__________
Douthat is a New York Times op-ed columnist. Send comments on this column to ibjedit@ibj.com.
Please enable JavaScript to view this content.