Welcome back to IBJ's video feature "Inside Dish: The Business of Running Restaurants."
Shifting gears a bit this week, our subject is the new Broad Ripple retail outlet Avec Moi, which has intentionally avoided most of the trappings of a textbook restaurant and boiled its offerings down to home-cooked takeout.
Although founder Kris Parmelee, 39, had no professional experience as a chef or in running an eatery, she did have a decade as a small-business owner under her belt. "I know what I don't like to do, from my previous business," said Parmelee, who still operates Parmelee Consulting Group on a limited basis. "I don't like to manage people, so the idea of managing a wait staff and scheduling employees did not appeal to me whatsoever."
No longer challenged by her grant-funding consultancy, Parmelee tapped a deep-seated desire to create from-scratch, small-batch meals for families and health-minded singles. After struggling to find the right venue and financing in early 2010, she decided to invest about $17,000 of her own money in developing a website where she could at least build an audience of potential patrons and share recipes. As the site neared completion in August 2010, she decided to dive in by leasing food-prep and cooking space at eatery incubator Indy's Kitchen.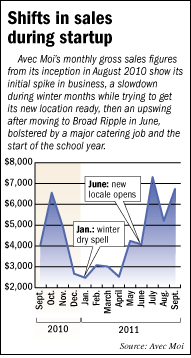 "I just started," she said. "I e-mailed all my friends and told them, 'Here's what I'm going to cook on Tuesday, and if you want some you can order it.' And they did."
Parmelee initially offered meals only on Tuesday, but still quickly developed a client list beyond her social circle. Catering jobs soon followed. Her gross sales hit a respectable $4,076 in September 2010, her first full month in business. They grew to $6,555 the following month.
With demand already making a dedicated location more feasible than rented space, Parmelee applied for a small-business loan through M&I Bank. Negotiations stretched for months until a $240,000 loan finally was approved on Jan. 18, she said.
Parmelee was not cowed by the still-struggling economy. "It just seemed like a good time," she said. "The Small Business Administration had money to lend. Interest rates were low. There were some incredible deals on property.
"I don't think it's going to get any rougher. I also think that the premise for my business is great for this economy with everybody scaling back, staying home and being close to family. That's exactly what we do – bring families together for dinner."
But Avec Moi's problems were only beginning. Parmelee and her father, contractor Keith Trump (also a partner in Avec Moi), purchased a house on the southeast corner of 62nd Street and College Avenue that was zoned for commercial use. They ran into construction delays and cost overruns during the $45,000 revamp of the space. The permitting process for the business proved much more complicated and costly than anticipated, and city development officials determined that the business needed a zoning variance. Between permits and arranging for the variance–which included attorney fees–expenses rose by about $10,000.

Concept:

Family-appropriate meals cooked from scratch in small batches, available solely for pick-up Mondays through Fridays. Catering for modest special events is also available.

Owners:

Kris Parmelee and her father, Keith Trump

Start-up costs:

$300,000, including a $240,000 small-business loan and $60,000 of personal investment.

Gross sales:

$18,244 from August to December, 2010; $38,652 from January to September, 2011.

Employees:

3 (Parmelee and two part-time workers)

Goals:

Within several weeks, to introduce a line of grab-and-go appetizers. Parmelee hopes to begin planning a satellite location closer to downtown where patrons can pick up food. She also wants to continue revamping the restaurant's current location.

Good to know:

Parmelee still operates her grant-funding consultancy, Parmelee Consulting Group Inc., on a limited basis.
Avec Moi opened on June 15, switching to a Monday-through-Friday schedule. Parmelee spends at least 10 hours on weekends planning daily menus and shopping for ingredients, and then  50-plus hours over weekdays preparing food and managing the business.
She has begun to notice patterns in sales. Because the business is designed to appeal to families, receipts spike during the school year and flag during the summer and other traditional vacation periods. Avec Moi is breaking even from an operational standpoint (including loan payments), but Parmelee still is struggling to repay another $25,000 in debt accrued by the business.
She has a number of goals for the next year, including launching a line of grab-and-go appetizers and beginning to develop a satellite location closer to downtown where patrons can pick up food. But even more immediate is the need to repay debt and begin making a profit.
"In the next year, I want to end every week being able to meet my obligatations and have money in the bank," Parmelee said. "Right now, it's all about that kind of survival."
She believes the key is to get clients through the front door. The avenues include social media, northside-focused advertising, appearances at community events and food donations for fundraisers.
"I want them to at least come in, so they've seen the building, seen how it works, met us and developed a sense of familiarity," she said. "Eventually, I want to see more patrons build Avec Moi into their routines."
In the video at top, Parmelee expounds on Avec Moi's origins and its first year of business, including the growing pains in moving to its new locale.
 
Please enable JavaScript to view this content.