Sarah Fisher Racing on Sept. 26 signed a deal with Angie's List making the Indianapolis-based company the primary sponsor of a car to be driven by Tomas Scheckter in the IndyCar Series season finale Oct. 16 in Las Vegas.
Financial terms of the deal were not disclosed.
Angie's List, a company that provides its members consumer reports and reviews about service companies in their area, has been a commercial partner of Sarah Fisher Racing since the team's inception in 2008, but this is the first time Angie's List has been the primary sponsor of a car.
"We're big racing fans and have enjoyed the partnership we've had with Sarah Fisher Racing," Angie's List Chief Marketing Officer Angie Hicks said. "We were looking for an event that we could put together, not only a racing opportunity but also an event for our customers. So we're making this a dual project.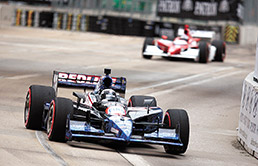 Tomas Scheckter, seen here qualifying for the Baltimore Grand Prix last month, will have Angie's List as his car's primary sponsor for the IndyCar Series season finale. (AP Photo)
"A lot of people don't realize that we're national, so we'll be able to meet some of these customers face to face that we've only talked to before on the phone," Hicks added.
Scheckter will be teamed with Ed Carpenter, who is competing in the No. 67 Dollar General car for Sarah Fisher Racing.
"If you see the ways these cars have been running on the ovals, especially Indianapolis with Ed, it was hard to pass up," said Scheckter, who has two victories in 118 IndyCar Series starts. "I think we have a very good chance at Vegas."
 
Please enable JavaScript to view this content.