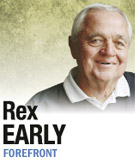 In less than a month, the voters of Indianapolis will elect a mayor. Will it be incumbent Greg Ballard or challenger Melina Kennedy?
The bad news (for Ballard) is the demographics of the Indianapolis vote.
In the 2010 Coats-Ellsworth race for the U.S. Senate, Democrat Ellsworth got only 40 percent of the vote statewide. It was a landslide for Coats in a year where the Republican candidates won just about everything, including two new congressional seats.
Yet Coats got only 41 percent of the vote in Indianapolis and he lost the city by 25,000 votes.
Mark Massa, who was running for prosecutor, led the Republican ticket and still lost by 8,500 votes.
Usually, we look at one of the down-ballot races, like the county recorder vote, as the bellwether of the Republican-Democratic vote in that county.
The Democratic recorder won by a 55-44 margin in Marion County. Can these margins be overcome by Republicans? They were in 2006 when Brizzi beat Kennedy for prosecutor. They were in 2007 when Ballard, an unknown, beat Bart Peterson.
Kyle Walker, the new Republican county chairman, and Ballard campaign team have to count on:
• Getting the Republican vote out.
Walker is a good chairman and the grass-roots party is much stronger than it has been in years.
Also, the intensity is stronger than ever.
With the current chaos in Washington, D.C., and the lack of leadership of our president, Republicans will turn out to vote even though it's a city race. You can add to that the Tea Party people, who are upset with Obama.
Also, if the Republicans can get congressmen Andre Carson to make more of his race-related speeches, that will help the Republican ticket. (Come on, Andre, tell us what you really think.)
• Ballard has to get the independent voters. In the 2010 election, of the 215,808 votes cast, only 138,408 were straight-party votes.
There is every reason to think Ballard will get his share of that vote. Ballard has practiced the "phone booth rule" of being at any gathering with more people than a phone booth will hold. I have seen him three or four times at my hangout, the White River Yacht Club. He is tireless, and when you add his countless hours on radio and TV, the voters certainly know who he is.
• Ballard needs to get some of the vote from what I call the Si Greene's Pub and Golden Ace Democrats. They are the Irish descendants of those who were at one time the backbone of the Democratic Party in Indianapolis.
They are basically conservative, pro-2nd-Amendment and pro-life. Many are working-class people who surely have to be wondering about Andre Carson's speeches and the mess Obama has made.
Ballard grew up with them and went to Cathedral High School. I think he could very well get some of that vote.
• Ballard is counting on getting some of the African-American vote. He has worked countless hours with black ministers and neighborhood groups on public safety issues. If he could get 20 percent, he would win. Lugar, when he was running for mayor his second term, got over 20 percent of the black vote.
The other scenario is African-American voters not coming out to vote. They didn't in 2007, and that was the main reason Ballard was elected.
• One of the intangibles is how badly Frank Straub has hurt Ballard. This is the public safety director from New York who came to Indiana to teach our country bumpkins how to run a police department. The rank-and-file policemen are not happy campers and I agree with them.
Granted, the policemen and their families' votes probably won't be the deciding factor; however, the public perception of Straub could affect the outcome.
I am voting for my fellow Marine. He's honest, he's a hard worker and anybody in the Marine Corps who has reached the rank of lieutenant colonel has to be a leader.
Let the negative TV ads begin.•
__________
Early served in the Indiana House and as a Republican state chairman, as well as on the Republican National Committee. Send comments on this column to ibjedit@ibj.com.
Please enable JavaScript to view this content.