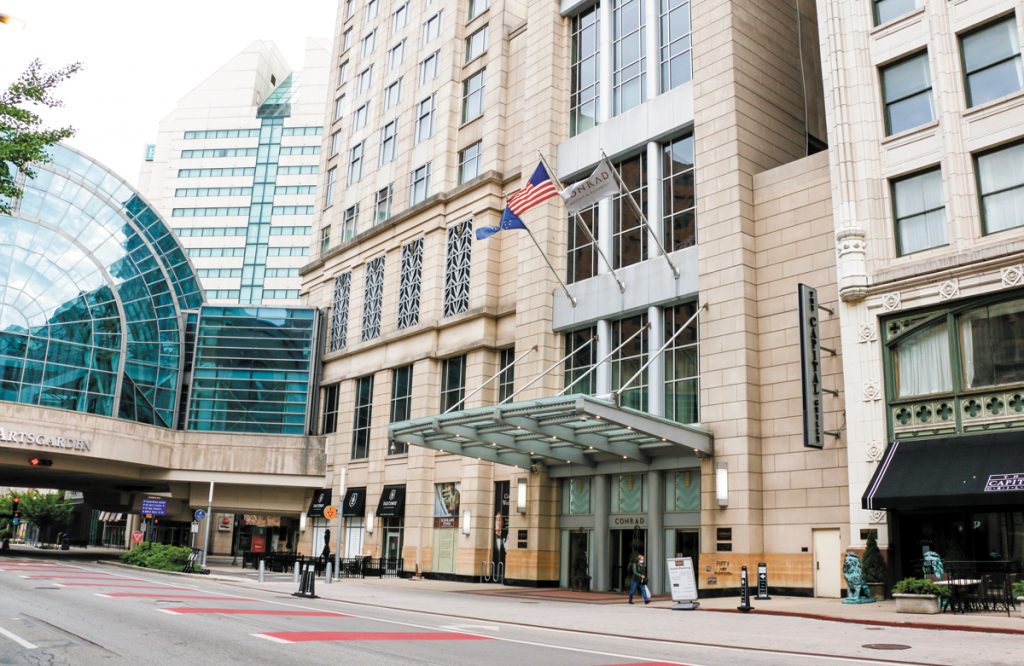 Three prominent downtown Indianapolis hotels plan to reopen in July after being closed for months because of the pandemic.
The JW Marriott Indianapolis, 10 S. West St., is expected to reopen July 9, while the Conrad Indianapolis, 50 W. Washington St., and the Indianapolis Marriott Downtown, 350 W. Maryland St., plan to resume operations the following day. The JW, with 1,005 rooms, is the largest hotel in the state.
Both Marriott properties closed March 23 while the Conrad shut down April 18.
The hotels were among several throughout the city to temporarily suspend operations because of COVID-19, which all but eliminated leisure and business travel.
Downtown hotel occupancy cratered by 91% in March and April, according to figures from Nashville, Tennessee-based hotel statistics firm STR. Occupancy figures for June are not yet available, but experts say business has started to come back.
Mike Wells, president of REI Investments, which co-owns the Marriott Downtown with Merrillville-based White Lodging and helped White develop the JW, said the decision to reopen the properties came after determining it would cost about the same to reopen them as keeping them closed.
The 650-room Marriott Downtown had initially been expected to reopen Wednesday, but that date was shifted to give the hotel more time to prepare, Wells said.
Reopening "is something we look at every week—really, every day," he said. "At this point, we feel like we'll be in good shape to get these properties back open and start bringing people back in mid-July."
Combined, the Marriott hotels employ about 780 full-time workers—500 at the JW and 280 at the Marriott Downtown. Most of those employees were furloughed or laid off when the hotels shut down.
Wells said he expects both hotels will have single-digit occupancy rates during the week, and rates of 20% to 30% on the weekends through September.
The same goes for the 247-room Conrad, which had originally been expected to reopen in early August, but had its date moved up to accommodate growing demand from would-be travelers, said Zachary Lockett, director of marketing for the Hilton-managed property.
The Conrad, which opened in 2006, is owned by principals of Indianapolis-based Kite Realty Group Trust through Circle Block Partners LLC. It is No. 19 on IBJ's list of the largest Indianapolis hotels and third on the list of upscale hotels, based on its lowest room rate of $219 per night.
Lockett said rates for the hotel will likely be lower than they were before the pandemic since demand is nowhere near its previous levels. But he said the Conrad's nightly room rates will "be at a premium" compared to other hotels in the market.
"I think it's great they're reopening … but we've got a long road," said Patrick Tamm, president of the Indiana Restaurant & Lodging Association. "We need demand generators."
Tamm said he expects it will take "a couple years" for hotels to fully recover—and even then, not all downtown hotels may survive.
"It's awfully hard to survive when you have so few guests," he said. "But we're happy to be moving in the right direction."
Please enable JavaScript to view this content.