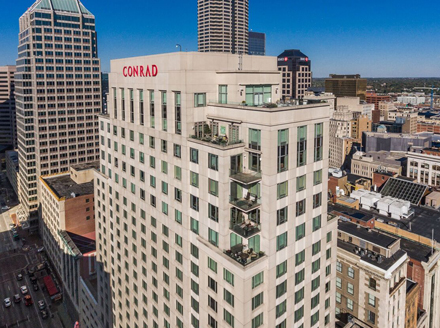 The upscale, 23-story Conrad Indianapolis has temporarily closed due to an industry-wide downturn in hotel business brought on by the coronavirus crisis.
The Indianapolis lodging market has suffered record-low occupancy stemming from a massive drop in tourism activity and stay-at-home orders restricting non-essential travel. The 247-room Conrad suspended operations on Saturday.
"This is a temporary measure that is reflective of the current business environment," Conrad general manager Greg Tinsley said in a statement sent to IBJ. "This decision is not a result of illness or confirmed cases at the hotel."
Downtown hotel occupancy has cratered by 91% since early March, according to figures from Nashville, Tennessee-based hotel statistics firm STR. Only about 7% of downtown rooms were occupied in the week ending April 7.
The Conrad's closure follows that of two other major downtown hotels on March 23: the 1,005-room JW Marriott and the 650-room Indianapolis Marriott Downtown. Neither has reopened yet.
Tinsley did not specify when the Conrad might reopen, although a source told IBJ it's likely to be closed for at least one month.
In his statement, Tinsley said the Conrad is "in the process of supporting our team members through the transition and notifying guests." The Conrad does not publicize its number of employees, and it is not clear whether staff will be laid off or furloughed.
The property, which opened in 2006, is managed by Hilton and owned by principals of Indianapolis-based Kite Realty Group Trust through Circle Block Partners LLC. It is No. 19 on IBJ's list of the largest Indianapolis hotels but third on the list of upscale hotels.
"We are committed to fully restoring operations at our hotel and look forward to welcoming guests and team members back," Tinsley said.
Please enable JavaScript to view this content.