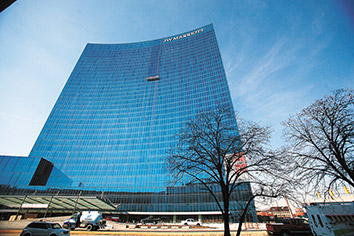 The Indianapolis hospitality sector took a massive hit from the coronavirus outbreak during a five-week period beginning March 1, with thousands of room cancellations taking a toll on the city's hotel occupancy rate.
The entire market saw a 68% drop in occupancy from the week of March 1-7 to the week of March 29-April 4, according to data from Tennessee-based hotel research firm STR, which receives data each week from almost every hotel in the country. Market-wide occupancy fell from 63.7% to 20.4% over that period.
The downtown area was hit particularly hard, dropping from 67.7% to 7% occupancy—a fall of 91.1%.
The central business district typically includes 34 hotels with 7,839 rooms, but several hotels temporarily closed beginning in mid-March, including the city's two largest—the JW Marriott and the Marriott. STR said it did not include closed properties in the latest statistics.
The rapid decline in occupancy was largely due to the loss of several major events and conventions (some of which have been rescheduled for later in the year) that led to the cancellation of more than 88,000 room nights across central Indiana.
The data show the city's hospitality industry is in a far different spot from where it was one year ago—long before the virus emerged.
In March 2019, downtown hotel occupancy was at 75.1% and rose to 78.9% a month later. Occupancy in the overall market was in the mid- to high-60s range as a healthy stream of sports and conventions—the likes of which had been expected again this year—brought tens of thousands of visitors to central Indiana.
So far, COVID-19 has led to the cancellation of at least 22 major conventions and events through the end of May, while another 13 have been postponed to later in the year, including the Indianapolis 500.
"It's incredibly painful to see Indy's tourism industry aching," said Visit Indy's Chris Gahl. "But it's not surprising to see these numbers and to see the dramatic dip" caused by social distancing and stay-at-home orders.
Gahl, vice president for the tourism bureau, said while Indianapolis isn't alone in its struggles, the rapid and sustained damage to the city's hospitality sector is eye-opening.
"To see single-digit occupancy rates downtown," he said, "is unprecedented."
Since March 1, average daily room rates downtown have decreased substantially, from roughly $186 to $103 per night— about 43%. And revenue per available room, an industry standard that helps monitor profitability of hotels, fell by 95%, to $7.17, according to STR.
The market overall saw a drop in its average room rates of about 43%, from $116 to $67. Revenue per available room also dropped to under $14, from about $74—a decline of about 82%.
In addition to closing properties, hotel management firms and owners for other local hotels have laid off most of their employees.
Gahl said most of the hotel rooms that are occupied now are being used by those working in industries that have been deemed essential, along with individuals responsible for maintaining the country's varied supply chains. 
"You still have some people traveling because of job requirements and their travel being part of the COVID-19 response," he said.
And at least one hotel, the Crowne Plaza at the airport, has been turned into a facility for individuals who have contracted the virus.
Even as local and state leaders begin discussions about ways to start reopening the economy, it's expected some social distancing protocols will remain in place, prolonging the absence of tourism as a major economic driver for a city that heavily depends on it.
"Indianapolis, more so than any other market in the country relies on [convention] business," said Patrick Tamm, president of the Indiana Restaurant and Lodging Association. "That's gone."
Local businesses, including restaurants and bars, are expected to collectively miss out on tens of millions of dollars because of the virus.
And the Capital Improvement Board—which owns and operates the Indiana Convention Center and other major venues—also could see major hits to its income, which is largely built around hotel and sales tax revenue.
Tamm said hoteliers are concerned about how long it could take for tourism industry to return to surer footing.
"Our hotels are concerned that their recovery and any generation of business activity is going to take a considerable amount of time," he said. "That delay will just continue to cause massive financial calamity. You can't keep a market like Indianapolis sustainable in any way, shape or form at 7% occupancy."
Please enable JavaScript to view this content.