More and more, exhibitions at museums are focused on interactivity. Touch this. Spin that. See if you can re-create this. "Please touch" replaces "Don't touch" and multi-sensory becomes the mantra.
I've got nothing against such shows—both for kids and adults. I appreciate when a museum can bring a tactile experience to appropriate material.
But what can get undervalued in a hands-on world is the interaction between eye and brain, the richness of contemplation, and the power of storytelling.
So when I tell you the Indiana State Museum's exhibition "The Endurance: Shackleton's Legendary Antarctic Expedition" isn't a tactile show, don't let that turn you off. There's a great story being told here and the fact that there's little to keep the hands busy is just fine.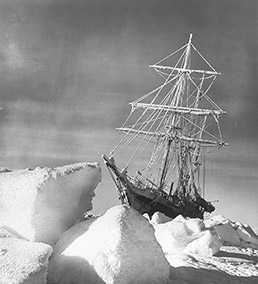 Frank Hurley's photographs add drama to the already dramatic tale of the Shackleton Antarctic expedition. (Photo/Royal Geographical Society/Indiana State Museum)
The story, whose outcome I won't spoil for those of you who don't know it, is that of explorer Ernest Shackleton, who, after being beaten to the South Pole, attempted to be the first to cross Antarctica in 1914. Outfitted with a ship, a team of adventurers, and a pack of dogs—plus, in real-life details that seem lifted from Hollywood, a cat and a stowaway—he confronts challenge after challenge that accent his ship's name: The Endurance.
Luckily, he had a photographer along, a good one. In fact, as a display panel explains, much of the expedition was financed by the sale of photography and film rights. What survived of photographer Frank Hurley's work is remarkable, and his process for taking some of the shots proves fascinating. His efforts to document Shackleton's trip and its complications give the narrative a compelling subplot, combining with the core drama to tell a story that had me reading every panel and taking my time checking out every photo. I strongly recommend, for maximum impact, that you do the same.
The exhibition is more focused on how and what than on why. Not much effort is made to address whether there was anything to discover in Antarctica worth risking lives for. Shackleton comes across, in part, as motivated by his frustration over not being first to the pole. But that doesn't get in the way of his
both superhuman and very human push to save his men once things turn bad.
My problems with the otherwise strong and worthwhile exhibition have more to do with organization than content. Those entering the exhibit might be tempted to enter to the left, thanks to a dramatic diorama, rather than the right, where the journey truly begins. Once on the correct path, photos of crewmen contain information best held to the end of the trek. And at key junctures throughout the exhibition, it isn't clear whether the story continues around the corner or on the opposite wall. This wouldn't matter much in an art-focused show, but in one that draws so much of its strength from narrative storytelling, it's an avoidable annoyance. And I wish the video screens allowed visitors to restart them when ready. Granted, they are only three minutes or so each, but there is constant audio and inevitably walking in mid-presentation disrupts the flow and atmosphere of the exhibition.
And even though, near the end, I had little patience for trying to get the hands-on sextant to work, I still found "The Endurance," thanks to the power of its story and images, to be an emotional, haunting show. If that's not interactive, I don't know what is.
Things were definitely hands-off at "Sin's Last Stand," the Oct. 18 event at the Athenaeum featuring acts from three local groups: Bottoms Up Burlesque, Angel Burlesque, and Crème de les Femmes.
Billed as "A Night of Historic Burlesque Acts," the program offered mostly weakly staged and under-rehearsed celebrations of Betty Page, Gypsy Rose Lee, Sally Rand and their strip-tease sisters linked by revisionist narration that presented the form as nothing but a history of female empowerment. Is over-positivization a word? Based on the story told here, you'd think the former popularity of the form had nothing to do with men looking for cheap thrills and businessmen looking to exploit women's bodies for bucks.
I applaud the way contemporary burlesque attempts to push acceptance of a wide range of body types, and I appreciate the pioneering efforts of its groundbreakers. And there's certainly an interesting history to tell. But "Sin's Last Stand" didn't work for me as lecture or, with rare exception, as entertainment. An on-stage band and a pair of vocalists helped perk things up a bit, but the overall experience was that of watching passionless hobbyists rather than accomplished entertainers.
Previous experience with local burlesque left me expecting something stronger. And, because the event piggybacked on an Indiana Humanities Council event, it felt like an outreach opportunity wasted.•
__________
This column appears weekly. Send information on upcoming arts and entertainment events to lharry@ibj.com.
Please enable JavaScript to view this content.