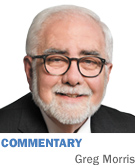 About half of IBJ's paid subscribers receive their paper at home in Saturday's mail. The other half get their paper at the office on Monday.
Getting your IBJ at home on Saturday has been a cherished time-honored tradition for 30-plus years. Many subscribers routinely describe to me their Saturday/Sunday IBJ reading routine. They tell me they like hitting the office on Monday morning armed with the latest in-depth business news.
This tradition is being challenged as the U.S. Post Office explores ways to cut its massive operating losses. One serious proposal on the table eliminates Saturday mail delivery entirely. That notion is being fought vigorously by many groups, but if the effort fails and Saturday delivery is eliminated next year as expected, we will most assuredly find a way to ensure your paper arrives in time to preserve your IBJ weekend reading routine. We already have contingency plans developed.
I'm going to cede the remainder of my column space to a well-written opinion piece on the topic written by Donald J. Hall Jr., president and CEO of Hallmark Cards Inc., headquartered in Kansas City, Mo.
To ensure its future, the U.S. Postal Service must do more than seek short-term fixes to its long-term financial problems. Year after year, the Postal Service continues to raise postal rates to cover its growing expenses without adequately addressing its significant underlying organizational and operational issues. Instead, it is offering to cut service by eliminating Saturday mail delivery.
These are complex problems requiring a comprehensive plan. Cuts in delivery service should be last on the list of considerations. Projected short-term cost savings from delivery cuts are minuscule in the context of the systemic change required and would only accelerate the decline in mail volume and revenue in the long term. It is difficult to find any business that would choose to increase prices and reduce service as a path to sustainability, yet this is precisely what the Postal Service is recommending.
A healthy Postal Service is vital to Americans who depend on timely, affordable, reliable mail delivery. The dual strategy of raising rates while cutting Saturday delivery is no way to sustain customer loyalty or encourage use of mail. It also overlooks the dependence many—including small businesses and rural customers—have on six-day delivery.
According to research from the Postal Regulatory Commission, an agency that provides oversight of postal rate and service changes, the actual savings to ending Saturday delivery would be only about half of what is estimated.
The commission also found that customers in rural and remote areas would be especially hard hit because their mail delivery would take longer, and that small businesses and other first-class mail customers who depend on timely delivery would be affected far more than bulk mailers.
Of course, change clearly is needed, but there are more substantive steps that can be taken before cutting Saturday delivery to eliminate inefficiencies.
A reasonable funding plan for pension accounts, and especially retiree health benefit accounts, is one. Addressing excess capacity and associated costs is necessary as well.
According to the most recent report of the Office of Inspector General, the Postal Service has nearly twice the capacity it needs in its 260 processing and distribution centers to maintain quality service. Excess capacity at this level is something no business could sustain and is a major factor in continued rate increases.
Because wages and benefits make up more than 80 percent of expenses, postal management and union leaders must work together to find viable ways to manage these costs.
In short, the solution to the financial crisis will not be found in failing to adequately serve small towns in remote areas. Major structural issues embedded deep within the business model itself need to be addressed.
It is important to remember that the Postal Service is an independent entity and expected to operate as a business. It is fully paid for by postal customers and receives no public funding—a critical distinction that often is misunderstood.
I value postal employees, the work they do and the important role their service plays in our nation's economy. To ensure its continuation, the service must address its underlying organizational and operational issues. Reducing delivery service to customers instead will only further jeopardize its future.•
__________
Morris is publisher of IBJ. His column appears every other week. To comment on this column, send e-mail to gmorris@ibj.com.
 
Please enable JavaScript to view this content.