Players in the electric vehicle scene say an EV racing series could be rumbling—or purring—to a track near you within three years.
Traditional racing fans might need an extra drink or two to enjoy this one. Or maybe track loudspeakers could pump out the guttural sounds of roaring internal combustion engines.
Energy Systems Network, the local initiative trying to expand electric vehicle usage and components production in Indiana, earlier this month hosted a meeting of motorsports teams, sanctioning bodies, engineers and racing sponsors to explore the potential of a race series.
The three-day meeting at Indianapolis Motor Speedway looked at such things as design plans and technical infrastructure for electric racing vehicles, and preliminary business plans for such a series.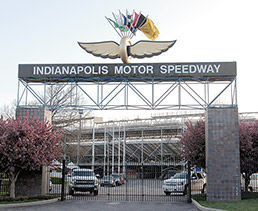 The Indianapolis Motor Speedway hosted a meeting that explored the possibility of an electric-vehicle racing series. (IBJ File Photo)
"Race fans are obviously enthusiasts and early adopters of the latest automotive technologies," said Paul Mitchell, CEO of ESN.
Such a series could also help develop and validate technologies for the emerging electric vehicle sector, backers say.
"It brought all the right people together. We accomplished more in three days than most efforts like this do in a year," said Richard Parry-Jones, head of the UK Automotive Council and former chief technical officer of Ford Motor Co.
The "Motorsports 2.0 Design Summit" is now looking at the logistics of staging an EV racing demonstration—probably within the next year.
Until a series gets rolling, you'll have to race your Think EV and Nissan Leaf to the next traffic signal.
Please enable JavaScript to view this content.