Three well-known advertising industry executives formed an agency this month that industry insiders think could make some noise in the local market.
Tim Wallis, formerly of Meyer & Wallis; Scott Johnson, of Dean Johnson; and Cleve Skelton, formerly of Miller Brooks, launched Axiom LLC from an office on Massachusetts Avenue downtown. The firm will be a full-service agency with an emphasis on branding.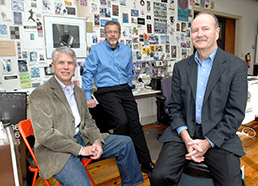 Tim Wallis, left, Scott Johnson, center, and Cleve Skelton launched an advertising agency that will be headquartered at 646 Mass Ave. The trio boasts 65-plus years of combined experience in the ad industry. (IBJ Photo/ Perry Reichanadter)
"It's been a long time since there's been a coalition of this magnitude in this advertising market," said Doug DeWitt, vice president of sales for The Jackson Group, an Indianapolis-based printing and marketing firm that works with myriad local ad agencies. "You'd have to go back to the 1970s or '80s when McQuade Bloomhorst Story & O'Hara formed. This new agency is definitely going to turn some heads."
But Axiom's founding trio said the firm is more than a conglomerate of advertising powers.
"We think we have a perfect mix of talents to make a great team," Wallis said.
Wallis and Johnson, both 53, will be co-creative directors, with Wallis handling much of the writing and Johnson the lead designer. Skelton, 60, will head up strategy, marketing and account management. 
"Our experience will be a key selling point," Wallis said. "Among the three of us, we have more than 65 years of advertising industry experience."
Johnson is folding the firm he founded 25 years ago into Axiom and many Dean Johnson clients are expected to come to the new agency. Skelton said he wouldn't actively pursue Miller Brooks clients. He said he left Miller Brooks on good terms, and the firm remains vibrant. Miller Brooks officials did not return a call seeking comment.
Legal battle
Wallis' exit hasn't come without controversy. Officials at Meyer & Wallis, who have offices in Milwaukee and Indianapolis, filed a lawsuit to recoup damages caused by his departure.
"Mr. Wallis resigned his position as an officer, [executive vice president], and creative director of Meyer & Wallis without notice on Oct. 14," said Meyer & Wallis CEO Chris Mortenson. "Tim had a long and distinguished career at Meyer & Wallis and we wish him the best in his new endeavor. At the same time, we are pursuing the legal channels necessary to ensure those agreements with Tim regarding Meyer & Wallis clients are upheld."
Court records show that an injunction sought by Meyer & Wallis against Wallis as part of a lawsuit filed in Milwaukee was denied earlier this month. Meyer & Wallis' case against Wallis is still pending, however, and Mortenson said the firm will continue to seek a judgment against its former partner.
Wallis said he did not have a contractual non-compete clause with Meyer & Wallis.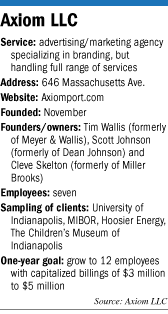 Mortenson said Meyer & Wallis will maintain its Indianapolis presence and the company's moniker with Wallis' name. It recently hired Peter Kim, an ad veteran with experience in the Detroit and Chicago markets, to head up its Indianapolis office.
Small dreams
Axiom has seven employees, but the founders expect to grow the firm to 10 to 12 employees with capitalized billings of up to $5 million by the end of 2012. That would make Axiom one of the top 20 agencies in central Indiana.
But the Axiom founders have no intention of rivaling the size of the city's largest ad agencies, such as Publicis and Hirons & Co., which have 50 to 60 employees and annual capitalized billings of $30 million to $40 million.
"We want to control growth," Johnson said. "We all get energized by working directly with the clients and getting in there and doing the work. I could see us keeping the firm to about 15 employees."
"We want to get away from an environment where we're consumed with just running the business," Wallis added.
"That's one of the big reasons we formed this agency," Skelton said. "We all really enjoy doing the work. We wanted to find really good clients and work directly with them."
Ideally, Wallis said, Axiom will have "six big accounts and a handful of small accounts."
Still, that's significant growth in an otherwise slow-growth ad market.
Already, Axiom is doing work for Bar Keepers Friend, University of Indianapolis, MIBOR, Hoosier Energy and The Children's Museum of Indianapolis.
Axiom, the firm's founders said, will have a mix of local, regional and national clients.
"We think we have a very good skill set to take on challenger brands, companies that are No. 2, 3 or 4 in their industry," Wallis said. "We think our branding expertise is well-suited for companies that are aggressive and making a serious bid to increase market share."
National experience
All three owners have worked on major national accounts.
Skelton has worked on accounts for Maytag, Stanley Securities and Duke Energy, while Johnson has worked on projects for Kiwanis International and the NCAA.
Wallis has worked on accounts for Meijer and Marsh supermarkets, Community Health Networks and Boy Scouts of America.
Wally Renfro, who headed up the 2010 centennial celebration for the Boy Scouts, hired Wallis to handle marketing for the year-long centennial campaign.
"The account Tim worked on for us earned national recognition as one of the very best Boy Scout campaigns," said Renfro, whose day job is assistant to the NCAA president. "Creatively, Tim's work blew us away. I have little doubt this new endeavor will be successful."
Axiom's founders, who have known one another through industry contacts for more than 20 years, began discussing forming an agency earlier this year.
Johnson's former partner, Bruce Dean, left Dean Johnson in 2008, and Johnson was looking for someone to team with. Johnson worked for five years for two New York design firms before returning to his native Indiana to start what has become one of the city's premier design firms. Axiom will be housed at Dean Johnson's previous home, in a building owned by Scott Johnson at 646 Massachusetts Ave.
Wallis, an Evansville native who grew up in central Indiana, was a partner in Jehs & Wallis before merging with a Milwaukee agency and becoming Meyer & Wallis in 1989. Wallis' partner in that venture, Bob Meyer, sold majority interest in the firm two years ago to Mortenson. Wallis still owns 26 percent of Meyer & Wallis, but is looking to divest.
After Meyer & Wallis was formed, Wallis lived in Milwaukee from 1989 to 1996 before moving back to Indianapolis to head the company's local division.
Skelton, an Indianapolis native, spent time in Detroit working in General Motors Corp.'s marketing department during the early part of his career before working stints at Caldwell VanRiper in Indianapolis and New York-based mega agency BBDO. In 1988, he came back home to work for Miller Brooks.
"One thing is certain," said DeWitt of The Jackson Group. "With all they've done and their varied experience, they have a heck of a reel to show prospective clients. They have a lot of talent, but not a lot of ego. I expect they'll do very well."•
Please enable JavaScript to view this content.