The once-venerable Washington Square Mall is looking forlorn these days.

Traffic is so slow that mall walkers often outnumber shoppers.

Almost 20 store spaces are empty, and many of the rest are occupied by less-than-top-dollar tenants: three have been retrofitted as arcades; six serve as salon, spa or nail shops; and four are being used by churches or ministries.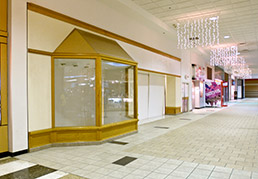 Traffic is low and vacancies are high at Washington Square Mall, the most troubled local property for Indianapolis-based mall giant Simon Property Group Inc.(IBJ Photo/ Perry Reichanadter)
Employees and longtime customers say the scene reminds them of the final days of Eastgate Consumer Mall.

The decline of Washington Square Mall is not just anecdotal: Occupancy at the Simon Property Group-owned property has fallen to 74.2 percent, far below the company's 94.2-percent regional mall portfolio average. And the mall's appraised value has plummeted almost 70 percent in the last few years.

The mall, built in 1974, was worth an estimated $45 million in June 2004. By June 2010, its value had fallen to just $14.1 million, according to lending records compiled by Bloomberg.

The records suggest Simon has all but given up on turning around the struggling property. A $12.8 million note on the 963,000-square-foot mall is at least eight months delinquent after a 2010 loan modification. (A separate $15 million note on the property is listed as up-to-date and performing.)

"It's a nice mall, if you're dying and thinking about being buried soon," lamented Sarah Anderson, a saleswoman at Indy Wholesale Furniture, which occupies the former home of Macy's.

The east-side resident watched Eastgate "go to the pits" for years before the mall—also owned at one point by Simon—ultimately closed. She expects a repeat with Washington Square.

Underwater loan

Simon's loan for Washington Square Mall originated in 2004 with Bank of America, which repackaged it into commercial mortgage-backed securities.

Records suggest the loan administrator in December 2010 agreed to split the more than $27 million balance into two parts—a traditional interest-bearing note with a face value of $15 million and an interest-free "hope note" of $12.8 million.

The second portion is considered a hope note because it's unlikely the property will generate enough cash to repay the balance when the note matures in July 2016. Bloomberg data shows the hope note as delinquent beginning in March, roughly 90 days after the modification. It was not clear whether lender and borrower had planned all along for the secondary note to become delinquent.

Rich Moore, an analyst for RBC Capital Markets in suburban Cleveland, figures Simon and the firm servicing the loan worked out the arrangement to stabilize the mall until both sides can figure out a "reasonable conclusion" for the asset.

It sounds like a case where the bank needs Simon more than Simon needs the bank, he said.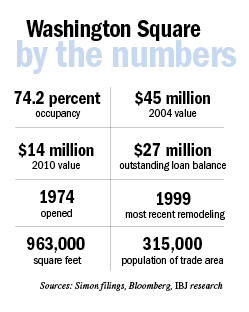 "It's not a good environment to have a bad asset," said Moore, who noted he has no specific knowledge about Washington Square. "There's no bank in the world that wants to foreclose on commercial real estate."

Lenders are reticent to take over underperforming large retail properties in particular, he said. More than 40 regional malls are up for sale and languishing on the market, and Chicago-based General Growth Properties is preparing to spin off a couple dozen of its weaker mall properties.

Simon acquired Washington Square in 1996 as part of its merger with DeBartolo Realty Corp. Simon renovated the mall in 1999. The mall appeared to make progress in recent years—its five anchor tenant spots are full for the first time since 2008—but vacancies continue to worsen for the all-important small retail spaces.
A Simon spokesman did not respond to a request to discuss the mall's prospects.

'A tipping point'

Washington Square Mall is home to several unique tenants including the Richens/Timm Academy of Irish Dance, the MMA (mixed martial arts) Fit Club, Pacers Academy East High School and an office for the Indianapolis Metropolitan Police Department Reserves.

But only a few of the small-shop national retailers that Simon routinely lands for its more viable malls remain at Washington Square. Among the survivors are Victoria's Secret, Finish Line, Claire's and Aeropostale.

Macy's and Gap closed up shop in 2008, followed by Steve & Barry's. The rash of closings came a few years after the departures of J.C. Penney, Lazarus and Old Navy.

"With malls, there comes a tipping point where there's absolutely nothing you can do to save it," said Richard Feinberg, a Purdue University retailing professor. "You have to let it die and then find a use for it five or 10 years later."

Feinberg said delinquent loan balances are a pretty strong sign a mall is not well.

If the property had any significant value above the principal balance, the bank would have taken it back, he said. Instead, the bank apparently decided its best chance of recovering anything was to let Simon continue operating the property—at least until a new owner or redevelopment plan can be lined up.

Repositioning Washington Square—which still has brand-name anchors in Target, Dick's, Sears, Burlington Coat Factory and AMC Showplace and well-located real estate—would require a large investment, Feinberg said. But the timing could be right for a buyer specializing in distressed properties.

As for the ethics of a massive and financially stable company like Simon stopping mortgage payments because its equity has disappeared—an approach frowned upon when the borrower is a homeowner—Feinberg said that's just the reality of commercial real estate.

"There are two groups that win all the time—the lawyers and the banks," he said. "I do not feel bad for Bank of America and I certainly don't feel bad for the lawyers on either side."

Slow-motion slide

Back in the 1980s and early 1990s, Luca Pizza at Washington Square had about six employees working during peak hours. McDonald's was across the hall, and the dining room was full during lunch.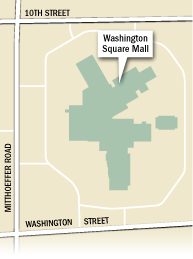 That was before Circle Centre opened about 15 minutes away, and more retailers and restaurants began opting for strip-mall space outside Washington Square.

These days, a weekday lunch hour at Luca can bring as few as two or three customers.

When he's working, 25-year-veteran pizza maker Carlos Ortega looks after the shop by himself after a colleague makes dough for the day.

"The people don't come in here anymore—they've got more choices out there," Ortega said. "I think it's going to be the same thing as Eastgate if they don't do something."

At certain times, walkers are more numerous than shoppers.

Two of them, Josie Madden and Diane Coombs, used to do most of their shopping at Washington Square. During a brisk walk on a recent afternoon, they recalled how the parking lot was always full on weekends—especially as the holidays neared.

These days, few of the stores provide a distraction from their walking routine.

"There's plenty of money on the east side," Coombs said. "It's just getting spent in Castleton and Greenwood."•