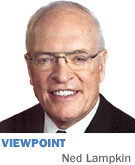 Health costs remain the No. 1 cause of personal bankruptcy and the largest, most uncontrollable element for businesses. This is unsustainable.
Individual employers can't really fix it. Others can't, don't know how or haven't found it in their interest to do so.
Improving health care quality and cost requires a new, effective, comprehensive and systemic approach—provided by an organization with no competing agendas.
The purpose is to produce mutually beneficial change by fostering competition and rewarding progress toward common goals.
But it must not:
• Believe there actually is a health "system,"
• See health care as a benefits issue,
• Blame costs on market failure (health markets require outside involvement to function effectively),
• Believe in the promise of "discounts,"
• Equate price with cost,
• Ignore non-price cost drivers,
• Fail to demand quality and efficiency,
• Trust financial incentives alone,
• Believe patients and doctors really communicate,
• Rely on short-term fixes.
Reform is now possible through a provision in the Patient Protection and Affordability Act of 2010 that allows consumers to form a member-directed, not-for-profit health insurance company called a Consumer Operated and Oriented Plan (CO-OP). Congress has appropriated $3.8 billion in long-term, low-interest loans for startup and reserves.
A CO-OP is governed by majority vote of its insureds. Health insurers may not create or "interfere" with the CO-OP or serve on its board.
"Profits" must be used to lower premiums, improve benefits, and/or finance quality improvement. Excess dollars are returned to premium payers.
The new CO-OP must demonstrate that health care can be improved in a cost-constrained environment. This requires support of many employers, providers and others to assure widespread contracting and marketing, across-shareholder cooperation, innovative thinking and adequate risk sharing.
Applications to form CO-OPs have been submitted from nearly half the states, including at least two business coalitions and a half-dozen provider groups. An equal number are preparing applications, including an employer/physician/hospital effort in Indiana.
Extensive assistance is available through the Centers for Medicare and Medicaid Services, the new National Association of State Health Cooperatives, the long-standing National Cooperative Business Association, and the National Business Coalition on Health.
Benefits of a CO-OP for employers include:
• Incentives aligned with employer goals,
• Innovative disruption of a non-system that has failed to provide a sustainable model,
• Employer representation in gover-nance,
• Administrative overhead that does not offer value is replaced with programs having a documented return on investment,
• Cooperation with providers,
• Effective use of reliable, actionable data,
• Quality and price transparency.
Benefits of a CO-OP for employees/patients include:
• Organizing for, and directed by, enrollees;
• Focusing on personal health, quality and cost.
• Rewarding improved health and appropriate resource use;
• Assuring best care at reasonable cost.
Real health care reform requires the active leadership of a critical mass of respected community leaders, health care purchasers, consumers and providers in sufficient numbers to assure success.
Now is the time to unite to create an Indiana CO-OP.•
__________
Lamkin, a retired physician, is president of the Indiana Employers Quality Health Alliance.
Please enable JavaScript to view this content.