Mad scientists, rejoice: An Indianapolis startup is rolling out a make-your-own-soft-drink campaign its founders hope will become the YouTube of the beverage industry.
The idea is simple, even if the execution isn't. Customers will be able to choose the ingredients for custom-made concoctions and design their own labels, then uFlavor will make and sell the drink—to its creators and the general public, who'll be asked to rate the finished product.
Some undoubtedly will fall flat. Others could be the thirst-quenching equivalent of an especially cute cat video. But it only takes one Honey Badger to get the world's attention.
"There are a lot of bad videos on YouTube, but the good ones rise to the top," said uFlavor Chairman Michael Cloran, a serial entrepreneur and founding partner of locally based firm DeveloperTown. "This doesn't work without the power of social recommendations and voting."
And given the size of the non-alcoholic beverage industry—$178.5 billion, according to the American Beverage Association—uFlavor doesn't need to corner the market to be successful.
After pitching the idea at the monthly Verge tech networking meeting Thursday (see video above), Cloran and fellow execs jumped on a rented bus for a 6,000-mile road trip to build excitement for the concept—and take pre-orders for their customized version of drinks created by three beta "flavorists": Zappos founder Tony Hsieh, SEOmoz CEO Rand Fishkin and local restaurateur Neal Brown.
Brown visited the FONA International flavor house in Chicago, tapping his culinary experience to come up with 317, a naturally sweetened soda that combines the flavors of Clementine, Tonka beans and stone fruit.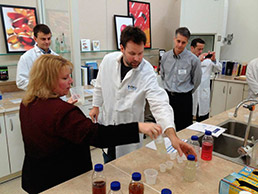 Local chef Neal Brown works in a Chicago flavor lab. (Photo courtesy uFlavor)

The owner of Pizzology in Carmel and The Libertine downtown, Brown called the drink-making experience enlightening. "It was a real education," he said.
The first batch of beverages will be delivered in late January, when the process of creating the next round of drinks will begin based on customer feedback. By summer, uFlavor hopes to have perfected the equipment that will allow anyone to design a drink from anywhere.   
"That level of mass customization is pretty intriguing," said Jerry McColgin, founder of Carmel-based production and design firm Insight2 Inc. "Everyone wants something that is uniquely their own. They're onto something there."
Brown concurred.
"It's one of the biggest trends out there right now," he said. "There's no reason uFlavor can't be in the forefront of that."
McColgin, who has no connection to uFlavor, also praised the company's slow-but-sure rollout strategy. Rather than immediately go to market with a product that's new to consumers, many firms have had success generating buzz first.
"You want people waiting for it, watching for it," he said. "But ultimately, your product has to live up to the expectations you create."
Cloran and his partners have been working on uFlavor since 2009, when he pulled the concept out of his "ideas" folder. His original brainstorm came about 10 years ago: a vending machine that could produce any drink in the world.
"It was a crazy idea, too hard to build" said Cloran, 43.
Then he met Purdue University graduates Nathan Altman and Mike Mitchell, fellow entrepreneurs who met as members of Carmel High School's award-winning robotics team. They thought they could pull it off, and they did.
A prototype was on display Thursday at DeveloperTown, which also invested in the project, but the partners decided it made more sense to build the online marketplace—and line up additional funding—before mass-producing the machines.
 
Home soda-making equipment already is sold at thousands of retailers. Market leader SodaStream, for example, allows users to choose their own syrup, bottle and carbonation. The partners say uFlavor breaks down the process even further.
"We really want to open up the 'black box' of the flavor industry—how different acids affect the tongue, how different tastes unfold," Cloran said.
Cinnamon gives Coca-Cola its characteristic bite, for example, while Pepsi dials up the sweetener.
uFlavor's founders worked with FONA to get a feel for how to blend flavors, and the company's flavor scientists helped tweak the first three drinks to get them just right.
A single custom soda sells for $9.99 on uFlavor's website, an eight-pack is $29.99 and a 24-pack is $59.99—all with free shipping within the continental United States. Once users start designing their own flavors, the company plans to use the Threadless model and give creators a share of the proceeds.
The partners hope to return to Indianapolis in two weeks with some sales in the books, which could help them line up additional funding. They declined to disclose financial details, but Verge CEO Matt Hunckler is chronicling the trip online.
"It's always exciting in a startup environment when people pay you," said Altman, uFlavor's CEO and "prime minister of choice." Mitchell is chief technology officer and "viceroy of variety."
The men, both 24 and partners in DeveloperTown, will be working full time on uFlavor. Cloran, the chairman and "flavor emancipator," will devote one day a week to the startup.
"In six months, we'll have a really good indicator of its success," he said.
Please enable JavaScript to view this content.