For decades, the metro area saw a frenzy of commercial and residential development in far-flung suburbs. A proposed $1.3 billion transit system could bring some of the action back to urban neighborhoods.
Yet, despite a slow economy, transit proponents have surprisingly little to say about how much the system could generate in new real estate investment.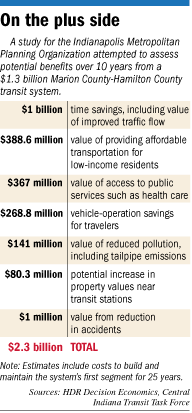 That investment would do more than lift battered developers and construction firms. It's also necessary for the transit system itself. Growing the population density around transit corridors can boost ridership. The more riders, the less dependent a system is on taxpayer subsidies.
The closest the Central Indiana Transit Task Force gets to quantifying development potential is the "transit oriented development benefits" category in a report it cites by Omaha, Neb.-based consulting firm HDR Inc.
HDR quantified the development benefits of a rail line to Noblesville, a first-ever bus rapid transit line and expanded bus system over the next 10 years at a mere $80.3 million.
Ron Gifford, head of the transit task force, explained that the $80.3 million is limited to the expected increase in property values around future stations, attributed to increased access and mobility.
"The guys at HDR said [a broader economic development estimate] becomes a meaningless number because it's very speculative on what new business is going to come" around the line, Gifford added.
Other cities made the mistake of overestimating economic development projections for transit, said Chuck Cagann, president of Mansur Real Estate Services and a member of the task force.
So the less speculative Indianapolis can be in its economic development projections, the lower the odds of being rejected for federal New Starts grants, Cagann said. He noted that competition among cities for such funding is intense. The task force hopes to get $295 million from New Starts.
"I think this [$80.3 million] is a remarkably low number in comparison with what could happen," Cagann said.
"You don't want to over-promise something," said Victoria Perk, senior research associate at the National Bus Rapid Transit Institute at the University of South Florida, in Tampa.
Perk, who has studied effects of property values of land near bus rapid transit lines in Pittsburgh and Boston, said just injecting a BRT or rail line into a neighborhood isn't the ultimate determinant of value, anyway.
Other issues such as a community's land-use policies and beautification programs around transit stations also will affect land values and development.
Certainly, there's plenty of anecdotal evidence of transit's economic development potential that local leaders could tout.
Portland, Ore., for example, said that, since 2007, more than $2.3 billion has been invested within two blocks of its streetcar system tracks. That includes 7,200 housing units and 4.6 million square feet of office, retail and hotel construction.
Transit task force members say tossing out those kinds of economic development numbers could be fodder for transit system opponents to shred. Those opponents already have ammunition in the form of a planned tax increase for the transit system.
The task force proposes a 0.3-percent increase in county option income tax in Marion and Hamilton counties. A single taxpayer in either county earning $50,000 a year would pay about $12.25 more a month, or about $147 a year.
That could be a tough sell in a period of high unemployment, runaway federal debt and questions about whether the region has the population density to justify moving ahead.
The transit plan, whose supporters include Indianapolis Mayor Greg Ballard and Carmel Mayor Jim Brainard, first needs the Indiana General Assembly to authorize a ballot referendum in the two counties for next November.
The pitch to the public avoids economic development potential but rather has been framed in the context of improving the region's competitiveness.
"This is an opportunity to be more competitive. … We're one of the largest metro areas without competitive mass transit today," Brainard said at the task force's announcement Dec. 13 at the Indiana State Fairgrounds.
Ballard said if the region wants to be competitive in the years ahead, "a robust rapid transit system is one of those [needed] amenities."
Quality-of-life improvements, less traffic congestion and better access to education, employment and health care were among a long list of benefits from the system leaders touted.
HDR has big numbers to support those benefits.
Of a total $2.3 billion in benefits it projected for the transit system, just over $1 billion was attributed to travel-time savings. Second on the list was $388.6 million in "low-income mobility benefits" by proving affordable transportation.
Near the bottom was the $80.3 million estimate of higher property values along the proposed lines.
Numerous studies have shown that rail stations do tend to boost nearby property values. One reason is that households potentially save money in auto-related commuting costs, but also, residents are able to walk to a wider range of destinations that pop up along the way, according to HDR.
Although the transit plan includes a 22-mile rail line from downtown to Noblesville, the system will have more miles of bus rapid transit lines, or BRTs.
There likely will be four BRT lines, running on Washington Street, College and Keystone avenues, and East 38th Street.
Unlike traditional bus service, BRT buses travel farther between stops at stations that resemble those used by rail lines. Some run on dedicated lanes, although it's likely the local system will give BRT buses priority at traffic signals to keep them moving.
Research by the University of Florida's Perk shows that in Pittsburgh, property 1,000 feet from a station was valued about $9,745 less than property 100 feet from a station.
Whether BRT draws as much interest from developers as rail stations is another question. One turnoff to developers is that bus lines are viewed as being impermanent.
BRT proponents counter that the lines are intended to be permanent, what with their own stations and traffic control signal infrastructure that isn't just picked up and moved.
At least one of the region's real estate executives likes the potential of BRT.
Mike Wells, president of REI Real Estate Services, said he thinks the public will warm to BRT fairly quickly, especially when gasoline prices start to rise. Also, BRT can be scaled up faster and less expensively than rail to meet demand.
"I think any forward-thinking developer out there is interested in transit-oriented development," Wells said.•
Please enable JavaScript to view this content.