A local group has partnered with IndyGo to pay homage to one of the city's great sports landmarks by installing its seats at bus stops all over the city.
People for Urban Progress—the not-for-profit best known for transforming the former RCA Dome roof fabric into products ranging from handbags to Christmas tree ornaments—hopes to salvage and refurbish up to 11,000 seats from the old Bush Stadium.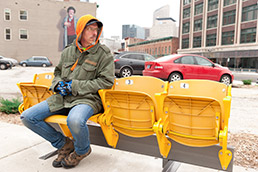 IndyGo rider Sam Anderson tests the refurbished Bush Stadium seats installed by People for Urban Progress at the bus stop on the corner of Vermont and Alabama streets. (IBJ Photo/Eric Learned)
The seats will be installed at IndyGo bus stops and sold at an undetermined price to nostalgic fans of the 1931 ballpark on West 16th Street. It hosted its last Indianapolis Indians game in 1996 when the team moved to downtown's Victory Field.
People for Urban Progress installed the first bank of bus-stop seats at the corner of Vermont and Alabama streets in mid-December. IndyGo has identified four additional locations where it hopes to install seats in the spring: along East 86th Street near the Monon Trail; at Broad Ripple Avenue and Carrollton Avenue in front of Ossip Optometry; at College Avenue and 10th Street; and at Meridian and 26th streets near the campus of Ivy Tech Community College.
The next step for stadium seats at IndyGo stops: an "adopt a stop" program where companies can sponsor four seats at a bus stop near their business. Each bank of seats would include a plaque noting their Bush Stadium origin. A separate sign would acknowledge the company's sponsorship, which would cost an estimated $3,000 per stop.
"It refreshes IndyGo bus stops a little and gets people driving by to pay attention to a new amenity," said Michael Bricker, executive director at People for Urban Progress. "Best of all, it kind of honors the legacy of this landmark in our city that's been neglected for so long. Fortunately, we're able to save the pieces people remember the most, these brightly colored seats."
Bush Stadium gradually fell into disrepair after hosting its last Indianapolis Indians game. A local developer now plans to incorporate the stadium's façade into a new apartment community. That means the seats must go.
Not every seat can be saved, including those with damage. And it isn't cheap to remove and restore the ones in good condition. The removal will cost as much as $30,000, and the restoration work by Indianapolis Fabrications will cost thousands more.
So far, People for Urban Progress has paid for the removal of 900 of the stadium's yellow, red and orange seats, all in two days of work, Bricker said. PUP has until March 2 to remove the remaining seats to comply with its agreement with the developer.
The group, which was founded in 2008, has five part-time designers and two full-time workers, whose efforts are mostly volunteer. It is seeking donations to pay for 11 days of work to remove the seats; for safety reasons, volunteers aren't allowed to do the work.
The group also is paying for the seats' refurbishment, but expects to recoup its investment by selling them to IndyGo and other groups. PUP operates on an $80,000 annual budget.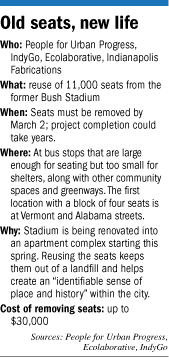 Members of PUP, a major advocate for public transit, were meeting with IndyGo executives in late summer to propose new benches at bus stops when they mentioned they also planned to acquire the old seats from Bush Stadium.
PUP had been approached with the idea by Kevin and Ryan Fitzpatrick of the group Ecolaborative. The brothers were hoping to prevent the old seats from winding up in a landfill while giving the city's bus stops, parks and greenways a new sports-themed amenity.
That's when lights went on at the table, said Samantha L. Cross, IndyGo's director of business development.
"It moved quickly," Cross noted. "Sadly, we're not always able to move so fast since we're a municipal corporation and there's always some bureaucratic red tape."
IndyGo has to obtain city permits and ensure the stops getting stadium seats are compliant with the Americans with Disabilities Act. IndyGo is buying the seats from People for Urban Progress in part with federal dollars allocated for bus-stop improvements.
"We feel like we're doing stuff with the cool kids," Cross said of partnering with People for Urban Progress. "Ultimately, we want a nice place for people to sit and wait for the bus, but it also brings a new meaning and flavor to the city."
Cross said the new stops have generated a lot of positive feedback, including a call from the American Public Transit Association. She was not aware of any other cities that have reused stadium seats at bus stops.
The plans drew raves from Aaron Renn, who writes the Urbanophile blog on urban development and issues.
"The thing I like about this one is that it is another 'Indy did it first' type idea," Renn said by e-mail. "And it's very cool. I especially like how stadium seats are homeless-proof by default," he added, referring to the fact you can't lie down on them like traditional bus stop benches.
"Also, a commenter on my blog noted that this fits perfectly for a city that wants to be America's sports capital. I agree."•
Please enable JavaScript to view this content.