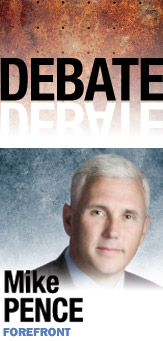 Question: One of Mitch Daniels' first acts as governor in 2005 was to end collective bargaining for state employees and to start a system of merit pay. What is your policy regarding state employees, unions and merit pay?

Answer: Every day, thousands of dedicated Hoosier public servants go to work for the people of Indiana. There was a time when these state employees were maligned as nameless, faceless bureaucrats. In recent years, Indiana has made great strides toward changing that impression and improving state government.

The reforms of the public employee system by Gov. Mitch Daniels and the General Assembly have made government leaner and more efficient. As a result, productivity and performance are on the rise: Business permits are now processed faster and BMV wait times are down. We also have the fewest number of state employees since 1975.

Reforms like introducing performance metrics, merit-based pay and employee bonuses are a good start to achieving a state government where Hoosier taxpayers see a good return for their tax dollars.

To align state government to support the kind of private-sector job growth necessary to get unemployed Hoosiers back to work, Indiana needs the best employees possible. As governor, I will continue to reward state employees for good performance and continually look for ways to attract, train and retain top employees.

I have long supported providing greater freedom in the workplace. Since collective bargaining for state employees ended in 2005, it is no surprise that few state employees choose to pay union dues, or that 90 percent of state employees choose health care packages that offer more freedom for health decisions. These changes not only improved state government, but also helped Indiana modernize its work force and maintain a strong fiscal position.

Recent reforms were not limited to state employees. Indiana's teachers previously had a system where seniority, not performance, determined pay and employment status.

When cutbacks were necessary, many promising teachers were laid off because they did not have seniority. As a result, our children lost out on a quality education. I'm thankful that we now have a system where we can attract, train, pay and retain the best teachers.

Despite the progress made, there is much work to do. Good ideas in government begin with great employees, and I want to give state employees more incentives for creativity. For example, in addition to the current pay for performance and other incentives, we should consider additional rewards for cost-saving ideas.

As governor, I also will work to offer competitive pension benefits. Today's young, mobile work force sees little value in pension benefits that accrue only if they work for state government for a certain number of years. The General Assembly took a step in this direction in 2011 when it authorized a program where most new employees could opt completely into a defined contribution pension system. In the future, we will consider additional steps to modernize state employee pensions.
Finally, our private-sector employees need the same freedoms our public-sector employees enjoy. Economic freedom means jobs and economic freedom begins in the workplace. No Hoosier worker should be compelled to join a union or pay dues as a condition of employment. I applaud the efforts of Daniels and our leaders in the General Assembly on this issue and as governor I will work to ensure the economic freedom of every Hoosier worker.

For state government to serve the goal of supporting private-sector job growth, it needs an innovative, flexible work force that is positioned to meet the challenges of the future. With recent changes, we have the tools in place to begin to recruit such a work force. As governor, I will seek the best and brightest talent for state government and continually re-evaluate and reform the employee policies needed to recruit and retain them.•

__________

Pence represents the 6th Congressional District and is running for the Republican nomination for governor. Send comments on this column to ibjedit@ibj.com.