Steve Appel ponders the return his company is getting from its stout five-figure contribution to help bring the Super Bowl to Indianapolis.

Here's the bounty: permission to tell others the company is donating to the cause, a handful of networking opportunities at gatherings with other donors over four years, and a regulation NFL football helmet—with a Super Bowl logo.

"Yeah, that's it," said Appel, vice president of Indianapolis-based Gregory and Appel Insurance.
The 2012 Super Bowl Host Committee generated $28 million from 131 mostly corporate donors to put on the NFL's showcase event by simply asking—and promising almost nothing in return. The $212,121 average donation scored to host the 46th Super Bowl floored many who have been around the NFL a long time.

"This model is unprecedented," said Marc Ganis, president of SportsCorp Ltd., a Chicago-based sports business consultancy that has done work for the NFL and several of its teams. "All the other Super Bowls were funded by a sponsorship model where those giving the money would have been promised something, and in many cases something pretty significant, in return."

The companies that funded the majority of the expenses for the 2012 Super Bowl did so "with no expectation of a return on investment, no commercial rights to the host committee, Super Bowl or NFL," said Brad Carlson, vice president of the 2012 Super Bowl Host Committee.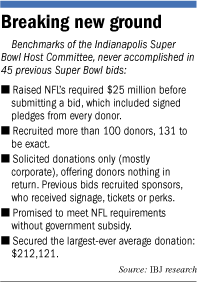 "Other host cities guaranteed signage and use of logos, gave away game and party tickets, and promised hospitality opportunities," Carlson said. "I think the NFL was dumbfounded by our model."

Appel and other donors say they weren't interested in tit for tat.

"This is a unique, maybe once-in-a-lifetime, opportunity to highlight Indianapolis to the rest of the world," said Cathy Langham, president of Indianapolis-based Langham Logistics. "Then you look at the economic impact of at least $300 million, and it was a pretty easy decision for us. We believe a rising tide will lift all ships here."

The donations are being used to construct and operate the Super Bowl Village and other downtown activities and attractions; prepare the Convention Center for the NFL Experience; spruce up and decorate downtown; recruit, organize and train more than 8,000 volunteers; set up and operate the host committee's hospitality efforts; fund Super-Bowl-related youth programming; and pay for transportation and security.

The city's Capital Improvement Board is kicking in an additional $8 million, primarily for city-wide security and emergency response and other staffing. CIB expects to cover $7.2 million of that through taxes generated by Super Bowl visitors, leaving about $810,000 to come out of city coffers. Those expenditures were not included in the bid to NFL owners.

A model not copied

The three cities—New Orleans; New York; and Glendale, Ariz.—hosting the next three Super Bowls have not tried to replicate Indianapolis' feat, opting instead to raise money through conventional sponsorship.

"Indianapolis' is a good model because it allowed the host committee from the beginning to focus on operations and not have to be concerned about fundraising," said Frank Supovitz, the NFL's senior vice president of events. "But I don't see a trend to shift to that model right now. Indianapolis has a unique public-private partnership."

Indianapolis' model also freed host-committee officials from the job of appeasing sponsors they are beholden to, Ganis said. "It takes a tremendous amount of corporate involvement and trust you don't find everywhere."

Indianapolis also is the first Super Bowl host city to raise all the operational money required by the NFL before being granted its bid.



"That took a lot of community support and showed a lot of unity," said Indianapolis Colts owner Jim Irsay. "That was a big plus when the bid was presented."

In February 2007, Fred Glass helped hatch the plan to raise all the money in advance and was charged with spearheading the fundraising.

"By and large, it wasn't a tough sell," said Glass, who was president of the city's Capital Improvement Board under Mayor Bart Peterson at the time.

Now the Indiana University athletics director, Glass remembers well the first solicitation.

"Since it had never been done, we weren't certain how it was going to be received," he said. "We told [all donors] right off, there was no quid pro quo."

Indianapolis-based Sport Graphics founder Frank Hancock received that initial pitch. Glass said Hancock sat silently for a moment after hearing the six-figure request over breakfast at City Market.

"I told him, 'You have to go into this assuming you won't get anything except that it's good for the city,'" Glass said. "He just looked at me and stuck out his hand—and said, 'Yes.'"

The donation commitments—ranging from $10,000 to more than $1 million and signed off on by every company CEO—rolled in over a two-month period.

A litany of big-name firms—including Allison Transmission, Eli Lilly and Co., Emmis Communications Corp., Shiel Sexton and Steel Dynamics—quickly gave the effort momentum. The final list included companies large and small, from beer distributors to banks and energy companies.

"Even though there's no direct return on investment, our partners felt this was extremely important," said Bob Grand, general partner in the local law office of Barnes & Thornburg, which donated six figures in cash and 150 pro bono hours of legal services. "We're a part of this community and hosting the Super Bowl was a tremendous opportunity to generate a lot of exposure and good will for this city."

NFL owners doubted locals

Glass got the donation that put the effort at $25 million—the amount the NFL requires a host city to raise—by fax an hour before the local bid committee made its presentation before the 32 team owners at their May 2007 meeting in Nashville, Tenn. That bid was for the 2011 Super Bowl.

"I think we had to work harder to gain the credibility that is innate in places like New Orleans or Miami," Glass said. "We didn't have the track record of some other cities in putting it on.

"I didn't think [any possible NFL] concerns were grounded, but we had to address them," he added. "So it was pretty powerful to be able to literally hold up all those pledges in front of the owners as we presented the bid."

The local bid also scored another first. Indianapolis was the first host city not to bank on any government subsidy or tax money in its bid. In the months after this year's Super Bowl was awarded, city officials decided to use some tax revenue—most of it generated by the game itself—to increase safety and emergency response citywide. It's over and above what the NFL requires in its bid.

"We made a pledge that, if we were going to do this, the money had to come 100 percent from private businesses or individuals," Glass said.

Despite the Herculean effort in 2007, the NFL owners voted 17-15 to award the game to Dallas, in part because its bid promised to pay the league $20 million more than Indianapolis' bid.

But in 2008 in Atlanta, the owners voted overwhelmingly to award Indianapolis the Super Bowl. All but one of the Indianapolis donors remained through both bids.

Getting the commitments beforehand had three other key advantages. First, it allowed companies to pay their donations in installments over four years, making it easier for even small companies to pay. It also meant the host committee was not out scouring for money from local businesses during the economic swoon that hit hard in 2008.

Third, banking the money early brought in an additional revenue stream.

"It was set up so the interest would earn us another low-seven-figure sum," Glass said. "That was designed to give the host committee wiggle room in planning and budgeting."

Asking for more

In addition to the $28 million in cash (another $3 million came in after Indianapolis won the bid), Carlson said the host committee asked for myriad free services. For instance, seven of the city's biggest law firms formed a committee to offer the committee legal services.

Architect and construction firms donated hundreds of hours in the design, planning and building of the Super Bowl Village and near-east-side legacy project.

Area hospitals donated time to coordinate emergency response plans and local communications firms donated media and public relations and marketing services.

"The one thing that donors got for giving was, they were asked to give more," Carlson said. "And the response was phenomenal. They all have caller ID, but they continued to take our calls for help."

Long after the bid was accepted, some donors scored some minor benefits, including admittance into events and parties hosted by the local host committee.

"If a company's main concern was their return on investment, it was clear from the beginning, they'd be better off to buy tickets and buy a hospitality package and they would come out money ahead," Glass said.

Business beneficiaries

Some companies reaped a more direct benefit from their involvement.

Sport Graphics will earn more than $1 million for providing signage for the NFL, host committee and party planners. But Sport Graphics had a similar presence at last year's Super Bowl in Dallas and signed an exclusive deal with the NFL independent of the city's hosting the game, Hancock said.

Borshoff inked a low-five-figure contract with California-based Zwikel & Associates to help with marketing and promotions for the NFL Experience. But that pales in comparison to the $10,000 cash and $25,000 in-kind contribution the company made to the local hosting effort, said Borshoff principal Myra Borshoff.

Ratio Architects was paid to do some of its work on Super-Bowl-related projects, including the Georgia Street overhaul. In addition to donating cash to the cause, local Super Bowl host committee officials said, Ratio donated more than a year's time to the downtown and near-east-side projects.

Ratio CEO Bill Browne wouldn't say how much his firm made from those projects, nor exactly how much cash Ratio donated, but he said the second figure was a six-digit sum.

"When we committed to donate, we didn't know where this was headed," Browne said. "No one involved early on in this [Super Bowl] project was thinking about a return on their investment. ... I think the level of volunteerism and commitment here is unsurpassed anywhere in the country."•