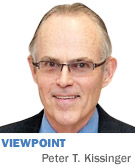 Today, we hear an endless drumbeat about job creation and use that as a metric to judge government incentives. What we really want is "wealth creation" through innovations that satisfy customers.

We're learning, however, that this is never sustainable. Survival requires innovating again and again at a faster pace. Industries have long been shedding infrastructure. Success is not measured by head count, but by making a difference.

The pharmaceutical and medical-device industries are embracing a networked ecosystem. Virtual companies network project managers with outside specialists. They can fail gracefully when needed, in a way that Studebaker in South Bend (1852-1966) could not.

Here in Indiana, we are blessed with service providers that broke off the old industrial icebergs as well as new ones we've invented.

Using medical devices as an example, we have expert machine shops, injection molding firms, medical and plastics fabricators, metallurgists, automation engineers, software firms, regulatory affairs consultants, toxicologists, reimbursement experts, purveyors of clinical trials and life sciences legal practices. Many in this network earned their stripes at Cook, Guidant (Lilly), Roche Diagnostics (and its predecessors), RCA, Sony, Western Electric, Hill-Rom and others.

On the pharmaceutical side, we have a parallel complement of contract research firms and manufacturers. We are further blessed with Indiana University and with Purdue University and its vibrant land grant tradition of commercial engagement. The University of Notre Dame is also now engaging commercially as never before.

Rose-Hulman Institute of Technology punches far above its weight. Out of this network came the medical-device firm Suros Surgical and its progeny Nico. We also have Symbios Medical, Fast Diagnostics, SonarMed, FlowCo and more.

In pharmaceuticals, we spawned Marcadia, CoLucid, AgeneBio, Aarden Pharmaceuticals and Endocyte, among others.

Several of these firms are virtual. Others have died, been sold or moved.

Is the value derived from in-house head count? No. The wealth creation comes from helping patients and learning how to use the network. Jobs are widely dispersed and more secure within the network, where they can be applied to many projects.

Success brings capital gains that are recycled. Many young firms fail, and we learn from each one. Along the way, taxes are paid, careers are made, and wisdom is gained.

I work part time with Prosolia, a scientific instrument company developing technology originating from Purdue and IU. We design complex instrumentation sold to research markets around the world. We've kept our head count to 10 in round numbers, but we're networked with many specialty suppliers. They serve us well.

This is the new way, but many can't seem to let go of the old way. Lilly has tried explaining its FIPNet concept. This applies to the smallest of firms. It's how we both preserve cash with networked jobs and validate innovation with minimum capital.

The INpact network of medical-device talents was formed four years ago to catalyze the introduction of Indiana specialists to local projects. The Indiana Medical Device Manufacturers Council is an older group that has a regulatory focus. The Indiana Biomedical Entrepreneurs Network is notable for its programs.

In pharmaceuticals, we've tried the Indiana Pharmaceutical Research Alliance. BioCrossroads and the Indiana Health Industry Forum are cheerleaders. BioCrossroads celebrates its first decade this year. The Indiana Health Information Forum is launching a new statewide strategy in May.

While life sciences risk rivals that of the state lottery, it's a risk we must keep taking. It is smart to value failures (common) and not focus only on successes (rare). That's where the West Coast cleans our clock.

Try, try again. You have to play to win.•

__________

Kissinger is a Purdue professor and life sciences entrepreneur. Send comments on this column to ibjedit@ibj.com.