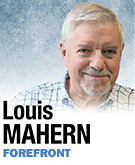 Kudos to Mark Miles and Allison Melangton and the thousands of volunteers for the extremely well-run Super Bowl. They did us proud and again showed the world that Indianapolis is capable of staging a huge event. Even the weather cooperated.
Hundreds of thousands of fans flocked to downtown Indianapolis. The national media said nice things about us, the NFL said they might be back, Jimmy Fallon joked, and Madonna wowed.
The RCA Dome had been around for 24 years when it was decided we needed a new venue. The old stadium cost $168 million in 2011 dollars. I remember it pretty well since I was the Senate co-sponsor of the legislation that made its construction possible.
Upgrades to the RCA Dome might well have been in order. Stretching it, maybe even a new stadium. A bigger Jumbotron would have been nice. Maybe a few more suites for tax-deductible, expense-account entertaining and bigger seats to accommodate our ever-larger Hoosier posteriors would, to be generous, maybe double the original 2011 inflated cost to an even $336 million.
They wanted more seating, so let's bump it up to 70,000, an increase of 11 percent over the RCA Dome. That way, we might get a Super Bowl. So let's add another $100 million for the increased capacity, bringing the total to $436 million. That leaves us still $316 million short of the 2011 cost of Lucas Oil Stadium.
Why, you may ask, would a new, improved football stadium cost almost 4-1/2 times as much in constant dollars as the one it replaced? The answer is, because the NFL told us what we had to do if we ever wanted a Super Bowl.
Make no mistake. Lucas Oil Stadium cost as much as it did because the NFL told then-Mayor Bart Peterson what he had to do.
So let's examine the central premise: If we build the three-quarters-of-a-billion-dollar, tax-supported stadium the NFL demanded, we would reap huge economic rewards from the Super Bowl that might come our way.
The economic benefits were to come in the form of coastal high-rollers who would fly in on their private jets and pay a bunch of money for hotel rooms and gourmet meals. The economic benefit would be from the outside money that would flood into our local economy, money that would otherwise not have come but for the Super Bowl.
Downtown hotels were letting rooms for up to $1,500 a night with a four-night minimum and catered by-invitation-only parties rocked into the night. About 1.1 million fans flocked to the Super Bowl Village, over 265,000 of whom went through the $25 NFL Experience. But hotel, chain restaurant and NFL profits quickly leave our economy and fly to corporate headquarters elsewhere.
If 100,000 of those village visitors were not from central Indiana, the remaining 1 million visitors to the Village were. There probably weren't a million discrete local visitors. A lot of Hoosiers visited every day. Not unlike the movie "Titanic," where the attendance was multiplied by teenage girls who each saw it 22 times.
The money visitors spent was welcome, but it is not new money to the local economy unless, of course, you want to count downtown as the local economy and central Indiana visitors as outsiders.
Early reports are that the downtown big-name restaurants didn't do all that well. Jimmie John's Sandwich Shop, on the other hand, is reported to have had a record week. I doubt that a lot of coastal high-rollers were going to Jimmie John's. Second-tier restaurants in downtown are reported to have done quite well. Again, patronized overwhelmingly by locals.
Local money spent downtown is not new money. It is merely money not spent somewhere else in the local economy.
It was a great party we threw for ourselves, but the economic case for the Super Bowl has yet to be made.•
__________
Mahern has been an assistant to U.S. Rep. Andy Jacobs and U.S. Sen. Birch Bayh and served in the Indiana Senate. Send comments on this column to ibjedit@ibj.com.
Please enable JavaScript to view this content.