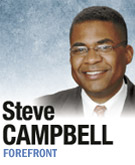 For 50 years, Indianapolis has done most things correctly, and it's one of the reasons I love this city. But I'm also not afraid to criticize our shortcomings, like public education and public transit, which have vexed this community for 100 years.

When I served as deputy mayor, I worked with nearly every not-for-profit in the city. The people who lead, give to and volunteer for these organizations are doing the Lord's work. However, we are approaching the point—and perhaps we're already there—when Indianapolis will be unable to financially support so many not-for-profits.

Simply put, there may be too many not-for-profits in Indianapolis.

Before writing such a provocative sentence, I asked several of my friends from the not-for-profit community for their reaction. To my surprise, all of them—from CEOs to VPs to fundraisers to receptionists—agreed.

By now, we all know the reasons: the global economy, fewer home-grown corporate headquarters and CEOs, fewer second-generation donors, and others. Yet, the outcome is the same: dozens of organizations struggling just to keep the lights on instead of having a laser-like focus on their cause.

I serve on boards with drastically different missions, yet all of our donors are exactly the same: Jerry Semler, Jeff Smulyan, Cathy Langham, Bill Mays, Christel DeHaan, Michael Browning, Alpha Blackburn, Tony George, Myrta Pulliam, Jim Morris, Jim Irsay. Ice Miller, WellPoint, OneAmerica, Citizens Energy, Lilly, IPL. Even as successful as they have all been, not even they can continue to pay their own taxes and bankroll every not-for-profit in the city.

I'm not saying the work is not needed. Lord knows it is, now more than ever.

I recently spoke to one of our city's prominent philanthropic leaders, and he wondered aloud why governments all around the country were leaning more on the private and not-for-profit sectors to pay for services that were clearly governmental in nature.

I stared back at him knowing the answer full well. After all, I worked for a mayor who raised a tax by mere percentage points to pay for, not extravagant salaries or increasing the size of government, but a basic governmental duty that was ignored for decades. We all know how that story ended. If that trend continues, the not-for-profit community should expect to only get busier.

This is not a call to haphazardly purge dozens of organizations. We just have to be much more effective and strategic in how we do our work.

If I were the mayor, the United Way of Central Indiana, Central Indiana Community Foundation and Lilly Endowment—we would all get together, rent out a ballroom, and invite the CEO and board chair of every not-for-profit serving Indianapolis.

Then, we would group all the youth organizations in one area and the homeless advocates in another. We'd put cancer prevention in one corner and the environment in another. We'd put senior organizations in one place and neighborhoods next door. Then we'd use the old stand-by line: "Don't come back until you've figured this out."

That means asking the basic questions that could help bring about a sort of "hyper-collaboration" in the community.

How do the different organizations distinguish themselves? Do you have the same exact mission? Have you ever been in the same room together? Are you raising money from exactly the same sources? Can two or three of you share office space and IT costs? Can you purchase together? Can you collaborate on grant proposals together? Could you more effectively serve your clients if you joined together instead of operating in silos?

The bottom line is that all these groups would finally all be in the same room to better discuss and delineate resources and responsibilities, and better chart a future, not just for their individual organizations, but for people they serve.

This is not to say collaboration is not already taking place among all these groups; it happens every day on smaller levels. We just have to do a lot more of it, do it in a much bigger way, and get it done quickly.•

__________

Campbell, president of Campbell Strategies, was a deputy mayor under former Indianapolis Mayor Bart Peterson. Send comments on this column to ibjedit@ibj.com.